Landmark-shaped popsicles give Chinese a new taste of culture
Share - WeChat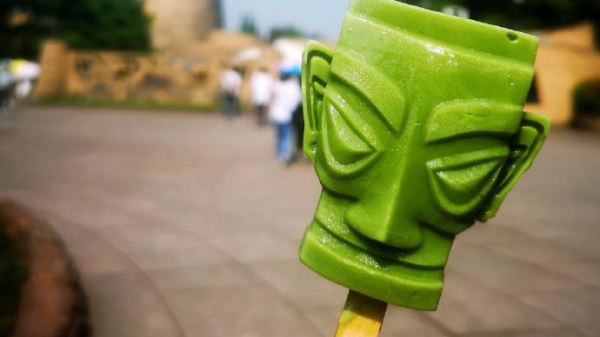 Culture never tasted so sweet!
Temperatures are rising across China and a hot-weather trend is making a comeback: popsicles shaped like cultural markers.
The May Day holiday has seen crowds thronging scenic spots and historical sites in search of a bite of culture, and in some places, visitors got just that.
At the Sanxingdui Museum in the southwestern province of Sichuan, where an ongoing archeological dig has unveiled a trove of ancient treasures, tourists can sink their teeth into lollies that look like the unique-shaped bronze masks retrieved from sacrificial pits at the site.
The two offerings, called "Bronze Taste" and "Taste of Earth," are flavored with matcha and chocolate. These creations have been selling like hot cakes with over a 1,000 pieces snapped up on May 1.
Other varieties are reportedly in the pipeline and will hit the market in a delectable selection of flavors, including lime and strawberry.
In the sweltering summer heat, or the dead of winter, nearly everyone in China screams for ice cream. China's domestic market, the largest in the world, was worth 138 billion yuan ($21.3 billion) in 2019, according to research company ChemLinked.
Most Popular