Shanxi boasts modernized mining
Share - WeChat Editor's note: This year, the Communist Party of China is celebrating the 100th anniversary of its founding. China Daily is publishing a series of stories looking at the tremendous changes that have occurred in provinces, autonomous regions and municipalities under the leadership of the Party. They also include stories of the people and places that have left indelible marks in the Party's path to glory.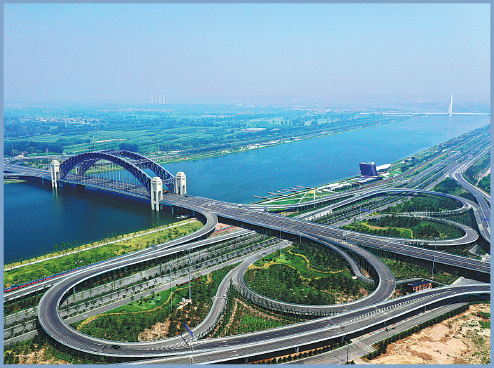 With a press of a button on a computer connected to the control system in an intelligent operations office, a team of underground machines responsible for coal mining transportation start working.
This happens routinely in a coal mine owned by Jinneng Holding Group, a State-owned energy giant headquartered in Taiyuan, Shanxi province.
While underground coal mining was once a labor-intensive, sometimes dangerous industry, modernized mining in Shanxi is quite different today, as operations use unmanned machines, remote monitoring technologies and intelligent decision-making and automated coordination systems.
Modernizing coal mining is just one example of the achievements Shanxi made during the 13th Five-Year Plan (2016-20) period, as it sought to deepen supply-side structural reform and upgrade its industries in pursuit of high-quality development.
In an article published in Qiushi journal, the flagship magazine of the Communist Party of China Central Committee, Lou Yangsheng, Party secretary of Shanxi, said: "Firmly bearing in mind the directions from President Xi Jinping, and fully implementing decisions of the CPC Central Committee, we perseveringly endeavor to take the new development path by unwaveringly pursuing transformation and innovation and focusing on improving weaknesses, deepening reform and strengthening Party governance.
"We must not fail expectations from President Xi, the CPC Central Committee and the people."
As China's major coal producing province, Shanxi used to rely on the resource to develop its economy.
While reliance on the industry once brought prosperity to the region, it also led to a series of problems, such as excessive mining, lack of diverse economic growth drivers and insufficient technological innovations.
Moreover, the country decided to cut overcapacity that has hindered China's overall economic performance, as part of its efforts for supply-side structural reform.
Led by Xi, the CPC leadership decided supply-side structural reform is a must to improve the economy in the face of complex domestic and international situations.
On Nov 12, 2013, the Third Plenary Session of the 18th Central Committee of the CPC decided China should establish and optimize a long-term mechanism to prevent and eradicate excess production capacity.
Moreover, in November 2015, Xi proposed supply-side structural reform at a meeting of the Central Leading Group for Financial and Economic Affairs of the 18th CPC Central Committee, noting that China's economy has entered a "new normal" of moderate to high growth.
The reform focuses on five fronts, including eliminating overcapacity, curbing debt levels and lowering business costs.
With cutting overcapacity high on the reform agenda, the country has made substantial headway in key areas such as coal and steel.
During the 13th Five-Year Plan period, China met its goal to reduce excess steel capacity by 150 million metric tons two years ahead of schedule.
Data from the China National Coal Association showed that China had shut 5,500 coal mines and eliminated annual capacity of more than 1 billion metric tons by the end of last year.
Meanwhile, China aimed to cut coal production by 500 million tons in three to five years starting from 2016, according to a guideline issued by the State Council in February 2016.
According to the Central Economic Work Conference held last December, China will pursue supply-side structural reform as the main task while emphasizing demand-side management in 2021, to create a dynamic balance between supply and demand based on higher standards.
China is also determined to pursue greener energy mix and expand low carbon development. It has pledged to achieve a peak in carbon emissions by 2030 and carbon neutrality by 2060.
Amid the country's efforts in deepening supply-side structural reform, Shanxi province is resolute in eliminating excessive capacity in coal industry.
"Cutting overcapacity, developing advanced capacity and sticking to green, low-carbon and efficient development comprise the pivot of the supply-side structural reform in Shanxi province's coal industry," said Wang Qirui, the former head of the regional energy bureau. Ma Xiaohong, the then deputy general manager of the transportation and marketing subsidiary of Shanxi Lu'an Group, recalled the coal industry in the province once suffered from severe loss when the industry was marked with overcapacity, and the company lost 50 yuan for every ton of coal it produced.
Since reducing production capacity is the key to the transformation of the coal industry, the province is determined to do away with the industry's extensive development model, which is characterized as depending on investment and production increase for development and on price hikes for profits.
As the country's first pilot province for comprehensive energy reforms, Shanxi has made substantial progress in related areas. It shut down more than 178 coal mines over the 13th Five-Year Plan period, and its annual coal production capacity has been reduced to 1.35 billion tons from 1.46 billion.
It also cut 115.86 million tons of excess coal capacity from 2016 to 2019, one year ahead of its goal to cut 113.8 million tons for the 2016-20 period. The reduction was the largest among all provincial-level regions, according to Xinhua News Agency.
While pressing ahead with supply-side reform, the province also has combined the efforts of cutting overcapacity with developing advanced production capacity, upgrading industrial structure, and transforming the energy industry, to pioneer China's energy revolution as it strives for greener energy sources.
It has been strengthening efforts to promote both green mining and intelligent mining technologies in accordance with the national agenda.
A central government guideline released in February 2020, jointly issued by eight government agencies including the National Development and Reform Commission and the National Energy Administration, stressed accelerating intelligent coal mining to improve safety and supply security.
It asked large-scale coal mines and those that had suffered disasters to embrace intelligent operations by 2025, with robotics and other forms of automation recommended at key underground positions.
The guideline said surface coal mines should also adopt intelligent operations and unmanned transportation vehicles, and that all types of coal mines should have intelligent operations by 2035.
Li Junfeng, a senior expert on climate change and energy, said the region's energy consumption registered almost zero growth over the past five years, coal consumption has declined drastically and carbon emissions ceased growing for four years.