Xingtang woman delivers dignity, jobs to disabled
Share - WeChat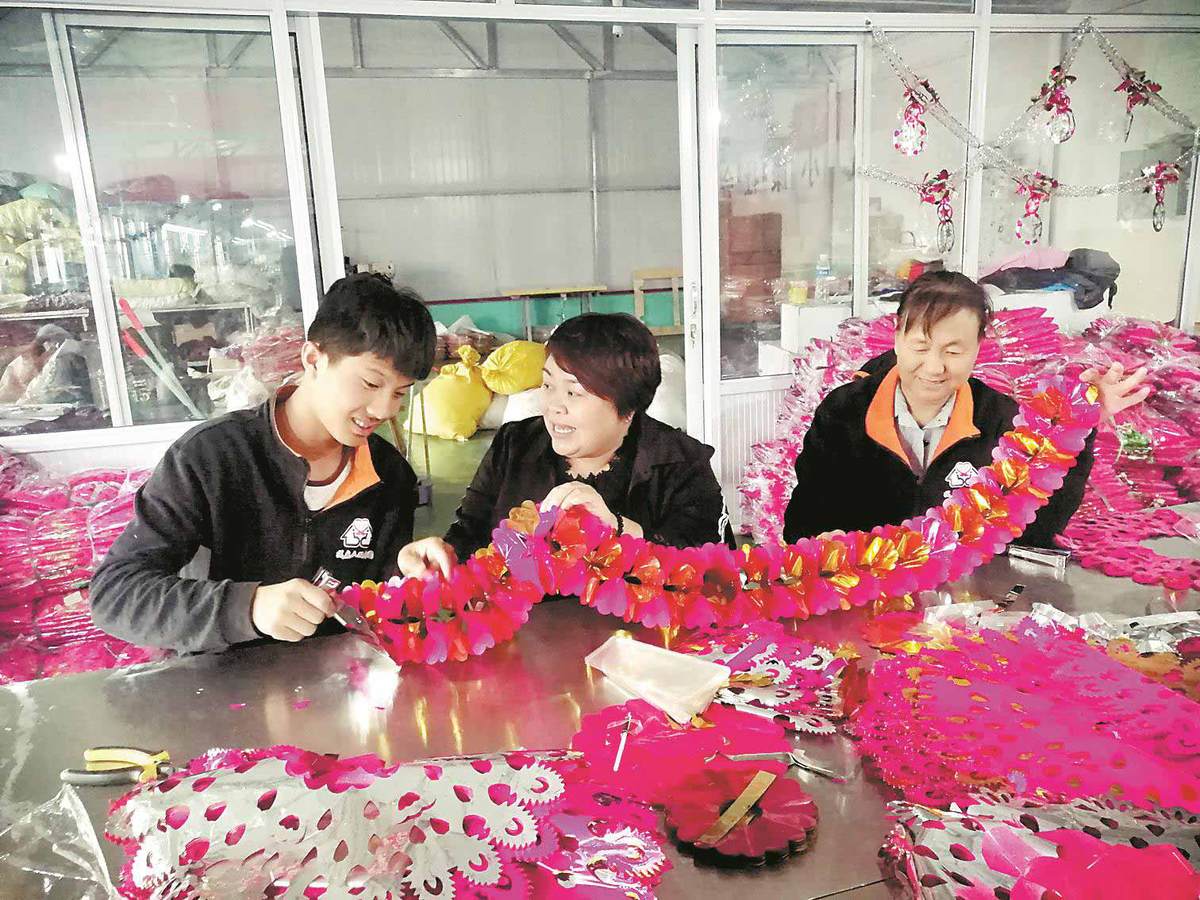 Jia Ru, China's top poverty reduction award recipient, grew up in rural Hebei province secretly handing out supplies to disabled neighbors from her parents' convenience store.
But it wasn't until more recently that Jia realized it is employment that helps the disabled earn a dignified living in a sustainable way.
"A young man once told me that he is disabled but by no means useless when he bought groceries from me many years ago," she said in an interview with China Women's News.
Over the past decade, Jia had run a number of businesses in her hometown of Xingtang county-which escaped poverty only two years ago-including a grocery stand and a small supermarket.
No matter what she did, Jia continued to give discounts-and even jobs-to the disabled.
Three years ago, she started an employment program that aims to match them with orders outsourced by factories and other labor focused businesses from across the nation.
The tasks include paper cutting, making lanterns and working with computer images. Most of the work is easy to learn and can be done in their homes, she said.
Jia based her operation at a local nursing home which had long sat idle. The local government allowed her to use the facility free-of-charge as part of a broader effort to curb disability-induced poverty ahead of the Communist Party of China's centenary this year.
More than 160 disabled workers and their relatives currently work at the facility, with free accommodation and a minimum monthly salary of 1,500 yuan ($229) provided.
The program was a boon to those eager to prove their value, given that they constantly face an uphill battle to enter the mainstream job market because of inadequate accessibility at both schools and workplaces.
However, the 160 jobs offered at the brick-and-mortar facility are dwarfed by the county's certified disabled population of almost 12,000.
This sobering fact prompted Jia to expand the project a short time later to bring jobs to disabled people's doorsteps.
Jia's brainchild serves as a matchmaker, introducing flexible jobs to disabled people who prefer to work from home to supplement their incomes.
Some 4,000 disabled people from 330 villages have benefited from the jobs, which can bring in a daily income of up to 40 yuan.
"As long as they still have one finger that can move, I won't give up," she said.
Jia grew up with a passion for helping disadvantaged people.
At age 8, Jia would give away items from her family's store. She later sold vegetables and ran a restaurant and a supermarket, always making an effort to assist the disabled she encountered all the while.
Understanding their financial difficulties, she would always give them extra vegetables.
She first had the idea for the employment program a few years ago. Jia said she thought such an operation could "boost the social involvement of the disabled and provide them a sustainable income".
Opposition quickly ensued from within Jia's inner circle.
Her family asked disapprovingly why she would go to such lengths to do something that is not profitable and could cast suspicion on her motives.
Rumors began circulating that she wanted to exploit disadvantaged people for cheap labor.
But Jia was not deterred. She withdrew all her savings and pawned her belongings to raise money for the program.
She also got permission from the local government to house the program in a former nursing home and promised local officials that the incubator would be a long-term project.
Jia received word of a paper cutting order from a Tianjin business that would set the program's wheels in motion.
To get the order, Jia traveled to Tianjin seven times to persuade the factory owner to outsource the task to her project. The owner frequently declined until she pleaded with him to come visit her incubator site. Moved by her efforts, he finally agreed to give the job to the program participants.
A motivated Jia purchased anti-bacterial and anti-radiation materials for the workers and started making bed coverings, underwear and face masks.
People working at the facility have various disabilities including hearing and mental impairments.
At first, Jia felt strained in her efforts to manage so many disabled employees. Those with intellectual disabilities had difficulty getting along with others on the campus and would run around, being unruly.
Yet, she was determined to keep the operation running.
To ensure their safety, she would often wake up in the middle of the night and check on the staff in their dormitories.
For disabled people, a stable job can be the best rehabilitation option, Jia said, adding that her operation has also offered them free housing, healthcare services and job training.
These benefits help boost their desire to earn a dignified living.
Her most recent effort to curb poverty among the disabled through her employment program was twice recognized by central authorities.
A model for assisting disabled people, Jia also met Xi Jinping, general secretary of the CPC Central Committee, in 2019 at the Great Hall of the People in downtown Beijing.
She was also among several dozen individuals and organizations that were awarded the "National Model for Poverty Alleviation" title by central authorities in February following the end of absolute poverty across the mainland.
"Disabled people are special and common at the same time," she said. "Though they have disabilities, they wish to lead dignified lives, be praised and have their value recognized, just like nondisabled people."