India races to flag virus mutations
Share - WeChat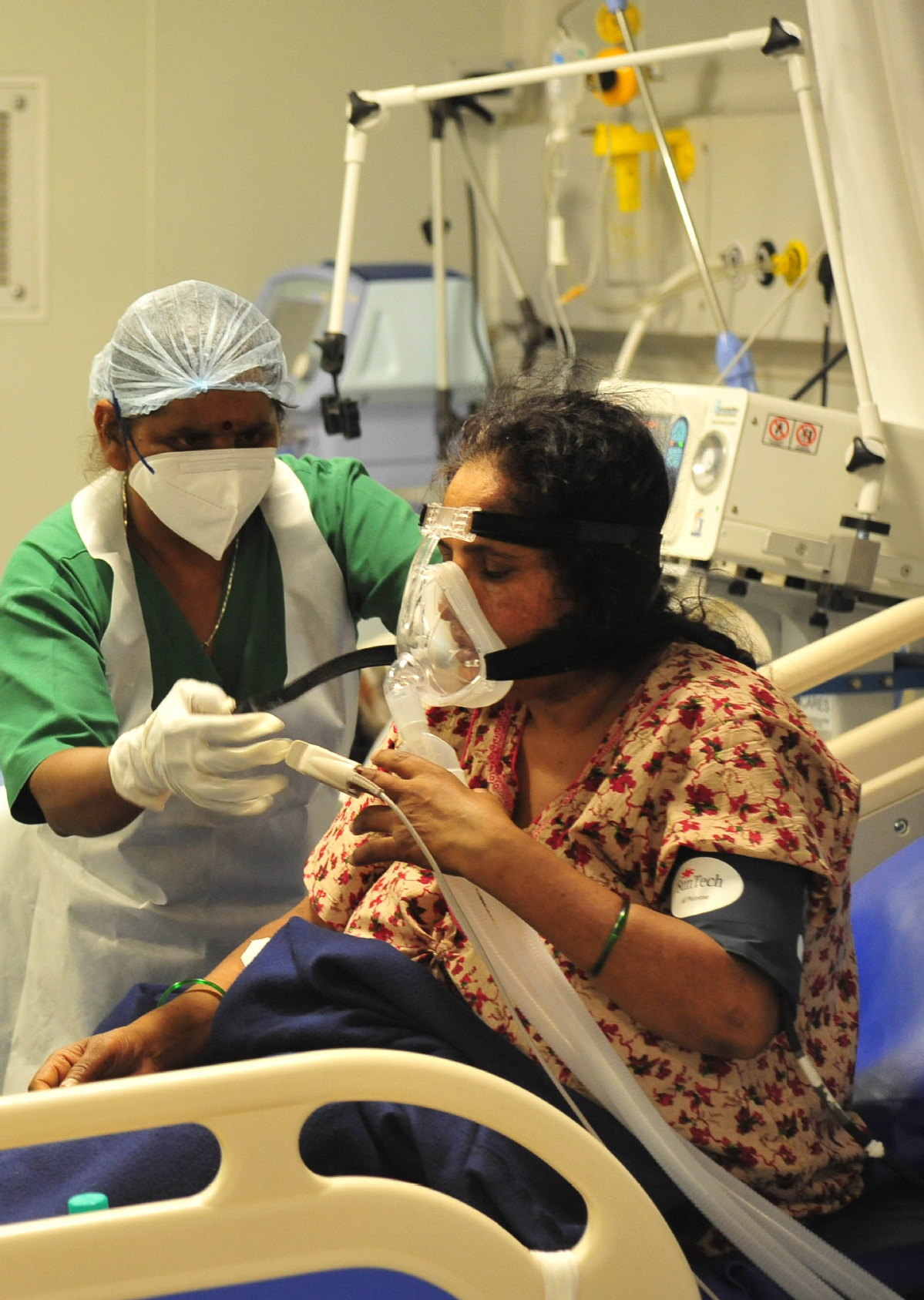 As India reels from 10 straight days of reporting more than 300,000 new COVID-19 cases daily, scientists are racing to determine if the sudden surge is linked to the new B. 1.617 or "double mutant" variant that has been detected in the country.
The country saw the highest single-day spike of 401,993 cases on Saturday, the Indian Health Ministry said, followed by a slight dip on Sunday of 392,488 cases. But Sunday saw a record number of 3,689 deaths in 24 hours.
The surge in cases led US President Joe Biden to impose new travel restrictions on India on Friday, barring most non-US citizens from entering the United States.
Australian officials said residents and citizens who have been in India within 14 days of the date they plan to return home will be banned from entering Australia as of Monday, and those who disobey will face fines and jail.
Other countries and territories have also imposed travel restrictions on India, including the United Kingdom, Germany, Italy and Singapore, while Canada and New Zealand have suspended all commercial travel with India.
Jeremy Kamil, associate professor of Microbiology and Immunology at the Louisiana State University Health Sciences Center at Shreveport in the United States, noted "this B. 1.617 virus certainly showed spread to lots of other countries". Strong conclusions about that variant's infectivity or infectiousness cannot be made at this time. "We are missing laboratory data."
Indian SARS-CoV-2 Genetics Consortium, or INSACOG, is also closely watching the strain as well as some more mutations in the coronavirus.
"We are seeing some mutation coming up in some samples that could possibly evade immune responses," said virologist Shahid Jameel, chair of the scientific advisory group of INSACOG. He did not specify the variant or the strain involved.
'Double mutation'
In an earlier statement, the Indian Health Ministry said: "Though VOCs (variants of concern) and a new double mutant variant have been found in India, these have not been detected in numbers sufficient to either establish a direct relationship or explain the rapid increase in cases in some states."
The B. 1.617 variant was actually first sequenced in a global database of COVID-19 variants in October 2020 but went largely unnoticed.
The strain carries features from two lineages, the California variants (B. 1.427 and B. 1.429) and the ones in South Africa (B. 1.351) and Brazil (P. 1). The Indian variant's two prominent mutations include a position 452 of the spike protein and the second at 484.
"Double mutation" isn't a remarkably accurate description," said Rakesh Mishra, director of the Indian Centre for Cellular and Molecular Biology.
"The major factor in the spread of the virus is the behavior of the people," Mishra said.
"Spread of the virus is largely because of us not taking care of each other. Variants are just taking advantage of our carelessness."
However, the new strains look more infective, the Secretary at the Indian Department of Science and Technology, Ashutosh Sharma, told the Economic Times of India, indicating India knew there was going to be a surge, but not of this scale and ferocity.
The World Health Organization has not declared the Indian variant a "variant of concern", as it has done for variants first detected in Britain, Brazil, and South Africa.
Vaccination with any vaccine is vital, Kamil said, as are lockdowns and social distancing, adding variants can still spread between subsets of vaccinated people protected from severe disease.
"Despite a few mutations here and there, the virus is still SARS-CoV-2 and the disease is still COVID-19. Risk will be highest to the elderly, and to those in high-risk groups, such as people who are diabetic, overweight, (have) high blood pressure, or who have inborn errors of immunity," he warned.
Agencies contributed to this story.
The writer is a freelance journalist for China Daily.