Oxygen shortage in Indian capital hospital leaves 12 dead
Share - WeChat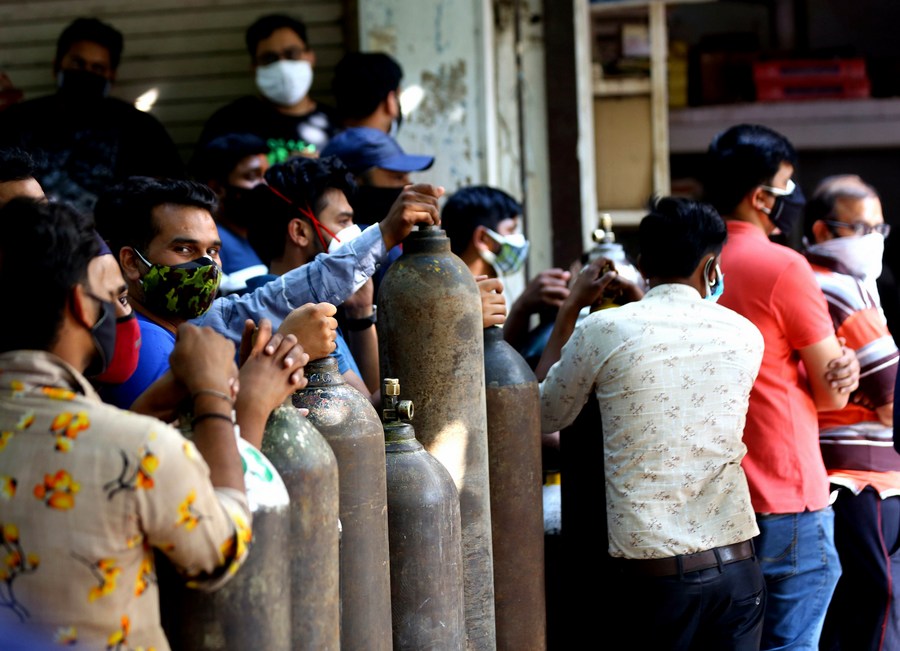 NEW DELHI -- Twelve people, including a doctor, died at a private hospital in the Indian capital of New Delhi on Saturday after the facility ran out of medical oxygen, officials said.
The patients including the doctor were COVID-19 patients admitted at Delhi's Batra Hospital.
"Eight patients including one of our doctors who was also undergoing treatment for the COVID-19 have died here today due to shortage of oxygen," Dr S L Gupta Director Batra Hospital said. "The deceased doctor Dr R K Himthani was the head of the gastroenterology unit here. He was at the forefront in treating the COVID-19 and in the line of duty he too got infected and was undergoing treatment at the hospital."
Hospital officials said four more patients have succumbed, taking the death toll to 12.
According to hospital officials, six of the 12 patients were admitted to the hospital's intensive care unit (ICU) and six were in the wards.
Hospital officials told the Delhi High Court that 230 people were without oxygen for 80 minutes.
"We ran out of oxygen at 11.45 am (local time). Supply came at 1.30 pm (a second tanker reached at around 4 pm). We were out of oxygen for 1 hour and 20 minutes," the hospital told the court.
Hospital authorities said they have been raising alarms since Saturday afternoon over depleting levels of oxygen supply.
Last month, 20 people admitted inside the critical care unit of Jaipur Golden hospital in Delhi died when oxygen levels dropped.
Delhi Chief Minister Arvind Kejriwal described the news of more patients dying due to shortage of oxygen as "very painful".
"These lives could have been saved by giving oxygen on time," he said in a tweet, reiterating his government's demand for medical oxygen.
"Delhi should get its quota of oxygen. We can't see our people dying like this anymore. Delhi needs 976 MT of oxygen and yesterday received only 312 MT. How will Delhi breathe with inadequate oxygen."
Medical oxygen is in great demand in Indian hospitals, especially in Delhi. In wake of the COVID-19 pandemic, hospitals are reeling under acute oxygen shortage and the government is importing some of it from foreign countries.
India is witnessing a resurgence in COVID-19 cases and the second wave of the pandemic has caused a shortage of oxygen and essential medicines in the country's hospitals.
The federal health ministry on Saturday morning said 401,993 new COVID-19 cases and 3,523 related deaths were registered in the past 24 hours across the country.
India recorded over 400,000 cases for the first time after reporting 300,000 daily infections for nine straight days.