Zooming in on a 'tall order'
Share - WeChat Distraught parents of autistic children say online classes are painful for their kids as they're unable to focus. Experts also warn that prolonging video learning for children with special education needs could sap their confidence. Wang Yuke reports from Hong Kong.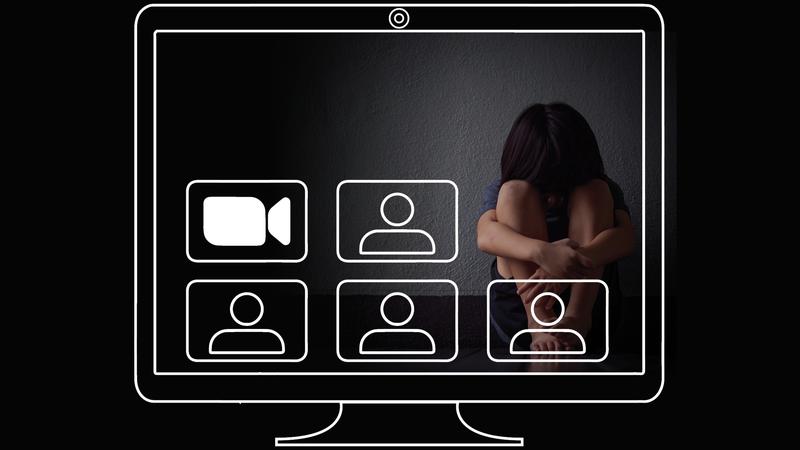 "I hate zoom classes! I don't follow the teacher at all. I can't understand a word of it. I really dislike it," cried out Jason Wong, an autistic 19-year-old with a mild intellectual disability.
Wong's mother, Jo Lau, said, "My son has become squeamish, emotional and hysterical since his school switched to online teaching" during the coronavirus pandemic.
Children with an autism spectrum disorder like Wong struggle to concentrate, especially on what they are averse to. Lau said that without the one-on-one help of specialist teachers during the school shutdown, her son can barely follow instructions in sync with his peers.
"This really puts him off, triggering outbursts of fury. When he flies into a rage, he would swear at his brother and even me and his dad. He would refuse to do his homework because he finds it painful," she said.
In the 2017-18 school year, 54,244 students in Hong Kong had special education needs, with 45,360 of them in mainstream primary and secondary schools in the public sector.
For most special education children, studying in a physical classroom at a mainstream school is already a herculean task. Attending classes via video links is more daunting to them. While most children are no stranger to virtual lessons, typing away on their keyboards to interact with teachers, this is a tall order for children with attention deficit disorder.
Wong was diagnosed with autism spectrum disorder and a mental disability when he was 3. "He's our first child, so there's no benchmark for me to compare what's normal with what's not," Lau said. Her son also has little telltale idiosyncrasies, but he finds taking a shower particularly unpleasant, "makes a fuss about physical contact, and feels he's stuck in a rut".
Wong was admitted by mainstream schools and relied on substantial help from specialist teachers in his studies and socialization.
Lau is grateful that teachers worked overtime during the pandemic, helping her son with homework. "It helped to stabilize his emotions a lot because he didn't fret about his homework anymore, and it was a big relief for me," Lau said.
But she doesn't have high hopes for her son's schoolwork. Her only wish is that he can someday "regain his emotions".
"We all seek some sort of routine in life" to feel anchored, said Jenny Gibson, a senior lecturer in psychology and education at the University of Cambridge. For autistic individuals, "routine" is an important message that the environment is manageable and that life is certain and secure, she said. "To them, challenges often arise from even a slight change in life as they can be easily triggered by a stimulus in their surroundings."
Timothy, a Secondary 5 student with autism spectrum disorder and attention deficit hyperactivity disorder, or ADHD, has had enough of online learning. "'I can't stand it anymore. When can I go back to school?' He often asked me," said his mother, surnamed Chan, who declined to reveal their full names.
Chan said that initially, she was happy with the online lessons for her son, but things then turned sour. "His teacher complained that he was always late for (virtual) classes and was stumped when teachers asked him questions," she recalled.
Timothy, however, was candid about the situation, telling his mother he was always playing computer games until the classes were over. "He just couldn't refrain from playing games, he told me," Chan said. His interest in online lessons was flagging, she added.
"Learning in front of the computer screen can be really tiring and distracting for special-education children. It's hard for them to concentrate over long periods," explained Gibson, who also specializes in the treatment of complex language disorders and autism.
She said things are more complex and debilitating for children with communication problems because they "can't wrap their heads around the abrupt change in life".
Sometimes, when these children have bad feelings, they don't know how to label them, Gibson said. They become disoriented, unable to put their feelings into words. "Sad, disappointed or angry? They don't know," she said. Therefore, it's difficult for them to seek support that helps them process emotions.