Obstacles faced to fair vaccine distribution
Share - WeChat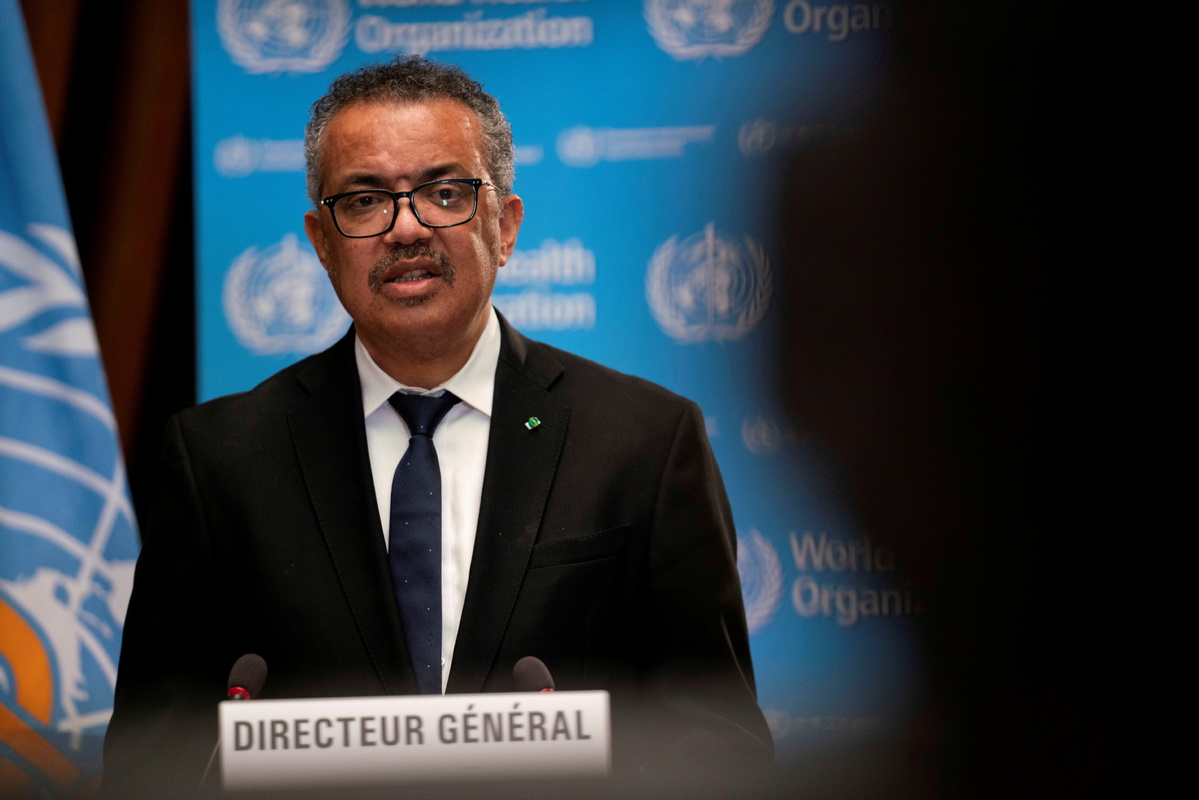 Developing countries are dealing with a shortage of coronavirus vaccines, with the hoarding of supply and the protection of intellectual property in affluent nations two reasons why.
The causes vary globally, but the national hoarding of doses, raw materials and technical expertise; patents and liability protection by pharmaceutical companies that prevent countries from sharing vaccines; and the locking up of vaccine production by the world's wealthiest countries are major factors.
Drug companies that developed and won authorization for the vaccines in record time have agreed to sell most of the first doses off production lines to the US, European countries and a few other wealthy nations.
Dr Tedros Adhanom Ghebreyesus, the director-general of the World Health Organization (WHO), has described the situation as "another brick in the wall of inequality between the world's haves and have-nots''.
"It's outrageous ethically, morally, scientifically," Maria Van Kerkhove, an epidemiologist with the WHO, told The Washington Post about the global vaccine inequities.
The WHO will soon decide whether to give emergency approval for China's two main COVID-19 vaccines, WHO Assistant Director-General Mariangela Batista Galvao Simao said Monday.
Simao told a news conference in Geneva that the WHO could decide on a vaccine made by Sinopharm by the end of the week, and one made by Sinovac Biotech by the end of next week.
If the WHO grants emergency use, particularly to the two Chinese vaccines, it will be a boost for the COVID-19 Vaccines Global Access (COVAX) program and give the green light to some developed countries anxiously awaiting the endorsement so they can import the Chinese vaccines.
WHO approval should be a formality as the Chinese vaccines' safety and efficacy have been tested and proven. More than 200 million Chinese vaccine doses have been administered domestically and 100 million in foreign countries, particularly in Latin America, Asia and Africa.
China has stated on many occasions that it will make its COVID-19 vaccine a global public good, contributing to vaccine accessibility and affordability in developing countries, including African countries.
What is called vaccine nationalism also is said to be hindering the flow of doses to poorer nations through COVAX. The program is jointly run by Gavi, the Vaccine Alliance, the WHO and the Coalition for Epidemic Preparedness Innovations and is an effort to pool resources to develop and equitably distribute vaccines to 92 low- and middle-income countries this year.
It aims to distribute 2 billion doses in 2021, a fraction of what is needed. So far, COVAX has delivered 43 million of its 2 billion-dose goal this year.
India, which is the world's largest vaccine producer — mostly producing the AstraZeneca formula — has sold and gifted tens of millions of vaccine doses to other countries as part of COVAX. But it has largely stopped exporting as its own surge worsens.
COVAX had expected 71 percent of its initial doses to come from India's Serum Institute, the country's largest vaccine maker, dealing a major setback to the rollout.
The gulf in vaccine access has spurred calls to waive intellectual property (IP) protections.
Columbia University Professor Joseph Stiglitz, along with Lori Wallach, the director of Public Citizen's Global Trade Watch, argued in an opinion piece in The Washington Post on Monday that "preserving intellectual property barriers to covid-19 vaccines is morally wrong and foolish".
They wrote that "waiving intellectual property rights so developing countries could produce more vaccines would make a big difference in reaching global herd immunity".
Three-quarters of the world's vaccine doses have been administered in just 10 nations, which together account for under half the world's population.
"At the current rate vaccines are being administered, 92 of the world's poorest countries won't vaccinate 60 percent of their populations until 2023 or later," wrote Dr Krishna Udayakumar and Dr Mark McClellan, health experts at Duke University.
The low rate of vaccination globally makes it harder to reach herd immunity, in which a sufficient percentage of the population is inoculated, making it much more difficult for the virus to mutate. But if the mutations prove resistant to vaccines, they could spread anywhere in the world, including in Western countries that have been vaccinated first.
India, where barely 1 percent of the population has been vaccinated, is battling the world's fastest pace of spreading coronavirus infection. It is approaching 18 million cases, and more than 201,000 deaths from COVID-19, according to data from the Johns Hopkins University Coronavirus Resource Center as of Wednesday evening.
India is second globally in cases and deaths, behind the United States, which has recorded more than 32 million infections and over 574,000 deaths.
Honduras has obtained 59,000 vaccine doses for its 10 million people. In Africa, just 36 million doses have been acquired for the continent's 1.3 billion people; of the countries reporting data in Africa, most have vaccinated less than 1 percent.
In Namibia, home to 2.5 million people, only 128 people had received two doses of vaccines as of mid-April.
"We did apply and paid our deposit for the COVID vaccine, but there is a vaccine apartheid," Namibia's president, Hage Geingob, told reporters. "I am saying that we, a small country, have paid a deposit but up to now we didn't get any vaccine."
Guatemala's president, Alejandro Giammattei, said COVAX had failed his country and Latin America at large. He said Guatemala — where cases are spiking — has had to turn to India and Russia for vaccines, because it has received only 81,000 of the 3 million doses of the AstraZeneca vaccine it purchased through COVAX.
"The COVAX system has been a failure," he said. "A small group of countries have all the vaccines and a large number do not have any access."
But last week COVAX succeeded in delivering 600,000 doses of vaccine — that were developed in the UK and manufactured in India — to Ghana.
What the World Bank classifies as "high-income countries" — accounting for just 16 percent of the world's population — have locked up more than 50 percent of near-term supply, according to research from Duke University.
On Wednesday, Dr Anthony Fauci, President Joe Biden's chief medical adviser, said the infections overwhelming the Indian healthcare system have highlighted global inequality.
"The only way you are going to adequately respond to a global pandemic is by having a global response, and a global response means equity throughout the world,'' he said.
The US states of Georgia, Mississippi and Montana are weighing what to do about surplus COVID-19 vaccines that could go to waste, as they face more open vaccine slots.
Other states are turning down planned shipments from the federal government. Health officials in West Virginia, North Carolina and Pennsylvania have said that supply is already exceeding demand, and their new challenge is reducing vaccine hesitancy.
Data from the Centers for Disease Control and Prevention (CDC) indicate that a dozen states are administering less than three-quarters of the doses they receive.
The US could have an estimated 300 million excess vaccine doses by the end of July, according to Duke University's Global Health Innovation Center.
In the US, anyone age 16 and over is now eligible for a shot. More than 90 million people, about one-quarter of the US adult population, have been fully vaccinated.
The White House announced last week that the US will put $4 billion into the COVAX effort, reversing a Trump-era decision to opt out. The European Union, Germany and Canada also said they would increase their initial pledges to the program.
Drug companies have rebuffed sharing their proprietary technology more freely with companies in developing nations. They cite the rapid development of new vaccines as evidence that the industry's traditional business model, based on exclusive patents and know-how, is working.
The companies are lobbying the Biden administration and other members of the WTO against any erosion of their monopolies on vaccines that are worth billions of dollars in annual sales.
"We're spending lots of money to save the hospitality industry, the airlines, travel. It will all come to naught if the rest of the world is not protected," said US Representative Jan Schakowsky, an Illinois Democrat, who questioned drug executives at a recent House hearing over their refusal to share the vaccine patents openly.
"It doesn't make any sense for rich countries to think they can vaccinate their own and let the rest of the world live off dribs and drabs," said Brook Baker, a Northeastern University law professor. He advised the WHO last year in the creation of a technology-sharing pool to help developing countries make the vaccines.
But no coronavirus vaccine manufacturer has agreed to participate in the program, called the COVID-19 Technology Access Pool, the WHO said.
Albert Bourla, the CEO of Pfizer, called the concept "nonsense" in May 2020.
"It's also dangerous," he said at a forum organized by the International Federation of Pharmaceutical Manufacturers and Associations. Companies are "investing billions to find a solution and, keep in mind, if you have a discovery, we are going to take your (intellectual property), I think, is dangerous," Bourla said.
AstraZeneca CEO Pascal Soriot argued at the forum that IP is "a fundamental part of our industry, and if you don't protect IP, then essentially, there is no incentive for anybody to innovate. What is important is for companies to volunteer to provide their products at no profit, like we're doing right now in case of a pandemic or crisis, when it's needed."
In March, the US, the UK and members of the European Union blocked a WTO proposal backed by roughly 80 nations, including India and South Africa, to waive patent protections for coronavirus vaccines. The WTO plans to revisit the issue in May.
A group of US senators led by Vermont independent Bernie Sanders and Democrats Elizabeth Warren of Massachusetts and Tammy Baldwin of Wisconsin, along with former heads of state and Nobel laureates, have urged Biden to support a temporary waiver.
Nicholas Lusiani, senior adviser at the anti-poverty group Oxfam America, said Biden administration officials indicated a potential about-face to support the waiver proposal in recent talks with the group. He said Washington also was considering backing an effort to help fund vaccine-manufacturing hubs in Latin America and Africa.
"In the last few weeks, we've seen a groundswell of support for what was seen as a place the US would never go — temporarily suspending patent rights," Lusiani said.
Agencies contributed to this story.