Vaccine chief: Britain must remain cautious
Share - WeChat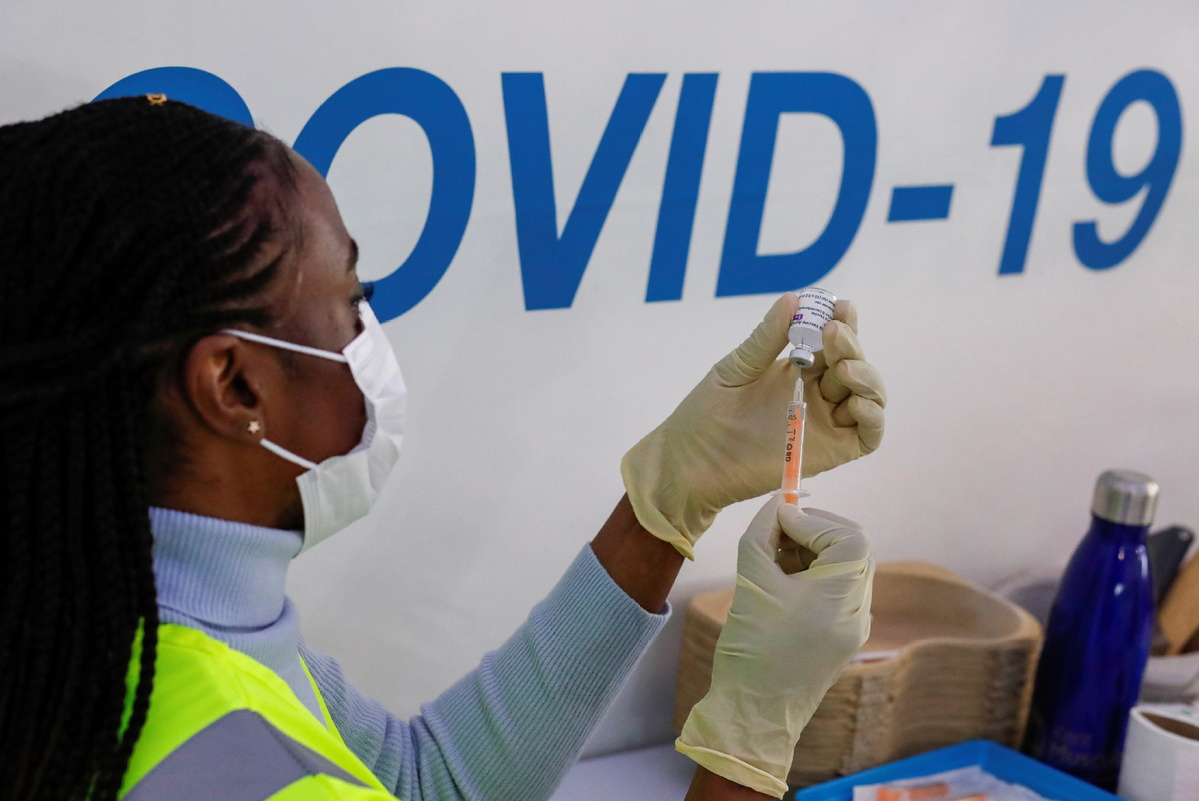 Country has secured extra 60m doses to support booster vaccination project
The United Kingdom has made steady progress with its vaccination campaign, but the nation must remain cautious about opening up too quickly, said its vaccine minister on Thursday.
While one in four adults in the UK has now had two doses of a vaccine, lifting the nation's lockdown restrictions cannot be safely accelerated and "we have to be careful," said Nadhim Zahawi. However, he added that the nation's road map out of lockdown restrictions remains on course.
Speaking to Sky News, he said: "If the vaccines have 85 percent efficacy and we vaccinate fully 85 percent of the adult population, that is still only 72 percent protection-that is quite a sizeable percentage for the virus to go after and infect, which is why we have to be careful. The good news is we're not seeing any evidence that would lead us to believe we can't meet the next step in May and, ultimately, June 21.
"It is much better to be careful and follow the data and collect the data properly, analyze and then make a decision... we all want obviously to get our freedoms back as quickly as possible but let us do this properly and let's do it safely."
Asked if the restrictions could be lifted as planned, Zahawi said: "The data is looking good and positive but nevertheless we really have to be careful because what we don't want is mutations, for example, to blindside us and then have another spike."
Vaccine manufacturer Moderna has said it will boost its manufacturing capacity to tackle new and existing variants of the COVID-19 virus.
The company's chief executive, Stephane Bancel, told the Financial Times on Thursday that it would increase its global supply by up to 3 billion next year. Moderna has invested "billions of dollars" to increase manufacturing at its partner sites in Europe and in its own United States sites, he said.
There is alarm around the new strain circulating in India, which has pushed the nation's health system to the verge of collapse, and Bancel emphasized the importance of tackling new variants. He added that governments were seeking mRNA-based vaccines over adenovirus-based vaccines.
Adenovirus vaccines, such as those produced by Oxford/AstraZeneca and Johnson& Johnson, have proven less effective in trials compared with mRNA jabs. There are also concerns they can cause rare but serious blood clots in some patients.
BioNTech's chief executive, Ugur Sahin, said on Wednesday he was confident the mRNA vaccine his company pioneered with Pfizer will work against the new variant circulating in India. He said that BioNTech had developed the vaccine with variants in mind.
" (It) will hold, I'm confident of that," he said, adding that BioNTech had been prepared for the virus to mutate, having learned from its earlier experience developing cancer therapies.
Sahin also said Europe will likely achieve herd immunity against COVID-19 this summer, thanks to the widespread rollout of vaccines. The Pfizer vaccine makes up a large share of the doses administered in Europe and North America.
"Europe will reach herd immunity in July, latest by August," he said.
Experts believe anything above 70 percent level of immunization would significantly disrupt transmission of the virus in the continent, the Associated Press noted.
Sahin said that booster shots will likely be needed in the future, as data shows that the immune response in people who have received the Pfizer jab gets weaker over time.
The UK government announced it has secured an extra 60 million doses of the Pfizer/BioNTech vaccine to help support the booster COVID-19 vaccination program that is to begin in the fall.
It said the effort aims to protect the most vulnerable ahead of the winter and ensure people have the strongest possible protection from COVID-19.
The government said health services across the UK have now administered more than 47.5 million vaccines since December. This includes nearly 34 million first doses, or 64.5 percent of all adults, and more than 13.5 million, or 25.8 percent of all adults, have been given their second dose.