Highways bring money, development
Share - WeChat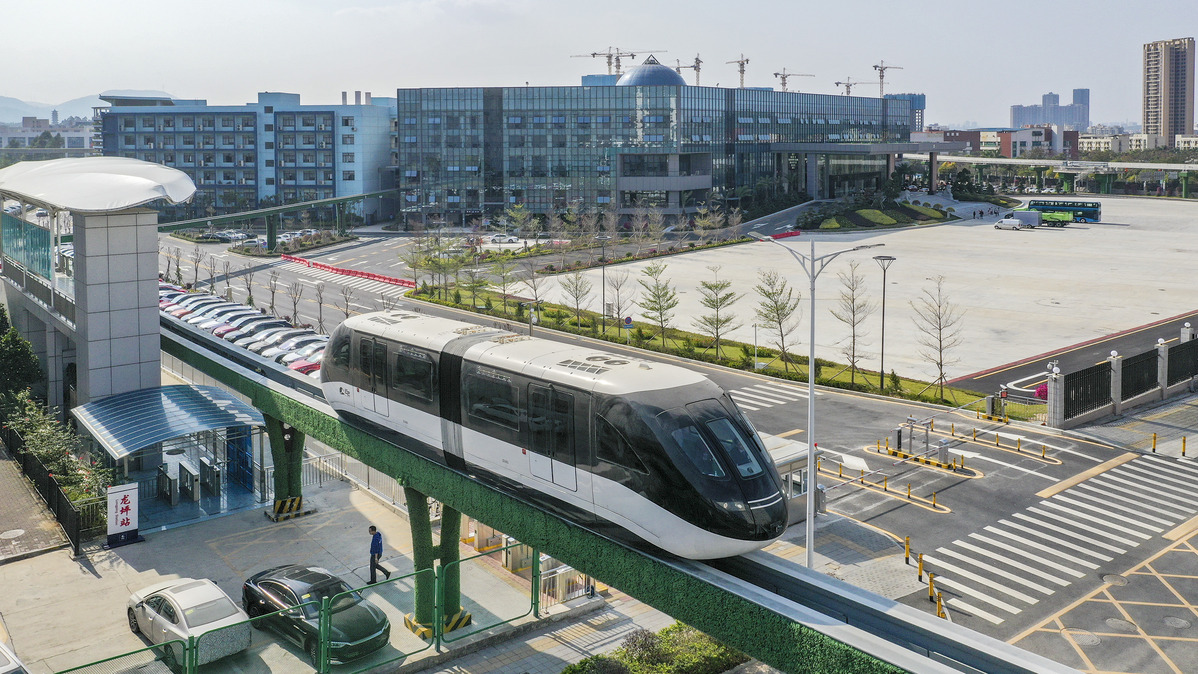 Greater Bay Area makes major gains over long term from infrastructure thrust
Su Xiuyi bought a sewing machine from Taiping Handbags Factory when the first export-oriented processing factory in China closed its doors in 1996.
"The machine was then donated to an exhibition hall, which was built in 2019 to mark the marvelous development of the factory since the reform and opening-up policy,"Su said.
Su, 72, worked on an assembly line at the factory, which was established by a Hong Kong company in 1978 in Humen township, Dongguan, Guangdong province.
"Back in the 1980s, many female workers like me were eager to work in the factory, which provided very competitive pay," she said.
Taiping Handbags Factory, the first company to start manufacturing processed goods on the Chinese mainland and export them to Hong Kong, followed China's reform and opening-up policy and its strategy of developing foreign trade.
"Following the success of the Taiping plant, many entrepreneurs from Hong Kong and Taiwan established factories in Dongguan and other cities in the Pearl River Delta region to make shoes, bags, garments and suitcases for export," Su said.
As of 2020, Humen, in the heart of the delta, has more than 782 overseas-funded companies registered, with import and export volume reaching 55.31 billion yuan ($8.51 billion) last year, according to local government data.
Humen's GDP increased from 74.66 million yuan in 1978 to 64.5 billion yuan in 2020, according to the local government.
"Rapid development of expressways in the Pearl River Delta region has helped attract foreign investment," said Huang Liangren, director of the Taiping Handbags Factory Exhibition Hall.
Citing the Guangzhou-Shenzhen Expressway, which connects Guangzhou, Dongguan, Shenzhen and Hong Kong in the delta, Huang said the highly efficient transportation network will further push local industrial upgrades.
Along the Guangzhou-Shenzhen route, a number of emerging industries have been rapidly developed in Guangzhou, Dongguan and Shenzhen over the past decades, according to Huang.
BYD Co Ltd, which was founded in 1995 in Shenzhen, has established over 30 industrial parks worldwide, building its business related to electronics, automobiles, new energy and rail transit.
"Our business covers more than 300 cities in over 50 countries and regions, providing green energy and low-carbon vehicle services," said Luo Hao, public relations director at BYD.
Zhang Lei, deputy general manager of Shenzhen New Industries Biomedical Engineering Co Ltd, said the company has realized an annual increase of more than 30 percent in sales over the last few years.
"Emerging businesses have played a significant role in driving the economic development of Shenzhen. We have increased our production capacity to meet global market demand for biomedical products and services," Zhang said.
Convenient and efficient transportation services have been key to helping boost the local economy, Zhang added.
"We are expecting more business growth as there will be an intercity expressway soon to be completed and running through Pingshan new area, where our company is located,"Zhang said.
In the Guangdong-Hong Kong-Macao Greater Bay Area, a number of new transportation facilities are being constructed, helping further strengthen connectivity among cities within the GBA.
The main bridge towers of Zhongshan Bridge, one of the key projects amid ongoing construction along the Shenzhen-Zhongshan Link, will be completed before the end of this year, according to the Shenzhen-Zhongshan Link Administration Center.
The Shenzhen-Zhongshan Link connects the city clusters of Shenzhen, Dongguan and Huizhou in the eastern part of the PRD region with the prosperous cities of Guangzhou, Zhuhai, Foshan, Zhongshan, Jiangmen and Zhaoqing to the west, helping strengthen connectivity in the GBA.
"The link will play an important role in expanding cooperation and exchanges among cities in the GBA in the future and further help boost industrial upgrading," said Chen Yue, deputy chief engineer and director of the Chief Engineer's Office at the Shenzhen-Zhongshan Link Administration Center.
It will take only about 30 minutes to travel between Zhongshan and Shenzhen when the eight-lane structure, which also connects Guangdong's three pilot free trade areas of Qianhai-Shekou in Shenzhen, Nansha in Guangzhou and Hengqin in Zhuhai, is completed and opens to traffic in 2024.