'Still Asia's finest' - HK police force in eyes of its expat officer
Share - WeChat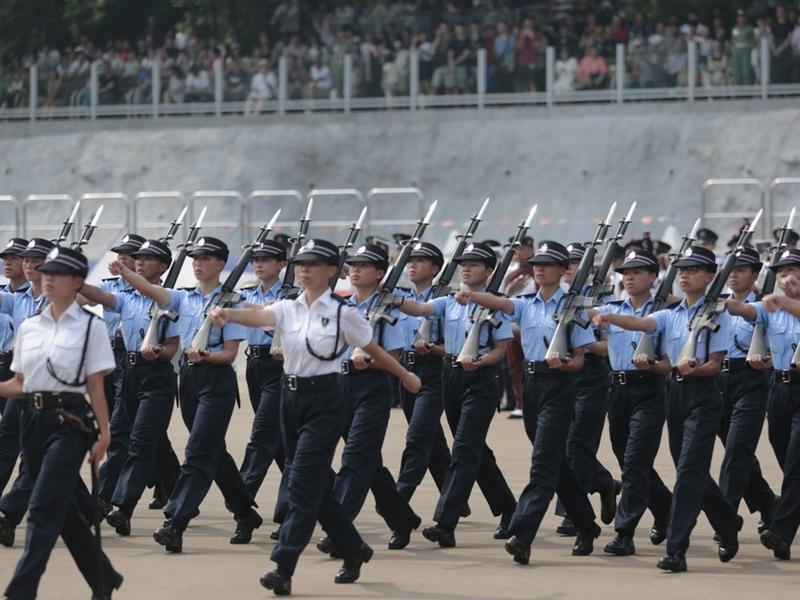 HONG KONG -- Sitting with his back to a battered office chair that belonged to an admiral of the Japanese Navy during the occupation of Hong Kong in World War II, Timothy Worrall, one of the youngest serving foreign police officers in Hong Kong, hopes his retirement does not come too quickly.
The 47-year-old Briton serves in Hong Kong's Marine Police Headquarters on the northern shore of Hong Kong Island. It is a building with various historical items telling a nearly-200-year history of piracy, war, smuggling, illegal immigration and sea rescue.
"I think all of the overseas officers working with the force have one thing in common -- that Hong Kong is their home. And because of it, you can't really differentiate between an overseas officer and a locally-recruited one, because they share the same goal, same commitment, which is to keep their home safe and sound, and look after the people of Hong Kong," he said.
Worrall's family originally came to Hong Kong before WWII when his grandfather worked on coastal trading vessels. During the Japanese occupation, his grandfather was interned in Stanley Internment Camp where his grandfather met with his grandmother.
Worrall's father joined the force in the 1960s and retired as a chief superintendent in 1997.
"I grew up seeing him doing many challenging and fulfilling things at the police tactical unit, the emergency unit and marine, and I formed the childhood dream of also joining," he said.
After obtaining a degree in Britain, he was recruited in London and joined the force in October 1994.
"I was very lucky to get in as overseas recruitment was ending at that time," Worrall said. The Hong Kong police force recruited quite many overseas officers before 1994. Some of them have chosen to stay and continue to serve after Hong Kong's return to the motherland in 1997.
Besides the intensive training on firefighting, life saving and survival skills, he also self-taught Cantonese and became a daai lou, meaning "big brother" among his colleagues.
Worrall was also given a Chinese name, Wong Wai-nok, which has accompanied him during his 26 years of service.
"I believe it means a person of great aspirations, whether that applies to me or not I can't say," he said jokingly.
According to Worrall, police officers move positions normally every 18 months to 24 months, which in his eyes is another good thing about Hong Kong police because "You know that you are going to try new things."
He will soon assume a new post as a deputy district commander, assisting his superior who is responsible for over 1,000 officers manning the patrol boats on the northern, eastern and western waters.
Though he is confined to his office most of the time, he is still a good "captain" if he wants to. The last time he steered a high-speed interceptor in an official capacity was in 2019, and he sailed "as fast as the vehicles running on a nearby highway."
"Chasing and intercepting high-speed boats requires highly specialized skills, and is also very dangerous," Worrall said. "But I've never been overtaken."
The police force of Hong Kong was repeatedly given the acclamation of Asia's Finest in the past decades. Over the course of the last year, he had been repeatedly impressed by the officers on the frontline who had been subjected to all sorts of pressures.
"Everyone has a right to expression. But throwing petrol bombs or firing arrows to people in the street is really not the way to express yourself if you want to be taken seriously," he said.
The force is exactly the same force as it was -- the same traditions, same regulations and same orders, he said. "They stood firm and stood together to make Hong Kong what it was -- a safe and stable society in the world."
In fact, a service satisfaction survey of Hong Kong police is conducted every year. The 2019 survey showed that 84 percent of the public were satisfied with the force's services.
"I think it's important to remember that over the course of history, Hong Kong has faced many, many challenges, but it just keeps on going." And Worrall wants to accompany the city for as far as possible.
"Hong Kong is an amazing place for many many reasons. But one of my favorite reasons is that in the morning you can go fishing, hiking, biking, diving. And then in the afternoon you can come down into this amazing city and have all sorts of foods and meet all sorts of people from all sorts of places around the world," he said.
"I can't think of another place like it," he said. Except for the 10 years of studying in Britain, during which Worrall kept coming back for summer and winter vacations, Hong Kong has always been his hometown.
And the sense of nostalgia has been growing in him as he moves towards retirement.
"I'm trying not to think about it too much. I'm trying to enjoy what I'm doing now, but when it does happen, I would like to commit myself further to Hong Kong," he said.
"The force, although it's very very big -- over 30,000 officers, it's also very, very small. It's like a family in many ways. It looks after its own, and it strives to look after the people of Hong Kong."