Hong Kong has role to play in 14th Five-Year Plan, forum told
Share - WeChat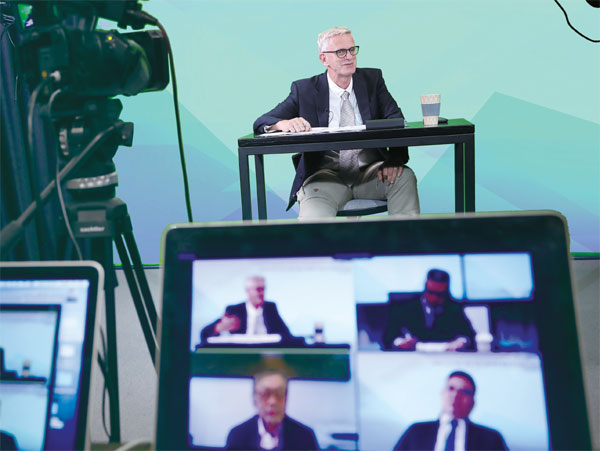 As Hong Kong looks to become more relevant than ever on the national stage, the city should give full play to a whole package of new roles highlighted in the country's top development planning document and hook into the grand story of economic transformation unfolding in the world's second-largest economy, industry leaders and experts told the China Daily Asia Leadership Roundtable in Hong Kong on Wednesday.
The 14th Five-Year Plan (2021-25), which sets out the nation's vision for social and economic development over the next half-decade, was approved at the fourth session of the 13th National People's Congress last month.
Speaking at a webinar panel titled "China's 14th Five-Year Plan and the Role of Hong Kong", Guo Wanda, executive vice-president of the Shenzhen-based China Development Institute, said the 14th Five-Year Plan pledged to cement the city's strengths as a financial, maritime and trade center.
"At a critical, historic juncture, the grand national economic and social development plan has more to offer," Guo said.
It offered unwavering support for turning Hong Kong into an international aviation hub and a global offshore renminbi business hub. Meanwhile, it underscored Hong Kong's brand-new or rarely mentioned roles as an international asset management and risk management center, a global innovation and technology hub, a center for international legal and dispute resolution services in the Asia-Pacific region, a regional intellectual property trading center as well as an exchange center for arts and culture between the Chinese mainland and the world, Guo said.
Guo, who is also vice-chairman of the Chinese Association of Hong Kong & Macao Studies, said he believed the financial center has what it takes to give full play to its new roles and functions across the Guangdong-Hong Kong-Macao Greater Bay Area.
Despite the past two roller coaster years sending Hong Kong reeling into a crisis of confidence, the city rose to fourth in the 29th edition of the Global Financial Centres Index report, which was recently published by China Development Institute in partnership with City of London think tank Z/Yen Group.
The city ranks behind New York, London and Shanghai, but ahead of Singapore, Beijing and Tokyo, on the back of a strong initial public offering market benefiting from overseas-listed mainland enterprises making a beeline back home and a whole package of financial links between Hong Kong and the mainland, Guo said.
Edward Tse, founder and CEO of Gao Feng Advisory, said economic transformation takes center stage in the nation's 14th Five-Year Plan and the Bay Area has all the elements required to play a key role in regional economic transformation.
Tse highlighted mobility, smart infrastructure, connectivity, digital lifestyle and internationalization as five key dimensions that will drive the Bay Area's development.
"The innovations and new ideas during the pandemic will continue into post-pandemic times, embedding into people's lifestyles and companies' operations," he said. These include three major trends-smart transportation, smart healthcare and digital currency.
Hong Kong should lose no time in taking part in these developments through cooperation with the mainland, especially with Bay Area cities, to promote and benefit from digitalization, Tse said.
He said he believed Hong Kong is on the rise to become the capital of cryptocurrency, with its free flow of capital and low-interest-rate environment. As China accelerates the development of digital currency, Hong Kong will have more roles to play, Tse said.
Moreover, as the country attaches importance to the "dual circulation" policy, Tse said, working closely with Africa will be very beneficial for the world's second-largest economy and Hong Kong.
Africa has huge demand for infrastructure and basic commodities, which creates substantial business opportunities, he said.
As China keeps enhancing trade partnerships with African countries, Tse said, Hong Kong's professional services in global trading will help it establish more business opportunities in China-Africa relations and the Belt and Road Initiative.
Echoing Tse, Li Shan, CEO of Silk Road Finance, said the country's new Five-Year Plan will spell unprecedented opportunities for Hong Kong in the new economy and smart city development.
As a financial center, Hong Kong serves as a bridge for the mainland and the rest of the world, Li said.
Hong Kong has the potential to become a data hub for Asia in the country's technology outlook, he said.
"It is not just about data storage, but utilizing technology to develop new businesses and even new governance, fueled by the city's strong capacity in scientific research," Li said.
When it comes to Hong Kong's rival Singapore, he said he believed Asia is big enough for more than one data center. Plus, Hong Kong has unique advantages under the "one country, two systems" principle, where it has the mainland as a huge market for any new technology and service-oriented digitalization.
With Hong Kong on the frontier of environment, social and governance development, Li said it can contribute to Chinese companies' transformation in the new economy.