Adopted generation pines for answers
Share - WeChat Children sent north during famine and turmoil, still hope to find their roots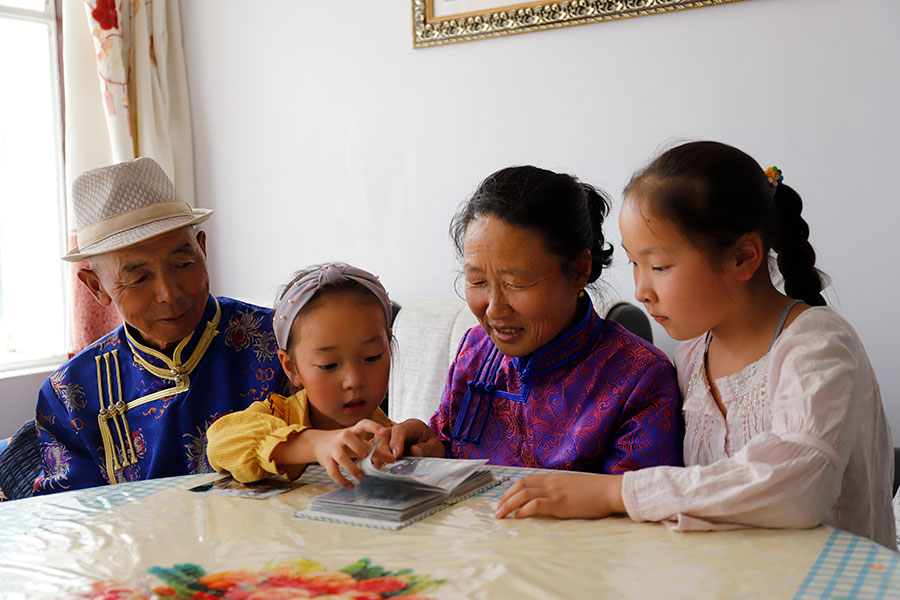 With a weathered face and wearing a camouflage jacket, Bod stands near a large sheep pen near her home in the Inner Mongolia autonomous region.
A herder who has roamed the vast grasslands of North China for most of her life, she speaks Mongolian and heavily accented Mandarin.
There are no telltale signs the 62-year-old was born thousands of kilometers away in Shanghai, a city she wants to return to in order to connect with her roots.
"The trip will not necessarily be aimed at searching for relatives," she said. "It would just feel good to step onto the soil where I was born."
Bod was among 3,000 malnourished children from orphanages in southern and other regions, including Shanghai and Anhui province, who were transferred to be raised in Inner Mongolian households, starting from the late 1950s.
"I cannot remember anything of the time when I first arrived; the weather; or if I came by train or bus," said the mother of three, who like ethnic Mongolians goes by one name.
The shifting of children north was worked out by then Premier Zhou Enlai and Ulanfu, the former head of the Inner Mongolian regional government, as famine swept China following the economic upheavals of the Great Leap Forward social restructuring campaign.
Agricultural areas, especially those in the south, scrambled to feed people amid lengthy droughts and economic turmoil.
However, the herding communities in the north remained largely unscathed. The children sent there were referred to as the "nation's children" or "children from the south" by the herders.
Northern life
In 1961, Bod, who was only a toddler, reached Siziwang Banner, in the region's south along with 27 other orphans, according to local records.
She was adopted by a rich couple who had fertility problems. They made Bod feel like their own flesh and blood.
During the 1960s, few herding families could afford or were willing to let their children stay in class, but Bod completed middle school.
When her adoptive father was purged during the "cultural revolution" (1966-76) he was worried Bod would be bullied at school because of her background.
That day came when she was age 8 or 9. Several educated youths sent to Bod's school in the countryside for reeducation picked up that she was from somewhere else and started teasing her about being adopted.
Raised in a Mongolian-speaking household, she struggled to understand what they were saying in Mandarin, but she knew she was being taunted.
Overwhelmed with anger, frustration and doubt she raced back home and confronted her parents.
"They told me that I was indeed adopted, I chose not to believe it. I thought they were joking," she said.
Tragic start
Jiang Yonglu, a former senior official from Abga Banner's health department who handled two adoption handovers in 1958 and 1959 said the process had a calamitous start.
In the autumn of 1958, more than 100 orphans arrived in the banner, the 89-year-old said.
Herders wanting to adopt children waited at the bus station for vehicles loaded with children from the south. "The children were directly collected by herders and carried home on camels or ox carts," he said. "Some herders brought snacks and store-bought gifts as welcome gestures."
However, at the time the banner was combating an outbreak of brucellosis, a bacterial disease often caused by drinking unpasteurized milk or undercooked meat from infected animals that causes fever and headache.
"In just three or five days, the travel-weary children were reported to be showing symptoms such as diarrhea and coughing," he said.
Alarmed officials collected all the children from their adopted families to prevent the spread of the disease. However, about one-third died from it, Jiang said.
The episode prompted Ulanfu to urge health authorities to make sure all children transferred to Inner Mongolia were strong enough to survive.
Herders were forbidden from picking up the children on arrival who had to be monitored at a hospital for a few months.
The 1959 handover of about 300 orphans from Shanghai was safe and successful, Jiang said.
"Many of the children had swollen stomachs because of malnutrition and more than 80 percent were girls," he recalled of the trip to a Shanghai orphanage to collect them.
Despite the setbacks, Jiang said many of the children were grateful to their foster families after learning about their adoptions. Some even regularly visit him to show their respect.
"They are really grateful kids," he said. "I only carried out an order handed down by the nation, but the kids always say that they are indebted to me."
The pull of home
Six decades later, Bod and her fellow adoptees, now aged in their 60s, have become herders, doctors and government officials.
Bod's adoptive parents, who have since passed away, found her a husband when she was 20 who came to live with the family. The couple have two daughters and a son.
Today, Bod has more than 300 hectares of grassland and grazes more than 500 sheep as well as cattle. She has given a pasture to her son.
Despite all her success, the ghosts of Bod's past still nag at her. In 2017, word spread in the banner that a family from the south had come to neighboring Xiliin Gol League in search of a long-lost family member-a girl who went missing during the famine.
The message rekindled hope in Bod.
"Where am I from?" Bod asked herself. "I want to make things clear, but I've been occupied here and couldn't leave."
People around her, including her children, told her she didn't need unnecessary trouble at her age.
However, now that her daughters are married and her son is taking care of the livestock, Bod has an urge to go to Shanghai to look at a city she has only seen on television programs and where her biological parents are probably from.
She is still waiting for her family to tell her that they support her trip.