Livestreaming job fair gains popularity
Share - WeChat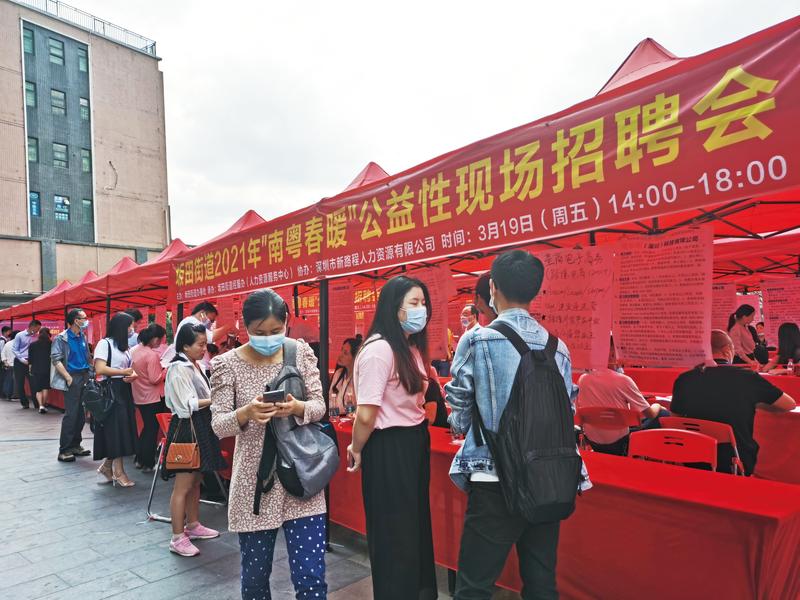 While livestreaming has become the most important way for commodity sales on the Chinese mainland since the COVID-19 outbreak, it's also being used by employers as a new way to hire employees.
A greater number of mainland companies are advertising their job openings through "livestreaming rooms", where they make themselves known to job hunters, introduce the jobs offered and interact with online viewers.
In Shenzhen, a livestreaming job fair last month saw 20 enterprises taking part, offering more than 7,500 jobs. The posts included coding engineers, foreign trade sales people, technicians, warehouse keepers, and customer service representatives.
"Livestreaming has become an important way for companies to publicize themselves since the pandemic started," said Fang Li, a human resources manager at an electronics manufacturing company in Shenzhen.
"Through this new recruitment method, job hunters can get a better understanding of us, including our work environment, corporate culture and the jobs we offer. We can also reach out to a large number of prospective job seekers within a short period, making recruitment more efficient," he said.
A livestreaming job fair launched by mainland online job recruitment platform Boss Zhipin last month was reported to have attracted more than 10,000 people in half an hour. Dozens of enterprises, including such big names as Hangzhou-based tech group NetEase and US fast-food chain KFC Corp, joined the online event.
However, some employers are still a bit conservative about the new recruitment model.
"Recruitment through livestreaming is more suitable for well-known or large enterprises because job seekers are more willing to watch their shows. For smaller ones, they may have difficulty in attracting a bigger audience," said a human resources manager at a catering company in Shenzhen surnamed Chen.
He said livestreaming won't change the job recruitment landscape in future although it provides an alternative for employers.
"Livestreaming has its own advantages, but it will not replace the traditional mode of offline recruitment. For most employers, they still prefer face-to-face interviews with job seekers," he said.
Lyu Mingli, a 30-year-old employee at a semiconductor company in Shenzhen, said that she would like to use livestreaming in seeking jobs.
"It's another platform for me to look out for employment opportunities," she said. "Also, if I'm confused with the job descriptions or requirements, I can directly ask the human resources people concerned. This will save time in the process."