China's first autonomous bus line debuts
Share - WeChat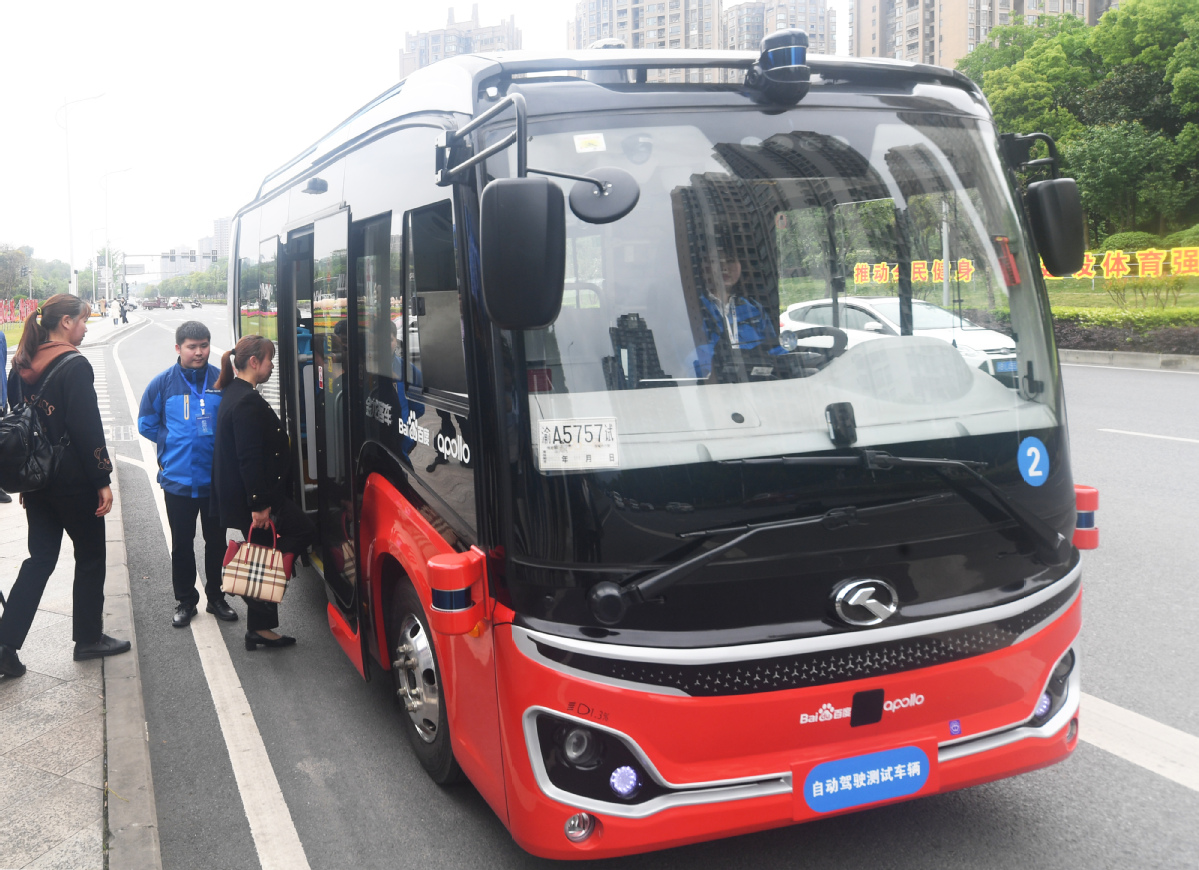 China's first autonomous bus line started commercial operations in Yongchuan district of Chongqing on Monday with passengers boarding a red Baidu Robobus bus for city trips.
"I did not expect the bus to run so smoothly. There was no shaking or any sudden braking," a middle-aged woman passenger told Chongqing Morning Post. "The seats are very comfortable and I will certainly take the bus again."
Robobus, developed by Chinese tech giant Baidu, is a Level-4 autonomous driving bus. It is 5.9 meters long and can carry 19 passengers at a cruise speed of 40 to 60 kilometers per hour. Level-4 autonomy means that the vehicle can drive autonomously in most conditions without a human driver.
Baidu is using three buses for trips on the 10-km two-way bus route, which has four stops. The interior of the bus is similar to normal ones and passengers can use their bus cards as well. A safety monitor is present in the driver's seat for use in case of emergency, but the actual driving is done by the artificial intelligence system.
"The launch of China's first autonomous bus line marks a major breakthrough in the commercialization of autonomous driving technology in the country," said Li Zhenyu, corporate vice-president of Baidu and general manager of the company's intelligent driving group.
In 2019, Yongchuan, a key connecting point in Chengdu and Chongqing Economic Circle, built the Western China Autonomous Driving Open Test Base with Baidu.
Baidu has been investing in autonomous driving since 2013. Its Apollo is the world's leading open platform for autonomous driving, with more than 210 partners, 55,000 global developers and 700,000 lines of open-source code. The tech giant is also one of several Chinese technology companies that have launched autonomous taxi services for the public.
"The Robobus line will cover all of the district in the future and Yongchuan will become a national model for demonstration and application of autonomous driving," said Teng Hongwei, Party secretary of Yongchuan district.
The district will look to team up with leading AI companies for smart transport and medical pilot projects, Teng said.
As a driverless bus for open road operations, Robobus can easily cope with the bus station scenes and the complex urban road conditions, and fully meet the needs for normal public transport operations, according to Xiong Zupin, Chongqing manager of the company's intelligent driving group.
Passengers can also book a ride on the Robobus through mobile phone applications such as Apollo Go, Baidu Map and Yongchuan Public Service.
As the gateway to Southwest China and a major industrial base, Chongqing boasts one of the world's largest IT industrial clusters and one of the largest auto manufacturing bases in the country. It aims to build itself into a renowned smart city and a smart manufacturing powerhouse.
According to consulting firm McKinsey, China has the potential to become the world's largest market for autonomous vehicles. McKinsey estimates that autonomous driving vehicles will account for more than 40 percent of the new vehicle sales in the world's largest auto market by 2040.