Vaccination vehicles speed up inoculations
Share - WeChat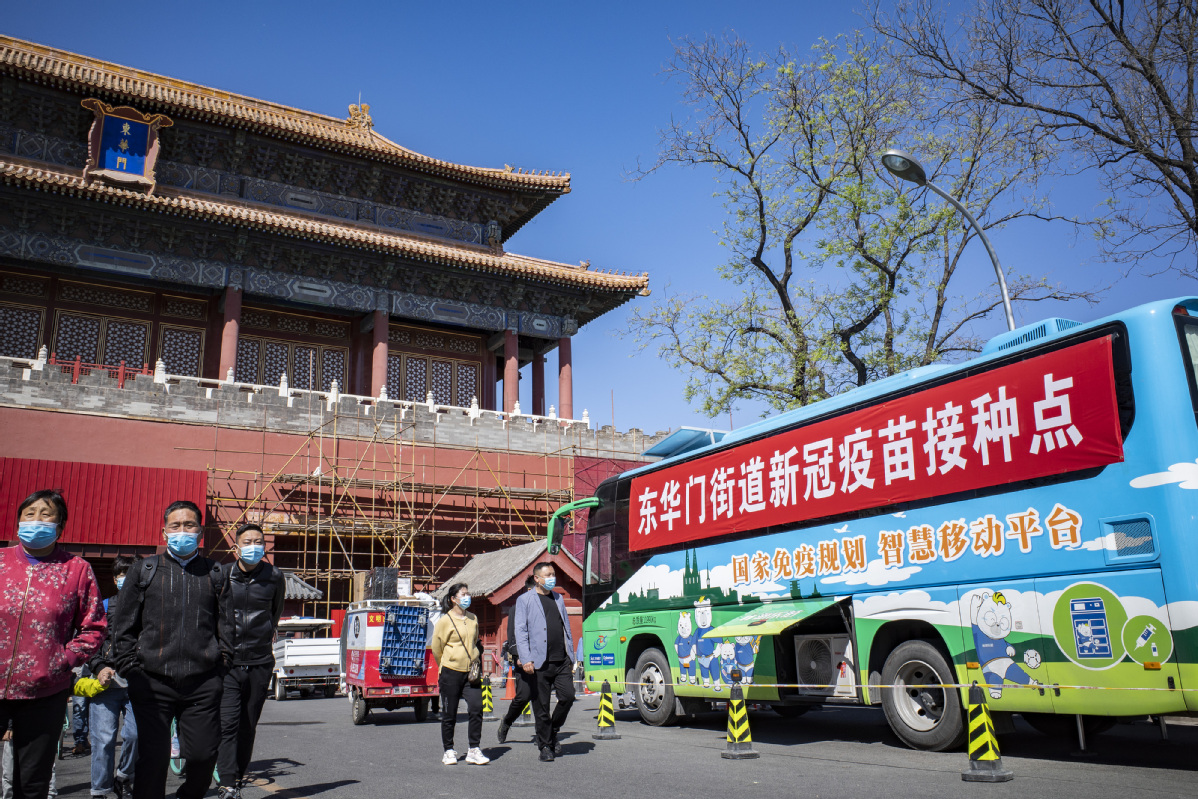 A bus-like mobile clinic has been providing free COVID-19 vaccinations to workers in Shanghai's Lingang area since late March.
Its interior has two separate sections, painted orange and pink, and it is equipped with vaccination stations, refrigerators able to store 1,200 doses of vaccine, and first-aid equipment.
Once it arrives at a location, medical personnel begin offering a one-stop service for registration, disinfection and vaccination. The vehicle enables busy people to receive shots at work, saving time and improving inoculation efficiency.
The onboard 5G communication system can report real-time injection data to local centers for disease control and prevention.
"This is the first time I have ever seen such a mobile vaccination vehicle. It's so convenient to get vaccinated near the company," one worker said.
The mobile vaccine clinics can also reach people such as the elderly, the disabled and those who do not have access to transportation.
A vaccination vehicle carrying 800 vaccine doses rolled into a streetside garden in western Beijing on Saturday. Zhou Zhijian, an elderly resident who was accompanied by his son, arrived at the site in a wheelchair for a shot.
"Vaccination is an obligation of citizens," the 96-year-old said.
Wang Donghui, who was in charge of the mobile vaccination site, said there were nine communities with 70,000 residents near the garden.
Vaccination is the most effective means of preventing and controlling COVID-19. The mobile inoculation vehicles, which can vaccinate more than 150 people an hour, have ensured that vaccination is both easy and efficient.
"Getting vaccinated in vehicles can reduce the public's concerns over cross-infection and help promote COVID-19 vaccination with high efficiency," said Cheng Hua, a product manager at carmaker Foton Motor, which can produce 12 such vehicles a day.
The company will provide vaccination vehicles for Beijing and neighboring Hebei province starting this month.
Cities including Wuhan, Chongqing and Wuxi have deployed vaccination vehicles in campuses, construction sites and commercial areas to accelerate the pace of inoculations.
The National Health Commission said more than 164 million doses of COVID-19 vaccines had been administered across China as of Saturday.
Xinhua