Drones speed deliveries of vital blood supplies
Share - WeChat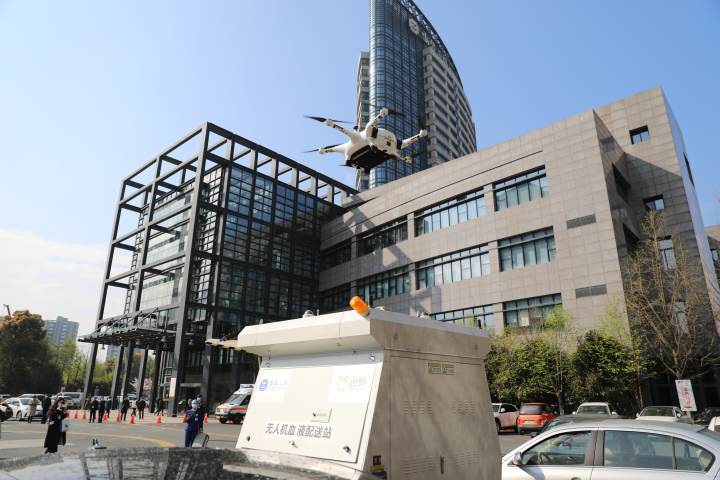 HANGZHOU-Traffic used to be a constant headache for medical workers in Hangzhou, capital of East China's Zhejiang province. However, they have now found a new way to improve emergency medical deliveries by using drones.
On March 24, a white, six-axis drone quickly delivered several blood bags and ice packs to the Second Affiliated Hospital of Zhejiang University School of Medicine.
The unmanned aerial vehicle took off from Zhejiang's Blood Center, about 3 kilometers or a 12-minute drive from the hospital. Staff at a flight control center inspected the machine via a computer link before letting it land.
It was a trial blood delivery by the drone maker Antwork Technology, a startup based in Hangzhou, which obtained China's first license to test drone deliveries in 2019.
Dubbed Antwork RA3, the UAV, which has a carrying capacity of 5 kilograms and a range of 15 km, made the journey in less than five minutes. In the past, it would take two medical workers at least 30 minutes in a vehicle to make the same trip.
Compared with ordinary aerial vehicles, the Antwork RA3 has more accurate drone navigation and higher wind resistance. It can also fly in rain and snow. The drone container is capable of maintaining a constant temperature and will ensure the quality of blood supples, said the drone company founder Zhang Lei.
Drones can transport 4 to 5 liters of blood in one flight and the service costs less than road transportation, he said. In addition to reduced costs, drone deliveries can avoid delays caused by traffic congestion.
Zhang Mao, director of the hospital's Emergency Medicine Department, said faster deliveries can be crucial in saving the life of a critically ill patient.
After the trial delivery, the drone maker launched 24/7 all-weather blood delivery services for medical institutions in Hangzhou. It plans to expand the service to other cities.
Last year, Antwork RA3 used other drones to deliver emergency medical supplies to rural hospitals during the COVID-19 epidemic.
It also pioneered drone deliveries of lifesaving devices, such as heart defibrillators.
Xinhua