Principal's principles peppered with praises
Share - WeChat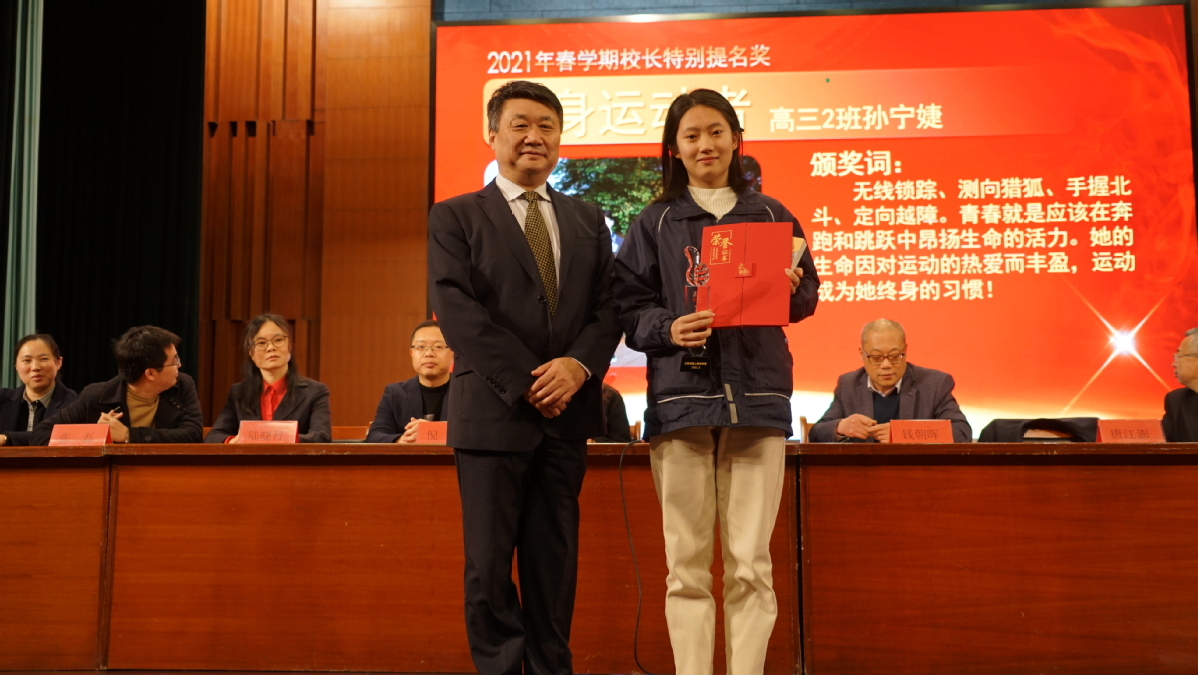 Tang Jiangpeng is baffled by the fact that the comments he made about striking a balance between grades and the holistic development of students have made him an internet celebrity.
To Tang, who is the principal of Jiangsu Xishan Senior High School in Wuxi, Jiangsu province, the need for such a balance should be common sense, and not something out of the ordinary.
The 58-year-old made the comments on the sidelines of the annual session of the 13th National Committee of the Chinese People's Political Consultative Conference, China's top political advisory body, in Beijing earlier last month.
His five-minute speech quickly drew tens of millions of views from internet users, most of whom are parents supportive of his stance. "If we only care about grades, students will probably fail bigger tests in life," he said, responding to a question about the essence of education.
In his speech, Tang also underscored the importance of fitness and freeing students from their excessive workloads. "I think the reaction by netizens shows that society is eager to improve the education system for the benefit of the children," he said.
Tang, who has been teaching for more than four decades, argues that education is meant to develop physically fit individuals who are responsible problem solvers and capable of living a good life.
This philosophy is exactly what his school practices.
At Jiangsu Xishan Senior High School, all students are required to undergo a one-hour physical education class every day. Students can also opt to take elective courses such as intelligent farming, public speaking and industrial design-none of which are included in the national college entrance examination, or gaokao.
The school has also launched a unique project in which students assume various professions in the context of a city. They could be a bank clerk, a postal worker, a radio host or even the mayor.
Xi Xinyuan, a student who is the incumbent "mayor", said she has learned through this project how to better solve problems and work alongside others.
According to Tang, who is a seasoned curriculum designer, these special elective courses and programs will prepare students for higher education by providing them with a clearer idea of what they could do in the workforce in the future.
The school also collaborates with universities and companies to create real world learning experiences for students.
Born in the then poverty-stricken Luonan county, Shaanxi province in 1963, Tang has walked with a limp since he contracted polio as a child. Despite scoring exceptional grades on the 1979 gaokao, Tang was unable to gain admission to any university because of his physical disability.
He then chose to become a tutor before taking on the role of an uncertified Chinese teacher at a local high school. It was through these experiences that he developed a strong passion for teaching.
"Back then, I knew little about what education was. All I did was teach my students what I had learned and unreservedly shared my study experiences with them," he said. "This was how a love for this profession was engraved in my soul."
Tang admitted that he, too, was obsessed with grades when he first started teaching. But he gradually changed his approach, shifting to one that focused on providing a well-rounded education and cultivating students' virtues and potentials.
He honed this new approach when he started work at the prestigious Jiangsu Xishan Senior High School in 1993.
A set of photos depicting students from more than 80 years ago being honored for their merits such as kindness, hard work and perfect attendance record left him heartened and determined to uphold his teaching philosophy.
Inheriting the tradition, Tang established the Principal's Special Nomination Award in 2006. The award is conferred to any student who excels in any discipline, even those that are not graded by the school.
Song Boliang is among those who have their eyes on winning this special award. The 17-year-old said that he hopes to be recognized as an all-around achiever. "I'm good at many things, such as badminton, making Chinese cheese, and playing the guitar and soccer. An acknowledgment from Principal Tang would be an overwhelming honor for me," he said.
Tang points out that education is not a zero-sum game in which one has to sacrifice grades to achieve well-rounded development or vice versa.
"Doing well in examinations matters. The point is that we should not only focus on this aspect of education," he said.
"In fact, it would be irresponsible for any school to neglect the academic performance of students."
However, educators must realize that the ultimate goal of education is not about scoring good grades, but imparting useful skills that would allow students to lead a good life, he added.
"We must preserve the balance by means of compromises," said Tang, quoting British philosopher Bertrand Russell in his book On Education, Especially in Early Childhood.
"It's our duty and challenge to achieve the balance between two forces which seem to be contrary to each other," Tang added.
Xin Siyuan contributed to this story.