CPC devotee opens hall honoring red history to public
Share - WeChat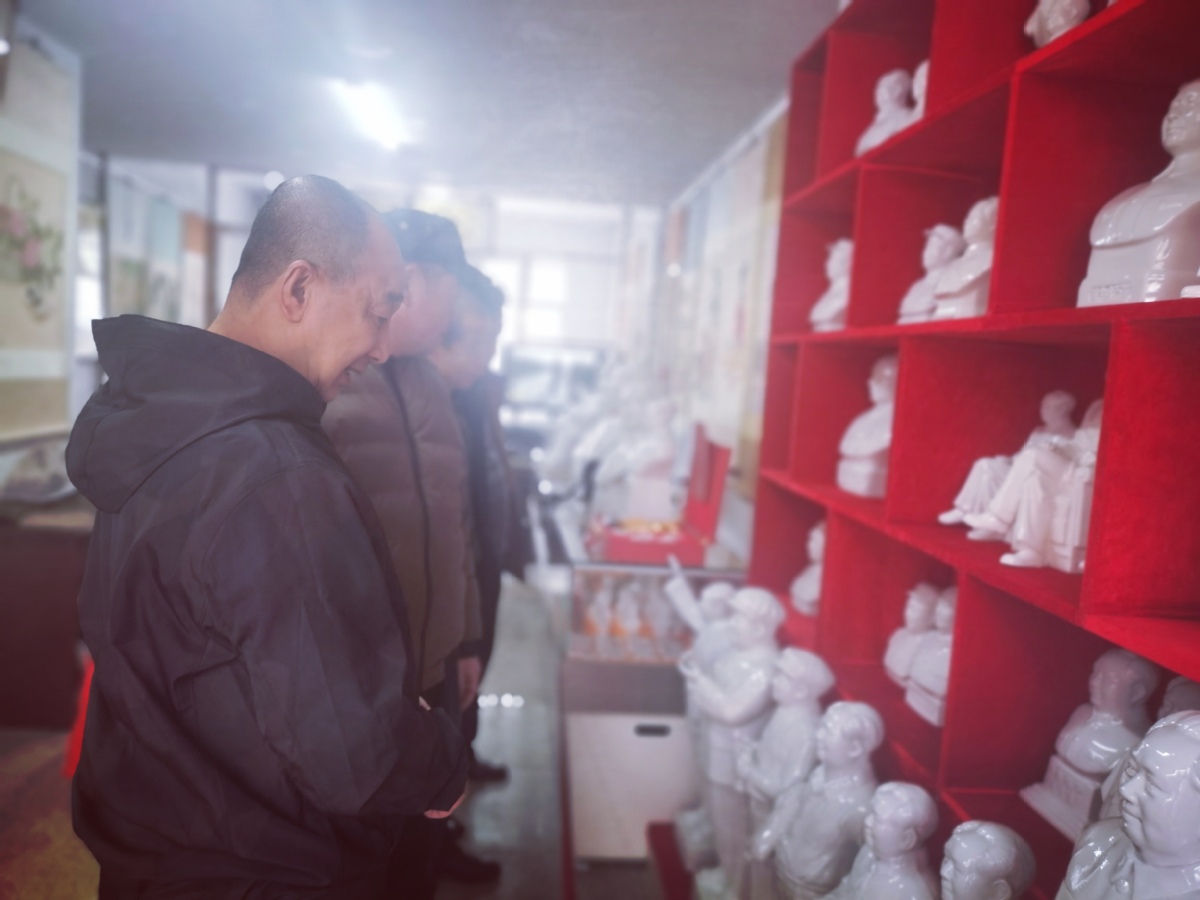 A private memorial hall on red collections, or souvenirs relating to the revolutionary history of the Communist Party of China, has recently opened to the public in Baishan, Jilin province.
The hall is located in a room for commercial use in the city's Dongyuan residential community and is owned by retiree Liu Yiming.
Although the hall is only about 50 square meters, it displays more than 1,000 souvenirs related to the revolutionary history of the CPC. The items include: badges with images of Mao Zedong, the founding chairman of the People's Republic of China; porcelain statues of him; posters; collections of poems; and Quotations from Chairman Mao Zedong, a book published in 1960s that was very popular among Chinese people.
Born in 1960, Liu joined the People's Liberation Army in 1979 and became a member of the CPC in 1983.
"Many people of my generation have a strong sentiment about Chairman Mao and the revolutionary history," he said, adding that this is why he decided to set up the red memorial hall.
Among his collections, there are about 500 porcelain statues of Chairman Mao with different postures, expressions and costumes, depicting him during different periods of his life. Some statues are quite rare, Liu said.
These souvenirs have been sought and collected by Liu and his family members over the past four decades.
In 1972, Liu, who was only 12 and had already developed strong respect and love toward Chairman Mao, bought a porcelain statue of him produced by a local pottery and porcelain factory with his parents' support.
The 20-centimeter-high bust statue became the first red souvenir he owned and marked the start of his 40-year journey to gather more.
Seeking souvenirs
Over the years, Liu has traveled to many cities to find pieces for his collection, including Tianjin, Tangshan in Hebei province and Jingdezhen in Jiangxi province.
Of all the souvenirs he owns, his porcelain busts of Mao Zedong, Zhu De and Zhou Enlai are the most precious, he said. He obtained them in 1996 from the owner of an antique shop in Shenyang, Liaoning province.
Last year, Liu was attracted by another statue of Chairman Mao in a seated pose he saw online. The statue finally became a part of his exhibit after he made more than 10 trips to Shenyang to persuade the owner, an entrepreneur in the city who ran an antique business at a market near the Luxun Academy of Fine Arts, to sell it to him.
Seeking red souvenirs and exchanging knowledge and experiences on collections with experts became hobbies for Liu.
"Whenever I touch these souvenirs, it's as if I was reading and looking back at that period of time," he said.
Every time he receives a new one, he carefully cleans it, categorizes it and writes details about it, including the process he went through to get it.
"The process of collecting is one that spreads the revolutionary spirit," he said, adding that although it is often full of difficulties, he always feels fulfilled in the end.
After retiring last year, Liu said he now has more time to spend in his memorial hall.
He said as this year marks the 100th anniversary of the founding of the CPC, he will seize the opportunity to look for more souvenirs and offer free visits to his memorial hall to more people.
"The revolutionary spirit of the CPC should not only stay in people's homes or in memorial halls, but also everybody's hearts, and it should be passed on to future generations," he said.
Liu said he is planning to expand the memorial hall and enrich his collection. He said he believes his hall will help young people gain knowledge about the achievements of older-generation revolutionaries and appreciate how their work has led to a better life today.