Xi sends condolences for Taiwan train crash victims
Share - WeChat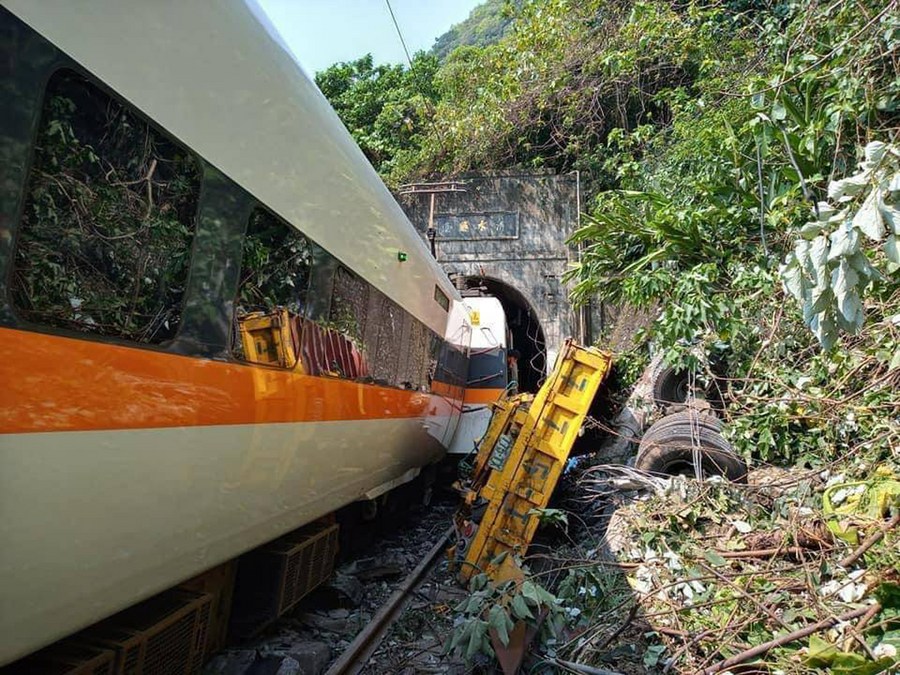 Xi Jinping, general secretary of the Communist Party of China Central Committee, mourned for the compatriots killed Friday in a train derailment in Taiwan and sent his sincere condolences on Saturday to the families of those killed and expressed sympathy for the injured and wished them a speedy recovery.
Xi was deeply concerned about the accident and the heavy casualties it caused.
Initially, 51 people were reported killed in the accident, but the number was revised to 48 on Sunday.
An express train slammed on Friday into a truck as it emerged from a tunnel near Hualien, derailing it and crumpling the front section.
Taiwan's "transport minister" Lin Chia-lung said on Sunday he would not shirk his responsibility for the deadly crash, and questions swirled over lapses that could have contributed to the disaster.
Lin said, "I am also in charge of minimizing the damage caused by the entire accident. After the whole rescue work is completed, ... I will take the responsibility".
Taiwan's "premier" Su Tsengchang's office said Lin had verbally offered to resign on Saturday, but Su rejected it for the time being, saying efforts for now should focus on rescue and recovery.
Local officials are investigating the manager of the construction site, Lee Yi-hsiang, from which a parked, driverless truck slid onto the track causing the crash.
The "transport ministry", and the rail administration, which is subordinate to it, are facing scrutiny over a number of questions, including why there was no proper fencing at the site and whether too many standing-only tickets were sold on the train.
Taiwan's "deputy transport minister" Wang Kwo-tsai said on Saturday that the railway administration needed to look at all these issues, adding that his personal feeling was that "initially, it looks like negligence" on the part of the building site contractor.
The uncle of the youngest confirmed victim, a 5-year-old girl, told reporters he was still waiting for an apology for the accident.
The island's government has promised compensation and that it will do everything it can to help survivors and their relatives.
The damaged section of track will not reopen until April 20 at the earliest, Wang said. Rail traffic continues on a parallel track.
"We continue to pull out the cabins stuck inside (the tunnel). The third cabin was dragged out last night. We expect to pull out two other cabins today," said Lin Chia-lung, adding that rescue and recovery work would continue.
Xinhua - Agencies