Xinjiang's achievements impress visiting envoys
Share - WeChat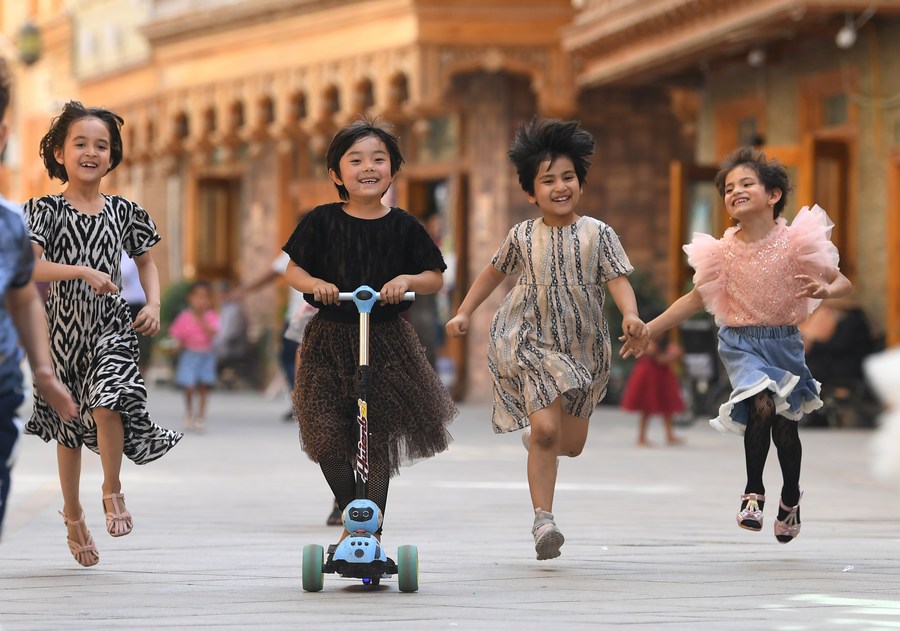 Foreign diplomats think highly of Xinjiang's development after touring around the region, and have called for more global cooperation rather than defamation, unilateralism and hegemonism.
Amid the attacks from some Western countries on claimed human rights grounds, the Xinjiang Uygur autonomous regional government held talks in Urumqi on Friday with more than 30 foreign diplomats on the region's development.
"Xinjiang, as well as the rest of China, plays a significant role in the security and stability of SCO and its member countries," Shanghai Cooperation Organization Secretary-General Vladimir Norov said on Friday after touring around Xinjiang, adding that Xinjiang has done a good job combating extremism and terrorism.
"I believe Xinjiang will make greater achievements in its social and economic development."
Pakistani Ambassador to China Moin ul Haque said he has witnessed the religious freedom of the people in Xinjiang on the field trip, and the region's developments in transportation and agriculture left a deep impression on him.
"Human beings are facing many challenges and what we need is cooperation, not defamation, unilateralism or hegemonism," he said.
Shohrat Zakir, chairman of the Xinjiang regional government, said he would welcome the arrival of more people visiting the region in order to see the real Xinjiang.
The overall situation in Xinjiang is stable and it continues to improve steadily, he told the diplomats, adding that "residents in the region are enjoying stable and better lives in recent years, with an increasingly strong sense of fulfillment, security and happiness".
Thanks to the joint efforts of the central and regional authorities and the effective measures taken, there have been no terrorist attacks in Xinjiang in the past four years, he said.
Xinjiang, in northwestern China, is the largest province-level administrative region in China, with over 25 million people from ethnic groups such as Han, Uygur and Hui.
"Xinjiang is enjoying the best time for development in its history," he said.
He told the envoys of the advances in the local economy as well as in poverty alleviation and religious policies. From 2010 to 2018, the Uygur population in Xinjiang rose from 10.17 million to 12.72 million, an increase of 25.04 percent, the regional chief said.
Foreign Ministry spokeswoman Hua Chunying said on Friday that Xinjiang is an open place and foreigners are welcome to visit.
What the diplomats have seen proves that there are no human rights violation, religious discrimination, forced labor or genocide in the region, Hua said, adding that the intention behind such accusations is to create chaos in Xinjiang so as to contain China's development.
During their visit, the diplomats felt that Xinjiang now enjoys social stability, economic development and ethnic solidarity, she added.
Bakri Sopur, a Uygur who grows cotton on 13.3 hectares in Xinjiang's Aksu prefecture, makes around 200,000 yuan ($30,487) a year.
"When I heard the rumor about the forced labor, I was shocked. It is total nonsense," he told the envoys.
The farmer said that he used to hire helpers to pick the cotton during the harvest seasons. But now, most work is done by machines.
"My helpers can earn over 10,000 yuan in two months and many people compete for the jobs. I don't need to force anyone."