An acquired taste
Share - WeChat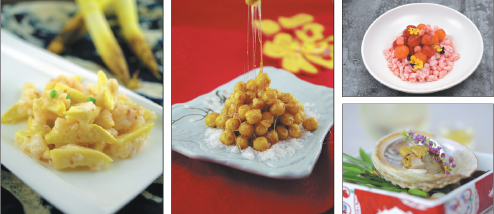 The career of food editor Liu Dahua has been built on good taste and hailed as a recipe for success. The 83-year-old has visited thousands of restaurants and catering companies, talking to hundreds of chefs. Since 1998, as well as writing food articles, he has also been taking food photos.
In October, Liu published a book titled Zhuanshi Liuhen (meaning "records of catering"), a selection of articles about food companies and chefs in China. Five months later, on March 21, his second book, Jingtouxia Huameishi ("discussing food through the lens") was released.
"If the first book is based on my eating experience, the new one is based on my photo shoots," Liu says.
The book collects 136 dishes from more than 50 chefs. What is striking is that it not only collects dishes from master chefs, but also selects the culinary offerings of the profession's rising young stars.
The dishes are divided into three categories-time-honored and classic, new and creative, and the exotic.
Unlike most food books, which usually provide the recipe of each dish, in Liu's book, he simply records when and where he took the photo, who the chef was, and his comments on the dish.
The photos are selected from tens of thousands that Liu has taken over the years, but ones snapped before 2000 were all captured on film and were not saved in any electronic form.
The earliest photo selected for the book is a "duck pyramid" taken in 2003 in Beijing.
The dish was created by Li Fengxin, who had, at the time, just been named chef at a Beijing branch of Quanjude, one of China's best-known roast duck chain restaurants.
Most Popular