An acquired taste
Share - WeChat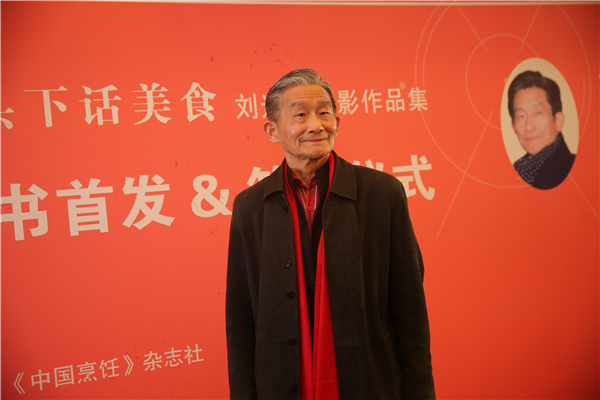 Li was inspired by a traditional pork dish, whereby a large square piece of cooked meat is sliced into a long ribbon, which is then folded and formed into an inverse pyramid. It is then stuffed with pickled vegetables before being upended onto a plate and served. The duck meat was prepared in a similar way and steamed in a specially-shaped bowl before being presented to the diner.
Wang Renxing, former deputy editor-in-chief at China Food Newspaper, has always been an admirer of Liu's work. He says that Liu, unusually, delivers both articles and photos.
"There are usually two types of food books in bookstores-recipes and catering management," Wang says. "Liu's book impresses me because it covers food from a culinary aesthetic angle, and his reviews come from decades of experience in the catering industry."
Wang takes the first dish in the book, stewed crab meat and silver carp head-a traditional dish from Jiangsu province which dates back to the late Qing Dynasty (1644-1911)-as an example.
The book can be used as a reference book for chefs and restaurateurs, according to Wang.
"The dishes in the book cover the culinary history of China over thousands of years, as well as recording the culinary innovation of the past two decades," he says.
"The photos also show the philosophy and cultural differences between Chinese and Western cuisines," he adds.
Fu Longcheng, president of the China Cuisine Association, believes that Liu's book is not just a collection of hundreds of delicious dishes, but also bears witness to the development of the modern catering industry in China.
"In the book, both the inheritance and creativity of Chinese cuisine are shown, as well as the fusion of Eastern and Western cuisine. It reflects the persistence of restaurateurs, the ingenuity of chefs, and the enterprise culture of each restaurant," Fu says.
Most Popular