Watchdog addresses threats to clean water
Share - WeChat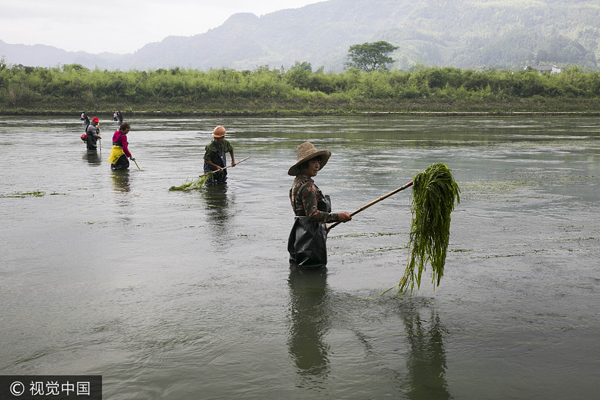 China's top environmental watchdog will carry out several pilot projects nationwide this year to tackle aquatic environment risks such as blue-green algae blooms in major lakes.
The Ministry of Ecology and Environment will set up pollution prevention pilot projects in large farms that discharge pollutants from fertilizer.
Other types of pilot projects will include restoration of aquatic vegetation in lakes and construction of wetlands to purify water downstream of vital sewage outlets and river inlets, the ministry told a news conference on Tuesday.
Zhang Bo, head of the ministry's water ecology and environment department, said that protecting aquatic ecosystems remains an arduous task despite improvements made last year.
"The issue of blue-green algae bloom in major lakes such as Taihu and Chaohu lakes in East China, and Dianchi Lake in Yunnan province are tough," he said. "No effective method for treating the pollution from pesticides and fertilizers has ever come out."
The algae is a type of bacteria normally found in water bodies that thrives when an excess of chemicals containing nitrogen and phosphorus from agricultural activities mixes with warm and nutrient-rich water.
"Over the years, people, especially those from eastern and southern parts of China with a dense industrial layout, have been living lifestyles that go against the philosophy of protecting clean water. That damaged river buffers and headwaters," Zhang said.
By the end of last year, the main stream of the Yangtze River had reached Grade II level, the ministry said, adding that it was a historic breakthrough.
Last year, environmental authorities eliminated 98.2 percent of 2,914 black, odorous water bodies in cities at prefecture level and above.
Zhang said remaining problems of odorous water will be complicated to solve.
"In cities, people dump garbage and discharge sewage into pipe networks in the dry summer. However, when rainy season arrives, pollution will increase in water bodies after being washed out by rain due to improper design of networks. They need to be further renovated, especially in old cities with many historical sites," he said.
Zhang added that the proportion of water for ecological use should also be ensured. Such water is used to maintain life in the ecosystem.
"For many years, we attached great importance to water for production and domestic use. Water for ecological use was ignored," he said. "That has led to depleted water resources and cutoff rivers. Retaining water for ecological use is the bottom line."