Shanghai seizes title of coffee capital
Share - WeChat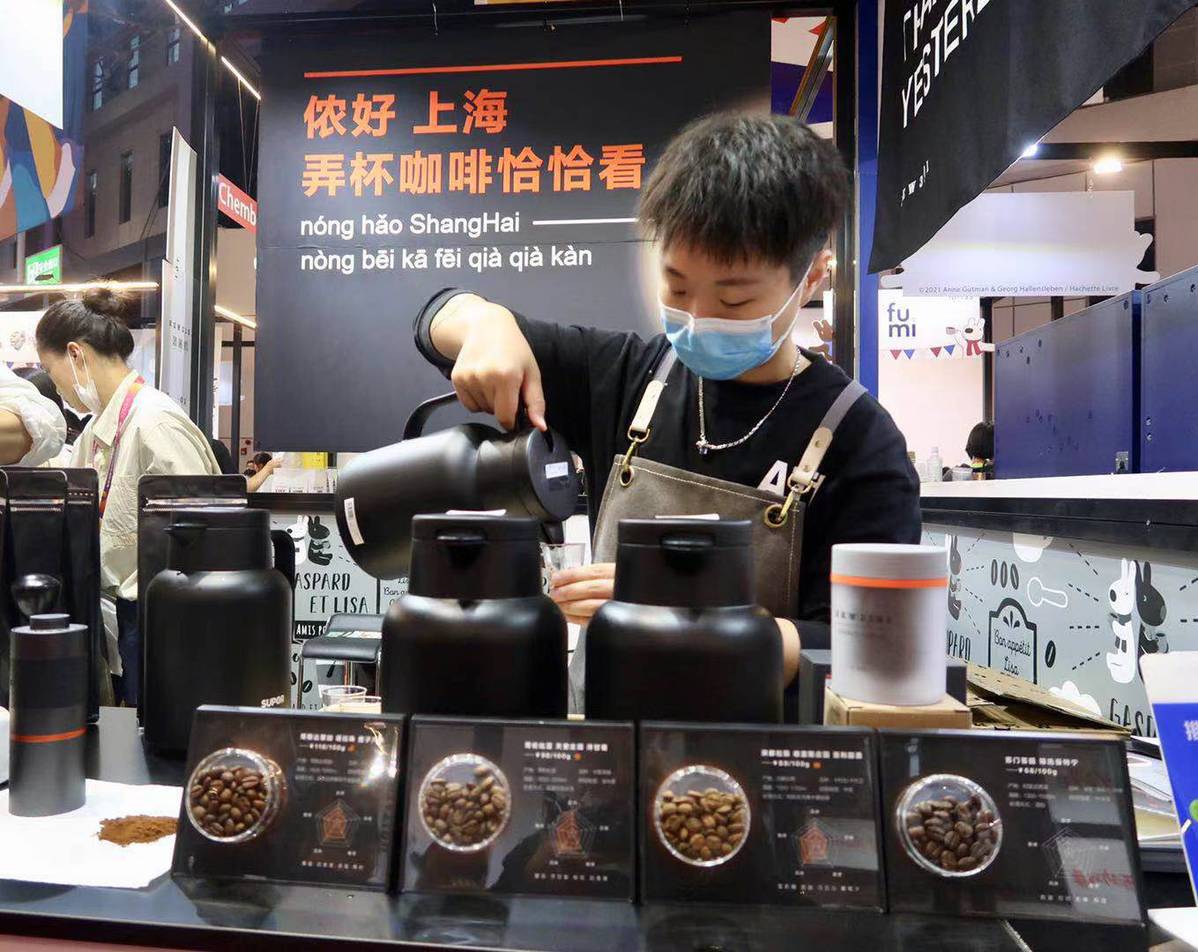 For Su Xinyi, a white-collar worker in Shanghai, coffee is her daily must-have. During weekdays, she brings drip-bag coffee to her office or buys a cup of latte in nearby coffee shops, and on weekends, Su is often found sipping a cup of flat white or pour over coffee on Yongkang Road, a street featuring many artisan or boutique cafes newly opened in recent years.
There's a large number of consumers like Su in Shanghai where coffee shops have mushroomed in recent years, ranking the city first in number of coffee stores in the world, said a report published on Monday during the opening of Shanghai Coffee Culture Week, which runs through April 11.
The Rising Lab, a research arm of Shanghai business media group Yicai, published the Shanghai Coffee Consumption Index report, which compared the number of coffee shops in cities such as Beijing, Shanghai and Guangzhou and three overseas cities-Tokyo, London and New York.
Excluding coffee services in convenience stores and fast-food restaurants, 6,913 stand-alone coffee shops were operating in Shanghai as of January, according to the report, which cited data from business review website Dianping.
In comparison, Tokyo had 3,826, London had 3,233, and New York had 1,591, the report said, citing data from OpenStreetMap.
In terms of coffee shops per capita, there were 2.85 coffee shops per 10,000 people in Shanghai, about the same as Tokyo. London scored 3.69.
The report said more than one coffee shop can be found within 100 meters on 15 streets in Shanghai. Fengjing Road, which is close to the Bund, has the highest density of such establishments at five coffee shops per 100 meters.
It said Shanghai is the leading city in China in terms of coffee consumption, with each resident drinking an average of around 20 cups a year.
First introduced to Shanghai in the mid-19th century, coffee has been integrated into the fabric of the city.
Li Haoyan, a Guangzhou barista who is visiting Shanghai for a coffee competition, said Shanghai leads the coffee industry in China because many major international coffee companies have set up their China offices in the city.
"Shanghai has imported the most advanced equipment, coffee beans from around the globe make their Chinese debut in Shanghai, and international competitions have their China championship held in Shanghai," Li said.
Ma Lu, operations director for major food company clients at Meituan, a service platform handling online food deliveries, said the coffee industry has a strong base and long history in Shanghai, with more than 2,000 coffee companies in Shanghai having been registered for 15 years.
"Capital investment has also accelerated the development of the coffee industry in recent years," he said.
Many industry insiders said Luckin Coffee ignited the explosive growth of the coffee industry despite its accounting fraud scandal.
Hou Yongpu, founder of PU Coffee, an instant coffee producer that raised tens of millions of yuan last year in two rounds of series A investment, said Luckin Coffee had cultivated the taste for coffee among Chinese with its rapid expansion and extravagant discounts.
Shanghai also leads in the coffee industry for its growing number of boutique or artisan cafes.
More than half of the coffee shops in Shanghai are considered boutique cafes-in the form of independent cafes, small chain brands and artisan coffee retailers such as Peet's Coffee and Arabica-while big coffee chains such as Starbucks account for only 35 percent of the total, the report said.
Su cultivated a taste for coffee during her studies in New Zealand, and she witnessed the expansion of independent artisan cafes in Shanghai not long after she returned in 2013.
"They popped up just everywhere, and gathered in small alleys and streets, especially in the downtown area," she said.
At the news conference announcing the city's hosting of its first coffee culture week, Wang Yayuan, deputy head of the municipality's publicity department, said, "Shanghai has formed a unique coffee culture."
With the theme "Because of Coffee, So Shanghai", Shanghai Coffee Culture Week will feature coffee-themed plays, maps, passports and industry exhibitions.
"The culture week will be dedicated to excavating the cultural connotation of coffee and bringing coffee culture into the streets of the city, to promote the quality of life and the development of cultural and creative industries," Wang said.
He Qi contributed to this story.