Enforcement targets illegal fishing operations
Share - WeChat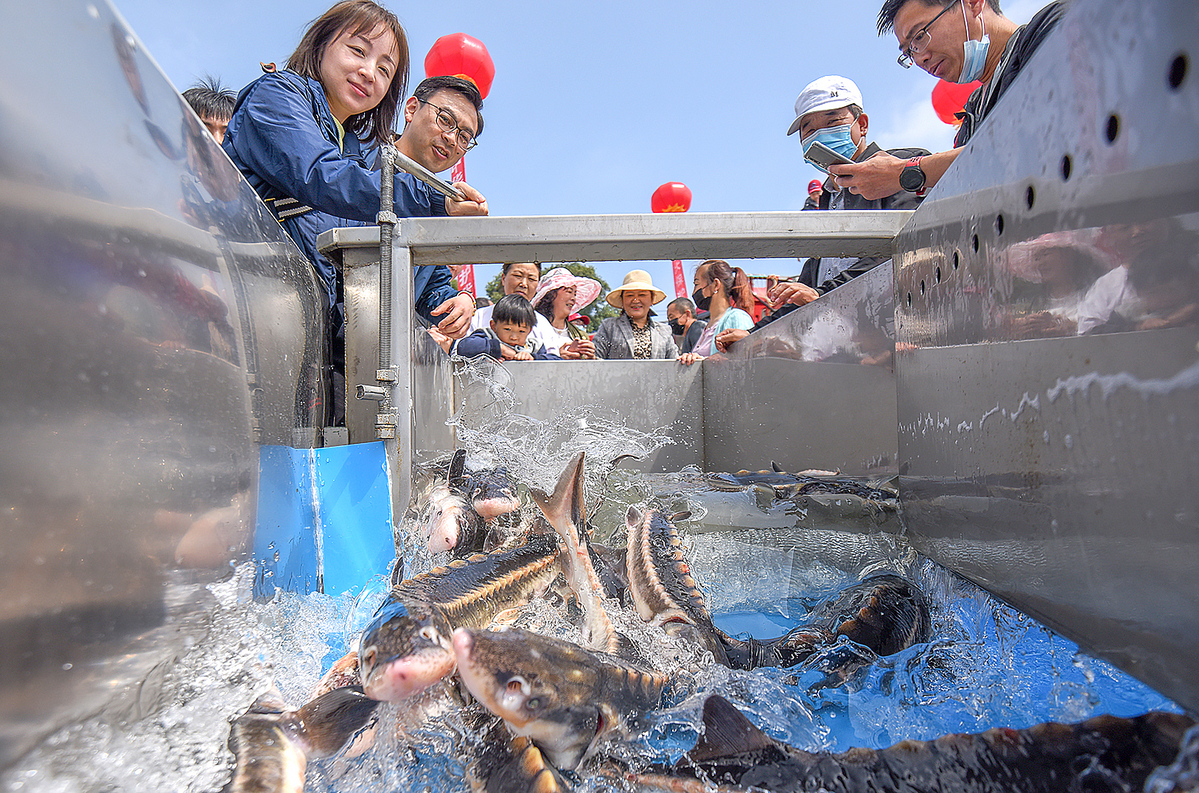 China will launch nine law enforcement actions to regulate the fishery sector this year, a senior official with the Ministry of Agriculture and Rural Affairs said on Monday.
Liu Xinzhong, director of the ministry's Bureau of Fisheries, said the actions will include enforcement of a fishing ban in the Yangtze River, aquatic wildlife protection, the suspension of ocean fishing in summer, and proper use of inputs for aquaculture.
The program will severely crack down on the use of unlicensed boats and the use of electricity to stun fish, two deep-rooted illegal actions that harm fishing resources and the marine environment, Liu said.
It will focus on cross-border fishery management to protect the rights of fishermen, and stabilize the orderly conduct of fishing in surrounding waters. International cooperation in fisheries to combat illegal operations is also needed, he added.
A 10-year ban on fishing in the Yangtze River, Asia's longest river, took effect on Jan 1.
Ma Yi, head of the Yangtze River Fisheries Administration, said the ministry has been formulating local policies and working on the resettlement of people who can no longer fish for a living.
In the past three months, fishery authorities along the Yangtze have destroyed 3,437 boats, cleared 37,255 illegal nets, investigated 1,834 cases, and seized 464 boats and 1,955 people involved in illegal fishing, Ma said.
The ministry has urged local authorities to regulate recreational fishing in the Yangtze River to prevent illegal commercial fishing.
"We have many fishing enthusiasts in China. This traditional leisure activity does extremely limited harm to fishing resources," Ma said, but added that some have used recreational fishing as a cover for commercial fishing.
"The 10-year ban is targeting commercial fishing," he said. "Trading the fish caught is severely prohibited and should be treated as illegal fishing."
A special action to regulate the proper use of inputs for aquaculture has been added to this year's program.
"Chinese people who like to eat fish are all concerned about the quality and safety of aquaculture products and that's our duty," Liu said.
The inputs used in aquaculture, including veterinary drugs and feeds, affect the quality and safety of aquatic products.
"So the supervision of the production and use of these inputs is vital to the water environment as well as people's interests," he added.
Last year, the country deployed 1.79 million people, 320,800 vehicles, and 187,800 boats in a similar law enforcement program, which inspected 874,200 fishing boats, ports and docks, markets, and repair facilities, Liu said.
Law enforcement personnel patrolled 6.05 million kilometers on water and 7.6 million km on land.
A total of 41,900 cases of fishery violations were handled. The bureau handed out fines of 209 million yuan ($31.8 million), seized 55,100 people, and destroyed 10,781 unlicensed boats, he added.