A toast to the goji
Share - WeChat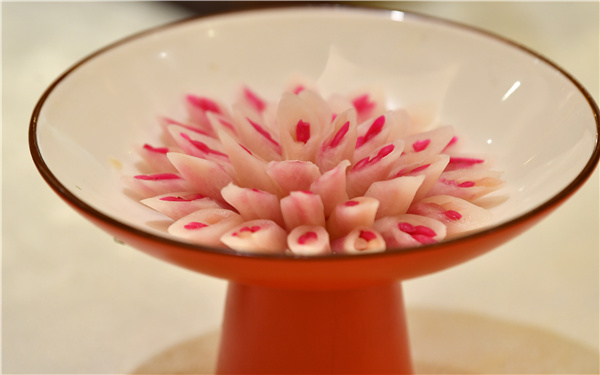 Just like how Peking duck is eaten, the crispy lamb is served with goji berry powder, various sauces and thin pancakes. A slice of crispy lamb skin and a piece of meat are placed onto the pancake, along with a dollop of sauce and powder, and then rolled up and eaten. The sweet and sour flavor of the goji berry powder pairs well with the crispiness of the lamb.
In the stewed fish head dish, the fish skin is made into a jelly together with the goji berry leaves. Even the fish scales are boiled into jelly which is used to encase goji berries, making it a pretty snack.
Local food critic Zhang Lei's first impression of the feast is that it is healthy and fashionable.
"I'm impressed by the fish head soup as the freshness of the soup pairs perfectly well with the sweetness of the goji berries," Zhang says.
Other than the food, the logo, menu, plating and service process of the goji berry tasting event are all elaborately designed by the team.
Qiao Wenwei, who is responsible for researching the cultural significance and historical knowledge of the food, says they have also designed special tableware for the event.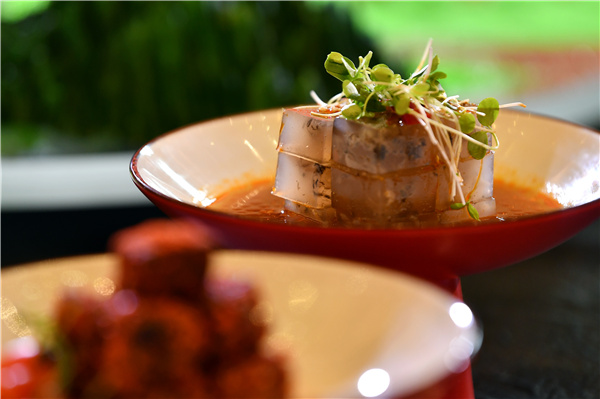 "I think this goji berry feast represents the catering standard of Ningxia," Qiao says.
Liu Zhiyong, deputy director of Yinchuan's commerce bureau, says the entire feast is like a presentation of Ningxia's delicacies.
"It's not only a full table of delicacies, but also guides and encourages the catering industry in Ningxia. We hope the goji berry feast can take the lead in the new healthy eating trend and make a name for itself in Ningxia's catering and tourism," Liu says.
"This is one step in cultivating a complex consumption chain which combines shopping, catering and tourism toward our goal of promoting consumption upgrade."
Most Popular