Deaf linguist drives acceptance of sign language
Share - WeChat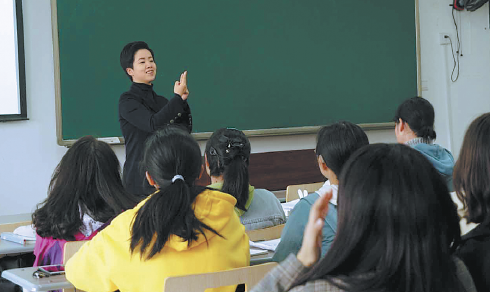 Hearing-impaired researcher is working hard to eradicate discrimination

With her chant of "Nothing about us, without us", a disability empowerment slogan, Zheng Xuan, a deaf expert on Chinese Sign Language, finds herself almost alone.
For generations, linguistic research into CSL has been dominated by people with unimpaired hearing.
"I am one of a very small number of deaf people in the field," said Zheng, a specialist in deaf education at Beijing Normal University, China's top teacher training college.
In 2016, a Confucius Institute in Minnesota, United States, wanted to recruit deaf Chinese teachers for an exchange program. As someone who could use spoken Mandarin and English and was also a longtime user of CSL, the 40-year-old had no rivals.
The stigma attached to using sign language-a telltale sign of hearing loss-has led many high-achieving deaf people to learn oral languages.
Those who learn to sign are mostly educated at schools for deaf students, where academic curricular are far less hectic than in mainstream schools.
"Society has very low expectations of students who use sign language, and that's a form of discrimination," said Zheng, a member of an expert panel reviewing the CSL dictionary, which explains the presentation of concepts and words in a unified national sign language.
Like many people with impaired hearing, Zheng, from Wuhan, Hubei province, worked hard to be a "normal" person from early childhood. Her hearing was impaired at age 2 as a result of large vestibular aqueduct syndrome, a hereditary condition that results in a malformation of the inner ear.
Prompted by her parents, Zheng learned to speak Mandarin. Her parents saved up for a radio, and it always played at full volume to help her perfect her pronunciation.
She also learned to lip-read, which allowed her to blend in largely unnoticed with hearing children.
When she was old enough, Zheng, wearing a hearing aid, attended mainstream schools. Her uphill struggle in the hearing world paid off-academically, at least.
Pretense
In 1998, Zheng was one of a small group of deaf students who sat the highly competitive gaokao, the national college entrance exam.
She passed and was admitted to Wuhan University, a prestigious mainstream school, to study Chinese language and literature.
At the time she felt "exhausted" by pretending to be a hearing person. That feeling got worse as she grew older.
"Many deaf people use spoken language, but they cannot hear each other clearly. There's no bonding among them, not like the bonding among sign language users," she said.
At age 19, Zheng embarked on a journey of self-discovery. She learned to surf the internet and created an account with CnDeaf, an online forum favored by educated people with impaired hearing.
On the platform, the sophomore met a netizen with the username "Three Stones", who doesn't use spoken language but writes beautiful essays.
Overwhelmed by the man's literary talent, Zheng met with him on the Wuhan University campus.
On a sunny, breezy weekend, Three Stones, who is 10 years Zheng's senior, sat on a lawn and taught her the rudiments of the "natural", or dialect, sign language used by Wuhan's deaf community.
It was through him that Zheng met more people like herself-deaf people who were excelling in their respective fields. She has maintained friendships with many of them.
They included a deaf poet named Zhang Peng, who composed verse in sign language. Sadly, Zhang had a heart attack in 2019 and died at a relatively young age.
Devotion
Mesmerized by the beauty of sign language, Zheng made it the subject of her dissertation for her master's in linguistics.
The paper, assessed as an "excellent graduation thesis" by Wuhan University, paved the way for her to become China's first deaf doctoral candidate and she began studying CSL linguistics at Fudan University, a mainstream college in Shanghai.
It was then Zheng started to realize how deaf people were underrepresented in the field.
"I was my tutor's only deaf student, and after all these years I am still the only one (he has had),"Zheng said.
After receiving her doctorate in 2009, she began working at Chongqing Normal University in Southwest China.
The college had just launched a program of special education for bachelor's and master's courses and was recruiting hearing-impaired students. "I just wanted to be around deaf people," she said.
Gu Dingqian, a hearing expert on deaf education and a major figure in the compilation of CSL vocabulary since the 1990s, said the "lack of theoretical support" from linguists led earlier researchers to take a "roundabout route".
In the 1960s, the central authorities established a sign language reform committee, which compiled four thin pamphlets containing about 2,000 signs. By 2011, the vocabulary had nearly tripled.
Though some signs were collected from users of natural sign language, many abstract terms were devised by the compilers in the early days, Gu said.
The lack of field studies meant that Pinyin, the system for writing Chinese words using the Roman alphabet, was overused-a practice that many modern sign language users find unacceptable-and was chipping away at CSL's appeal.
As a result, the vocabulary in the latest CSL dictionary was overhauled prior to its publication in 2019.
"Only 40 percent of the previous vocabulary was retained," Gu said.
"The vocabulary currently in use is largely based on natural sign language and has absorbed many mature and comprehensible natural signs and terms."
Zheng, the linguist, said she is currently developing online courses to "teach CSL in a professional way".
Having become fluent in American Sign Language in less than four months during an exchange program to the US in 2016, she said sign language has a "power to unite" that transcends borders.
"Signs and vocabulary vary from place to place, but the facial expressions and grammar share similar rules," she said.