Linking capital markets far and near
Share - WeChat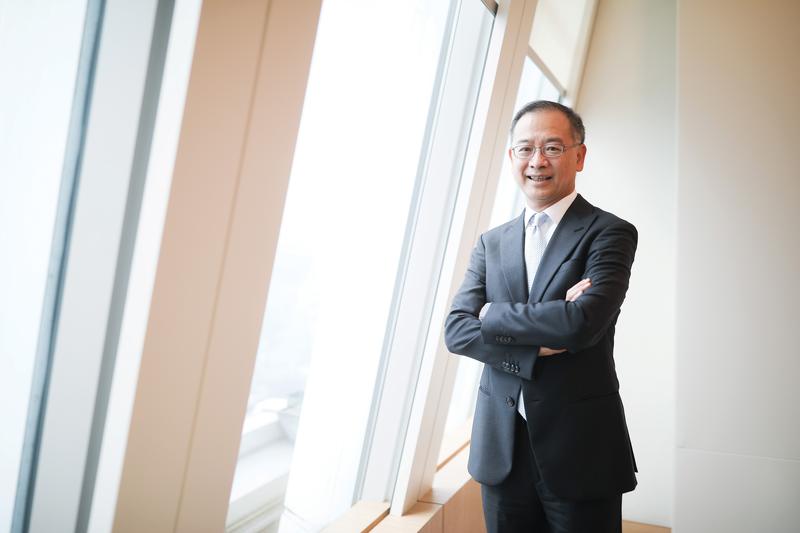 As the Chinese mainland further opens its financial markets to foreign investors, riding high on financial technology and green financing, financial institutions in Hong Kong are virtually staring at a pot of gold by strengthening their business platforms in these fields, while complementing national development.
The advice comes from Eddie Yue Wai-man, chief executive of the Hong Kong Monetary Authority.
The HKMA, which is responsible for advancing the local financial system, is striving to amplify the capital market connectivity programs between the special administrative region and the mainland.
"We're mulling southbound trading of the Bond Connect to be implemented in the second half of this year," Yue said in an interview. "We're discussing with the People's Bank of China to clarify issues like the types of investors and bond investment, as well as the mechanism for clearance settlement."
Southbound trading for the Bond Connect will adopt the closed-loop system, with one-to-one bundling of designated remittance and bond purchases. If launched, southbound trading will enable mainland investors to buy bonds issued in Hong Kong and international markets.
The Bond Connect was launched in July 2017, initially with only northbound trading, which allows international investors to tap the China Interbank Bond Market through the trading platform in Hong Kong.
According to Yue, the market turnover for northbound trading soared by 82 percent last year after posting double growth in 2019. In the first two months of this year, it surged by more than 40 percent, compared with the same period in 2020.
The Wealth Management Connect will be another major focus, and it is expected to be implemented in the second half of this year. Initially, the program will be mainly confined to low-to-medium risk investment products. The Hong Kong and mainland authorities have set an aggregate quota of 300 billion yuan ($46 billion) in fund movements in both directions.
The Wealth Management Connect allows residents in the Guangdong-Hong Kong-Macao Greater Bay Area to buy investment products sold by banks in reciprocal areas. At this stage, a remote onboarding service for opening investment accounts at banks in reciprocal areas is not permitted under the program because of investor protection concerns.
The HKMA will follow up on other cross-border initiatives with mainland financial regulators, such as whether banks in Hong Kong can launch the remote onboarding service in opening mainland banking accounts for Hong Kong residents. The HKMA will also follow up the pilot program of cash-pooling services to facilitate multinationals based in Beijing and Shenzhen in using cross-border capital.
The authority would like to connect the regulatory sandboxes of Hong Kong and the mainland, and the connection will be effective for technology companies seeking regulatory approval when they aim to simultaneously launch new products or solutions in Hong Kong and on the mainland that involve cross-border capital flows.
Yue said the performance of most of the capital market connectivity programs launched so far between Hong Kong and the mainland has been impressive.
Last year, the turnovers for northbound trading under the two stock market connect trading programs soared by 119 percent year-on-year, while southbound trading volumes swelled by 128 percent, compared with 2019. In the first two months of 2020, the trading volumes of the two connect programs rose by a further 116 percent from a year ago.
Technological adoption will be another business opportunity which is ripe for harvesting, especially in pushing cross-border payment initiatives, Yue said.
"When the PBOC thinks it's ready to launch the e-CNY for retail payment, Hong Kong can immediately complement, depending on the PBOC's timetable."
The HKMA has begun the first stage of testing on the technical feasibility of launching e-CNY for retail payment. The second stage will see more banks, customers and merchants taking part.
Yue noted there're still a lot of questions to be answered. "How can Hong Kong people use e-CNY when shopping on the mainland? How can they open a CNY e-wallet through Hong Kong banks? How to link it up with Hong Kong's banking system when they want to top up their CNY e-wallets, such as using the Faster Payment System?"
For cross-border trade settlement, a clear strategy framework concerning the pilot program of central bank digital currencies will be set later. The HKMA, the PBOC, the Bank of Thailand, the Central Bank of the United Arab Emirates and an innovation hub of Bank of International Settlements are working on a multi-CBDC project to see whether their CBDCs can be used for cross-border remittances, and other scenarios such as trade finance and capital market transactions. If the pilot program is successful, then it can be further expanded to other central banks.
Yue is also pinning his hopes on regulatory technology, focusing on how banks in Hong Kong can use technologies to meet regulatory compliance requirements.
"We want to push technological adoption in artificial intelligence, data analysis and credit scoring. We also want to have some mechanisms to help small and medium banks if their resources and expertise are lacking (in technological adoption). We hope the government can offer more information, and banks can exchange more data through application programming interface," he said.
Hong Kong-based financial institutions also shouldn't miss out on the green financing business potential, especially when mainland corporations need green financing enormously, Yue said.
"With the nation poised to be carbon-neutral by 2060, the financing needs during the transition period toward a carbon-zero economy will involve trillions of dollars. More likely, international capital is also needed. Hong Kong is an ideal platform for mainland companies luring global capital in pursuing green projects when the city adopts the international standard for the green financing business," Yue said.
"We hope supervisory guidance (on banks' green business) can be promulgated in the second half of this year. The HKMA is conducting stress tests with 20 banks in Hong Kong, and the preliminary results will be known by the middle of this year. These tests are not easy as they involve how to find the appropriate data and how the data can be consistently interpreted," Yue said.