A stake for HK lawyers in Bay Area
Share - WeChat Mainland examination opens door for Hong Kong, Macao lawyers to practice in nine Guangdong cities. Gu Mengyan reports from Hong Kong.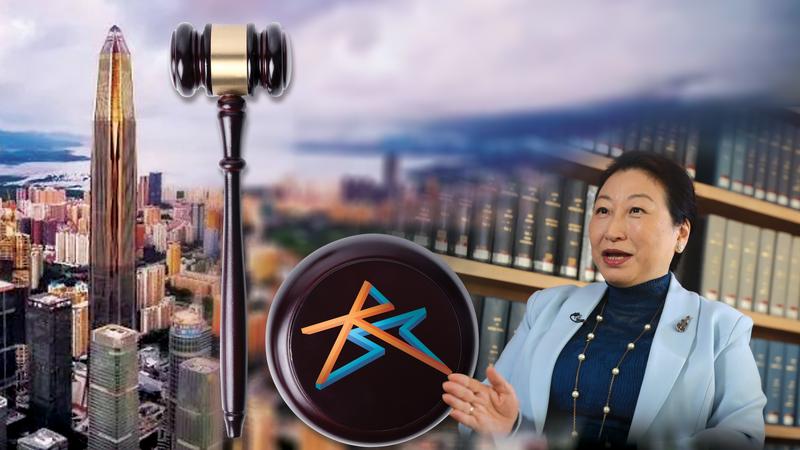 Hong Kong lawyers will be able to practice on the Chinese mainland after passing a test, creating a win-win situation for all the stakeholders involved, the city's justice chief said.
The arrangement will benefit the special administrative region's legal services sector, local and overseas companies with investments or intent to invest on the mainland, as well as mainland enterprises seeking to go global, Secretary for Justice Teresa Cheng Yeuk-wah said in an interview.
"It's a very important step forward for Hong Kong … and ultimately, it'll benefit the Greater Bay Area's development because it'll attract more foreign investments via Hong Kong and vice versa," she said.
Under a pilot program decided in August by the National People's Congress, the nation's top legislature, lawyers from Hong Kong and Macao will be allowed to handle civil and commercial cases in the nine mainland cities within the Guangdong-Hong Kong-Macao Greater Bay Area after passing an examination. The test lowers the threshold for cross-border legal practice by providing an alternative to the national unified examination, seen as demanding and designed for the civil law system.
Cheng said she is confident that the legal services to be provided will be of the highest standards if mainland companies hire Hong Kong legal professionals as advisers in exploring Hong Kong or foreign markets, which mostly adopt a common law system.
Likewise, for Hong Kong and overseas investors aiming for a share in the Bay Area's development, they will be better assured when their interests on the mainland are protected by Hong Kong lawyers familiar with them, she said.
However, the qualifying examination for lawyers from the two SARs, originally scheduled for Jan 30 in Shenzhen and Zhuhai, has been put off until further notice because of the pandemic. To better prepare Hong Kong lawyers for the test, Cheng said an online course on mainland laws was conducted in December, attended by about 700 legal professionals.
The examination is open to Hong Kong and Macao lawyers with five years' experience and a clean record, and who can write in Chinese and speak Mandarin.
Further training provided
"Another incentive is that the Department of Justice will work together with the Supreme People's Court to provide further training for those eligible for the exam so that they'll know more about the mainland's legal system and practice," Cheng said, adding that such training will be available in the future.
Envisioning greater cross-border cooperation, she said Shenzhen can be ideal for applying a pilot program that will enable Hong Kong companies registered there to use Hong Kong laws for civil and commercial undertakings.
Calling the program a "huge breakthrough", Cheng said she hopes it can be expanded to other cities in the Bay Area, as it currently covers the Qianhai Shenzhen-Hong Kong Modern Service Industry Cooperation Zone, benefitting some 11,000 Hong Kong companies. Companies from Macao, Taiwan and overseas can also choose to use the applicable laws.
"It's ultimately a choice. They may still use mainland laws but, if they feel they can be better served using Hong Kong laws, it would be a very good incentive for foreign investors to use Hong Kong as a platform to enter the mainland."
Cheng, who is also a veteran arbitrator and dispute resolution expert, said Hong Kong's legal and financial businesses are reciprocal because of the city's role as a platform that provides world-class fundraising, asset management and other financial services under a robust legal system.
Besides leveraging Hong Kong's advantages and turning it into an international law and dispute resolution center, the nation's 14th Five-Year Plan (2021-25), recently passed by the NPC, also supports Hong Kong in becoming a trading hub for intellectual property rights.
"There're lots of IP talents in Hong Kong, not just on the technical side, but also the legal side. We've also amended the arbitration ordinance to make clear that intellectual property matters can be dealt with by arbitration," Cheng said.
The pandemic has prompted the use of digital technology in solving disputes since last year. The Hong Kong government launched an online dispute resolution program in June, aimed at providing speedy and cost effective services to local small businesses struggling with disputes arising from COVID-19.
Cheng said her department has been working with the United Nations commission on international trade law to see how technology can be better applied in legal practice.
The challenges created by the pandemic have also hastened the development of law tech in the SAR. Hong Kong Legal Cloud, a storage service that addresses privacy, accessibility and affordability concerns, is being promoted among the legal sector, Cheng added.