Shanghai Culture Square announces plans for 2021 performing season
Share - WeChat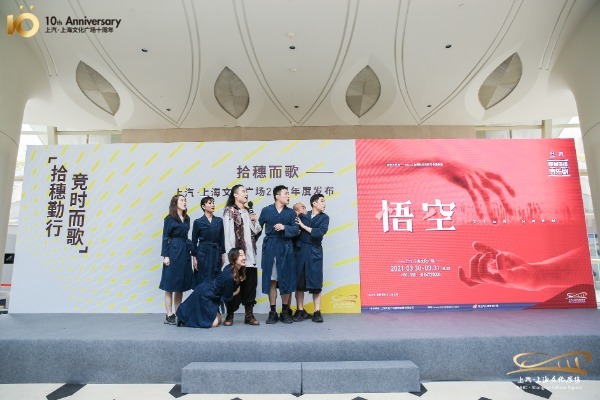 SAIC Shanghai Culture Square on March 24 announced its plans for the performing year 2021, which will begin with the showcase of four original Chinese musical productions.
The leading theater for musical performances in Shanghai, Shanghai Culture Square is celebrating its 10th birthday this year. According to its artistic director Fei Yuanhong, the theater has successfully developed a healthy industry chain through the past decade. "We are not just a venue for musical performances, we have been incubating and producing new musical projects, as well as making continual research on the development of musicals in China," said Fei.
This year, the theater plans to take six of its musical productions on a nationwide tour. Three of these are new productions that will premiere in Shanghai and Nanjing of Jiangsu province.
A series of revolutionary-themed productions will also be presented at the theater to celebrate the 100th anniversary of the founding of the Chinese Communist Party.
Despite the impacts of the COVID-19 pandemic, the theater managed to present 179 shows in 2020, according to Zhang Jie, general manager of Shanghai Culture Square. The theater also took three musical productions on a tour of 18 cities in China.
Its outdoor stage, introduced last year during the pandemic, will again play an important role in the theater's plans for 2021. In spring, the outdoor stage will present a series of concerts featuring young singers from leading art schools in Shanghai, such as the Shanghai Theatre Academy and Shanghai Conservatory of Music.
Shanghai Culture Square has also announced its new partnership with Modern Sky, a leading music label in China and organizer of outdoor music festivals. According to Zhang Chongshuo, vice president of Modern Sky, the company will take its live show series "Ziran Xing" to the outdoor stage of Shanghai Culture Square.
Most Popular