Legend Sinclair eyes goal-laden goodbye
Share - WeChat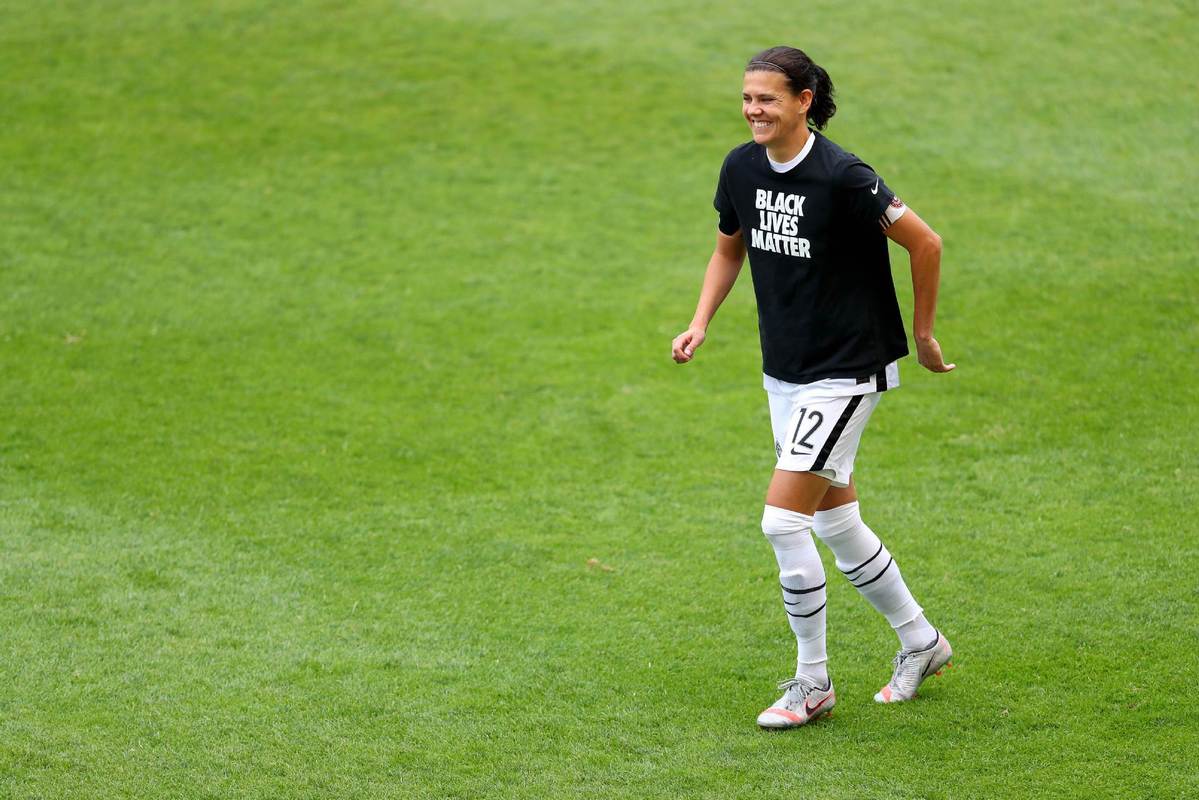 Soccer's all-time leading international scorer is determined to make what could be her last season of competition a memorable one.
Team Canada captain Christine Sinclair, who missed last month's SheBelieves Cup in Florida due to injury, says she's good to go again and ready to lead her squad in its next two pre-Olympic matches-away friendlies on April 9 against Wales and April 13 against England.
"It was a little injury that just happened to be bad timing for the SheBelieves (Cup), which was unfortunate," Sinclair said on a Portland Thorns media conference call on Friday. "But I'm back healthy, 100 percent, and ready to get some games under my belt and get this season going."
The Thorns are scheduled to open the second edition of the US-based National Women's Soccer League Challenge Cup on April 9.
The 37-year-old midfielder/forward, who has scored 186 goals in 296 international appearances, praised Canada's efforts at the SheBelieves Cup-including a 1-0 loss to No 1-ranked USA-calling it a "gutsy performance" given the team's pandemic-fueled inactivity during 2020.
In Bev Priestman's debut as head coach, world No 8 Canada went 1-0-2 at the four-team tournament in the Florida bubble, defeating No 31 Argentina 1-0 and losing 2-0 to No 7 Brazil.
"I'm just excited and can't wait to get back in the fold," Sinclair said. "This is a big year for us. The SheBelieves tournament was a good start for the team. It would have been nice to get a couple more results, but we're just starting to prepare for the Tokyo Olympics."
Sinclair's international goal tally is 77 ahead of all-time leading men's scorer Ali Daei of Iran, who notched 109 goals in 149 appearances from 1993-2006.
Meanwhile, Bruce Arena, coach of Major League Soccer's New England Revolution, said on Friday it's "stupid" to start thinking about the American men as a potential champion in either of the next two World Cup cycles, the second of which will come with the US as one of the host nations, along with Canada and Mexico.
Arena did two stints as head coach of the USMNT, from 1998-2006 and again in 2016-17.
Asked by podcast host Andrew Wiebe what the reasonable expectations for American success should be, Arena replied that anyone talking about victory by 2026 would probably be wise to shut up.
"That's stupid talk. You're talking about winning a World Cup now?" Arena said. "We didn't qualify (in 2018) and now we're going to win the World Cup?
"I do think the way the sport has grown in our country, the young players we have that when we play at home in 2026-and hopefully we have a good draw-that the US will have a very competitive team in 2026. But the goal in the short term should just be to qualify for the next World Cup."
Arena also said current head coach Gregg Berhalter, who is guiding the USMNT program qualifying for the 2022 World Cup in Qatar, is the right man for the job.
"He is very serious and focused and asks a lot of questions. He continues to probe," Arena said of Berhalter. "Gregg is a student of the game. He still doesn't have that much experience, and from what I see at a distance, he's still influenced by a lot of stuff he got in coaching school. But he's going to work his tail off. He has a really high opinion on the value of sports performance metrics, analytics, all of that. So I think that's the direction he goes as a coach now."
FREEKICKS: With both the start of preseason and opening day (April 17) delayed, Major League Soccer's primary transfer window dates have been extended through June 1, almost a month longer than originally planned. The secondary transfer window remains the same, opening on July 7 and closing on Aug 5.
The transfer windows are the periods in which MLS teams can officially register new players who were previously under contract with clubs based outside MLS and for which an international transfer certificate (ITC) is required. While deals may be agreed upon outside these windows, the transfer and receipt of an ITC are required in order to officially add a player to a roster, thus allowing him to be eligible for official competitions.