Retiree, 97, uses pension to aid pupils
Share - WeChat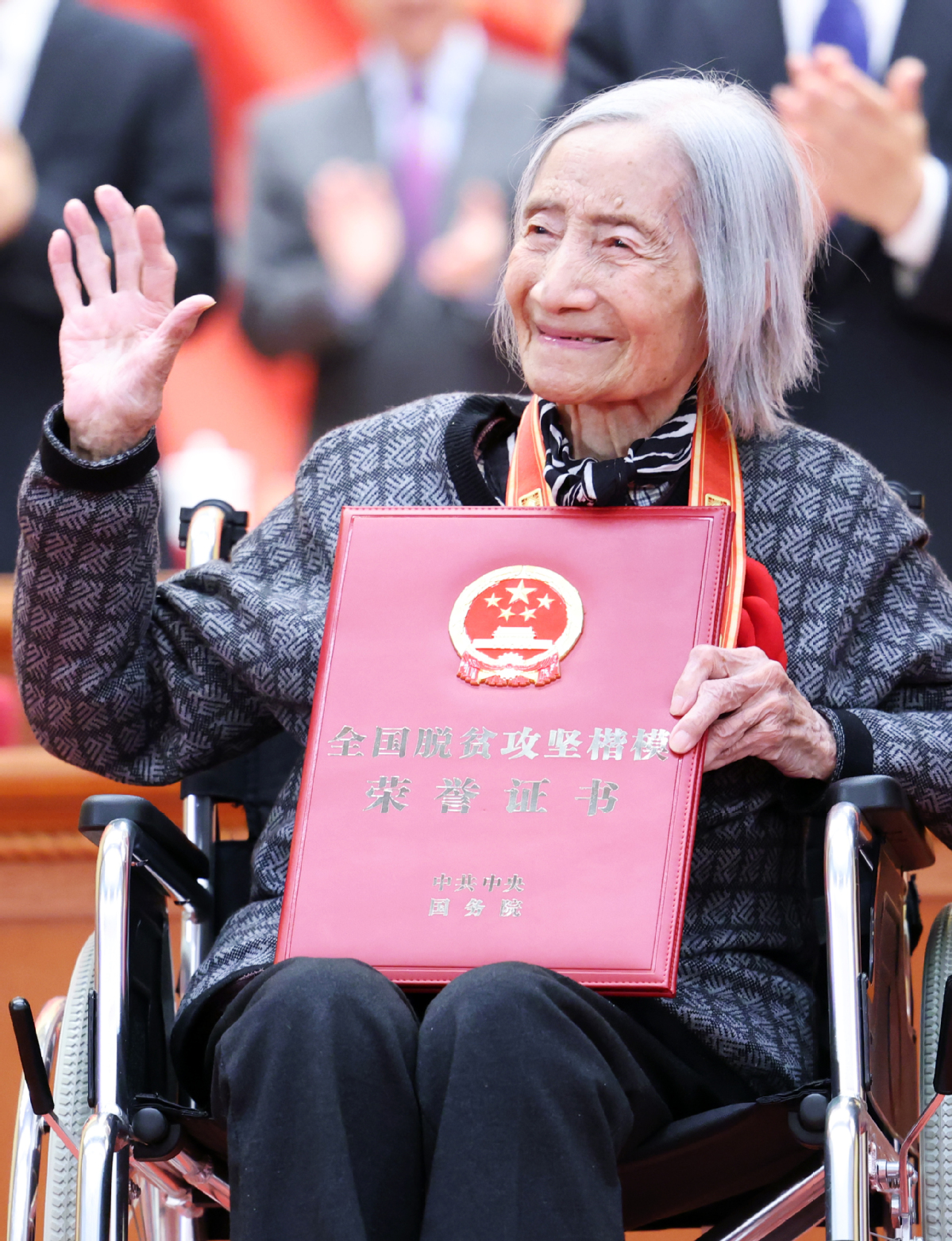 Former researcher commended for donating 2m yuan to help poor students
At a conference last month to commend people who made outstanding contributions to poverty alleviation, the sight of an elderly woman in a wheelchair receiving a medal and certificate from President Xi Jinping touched many onlookers.
Over the past 15 years, 97-year-old Xia Sen has given most of her personal savings to help students from poor families gain an education.
Born in September 1923, Xia worked as a researcher at the Chinese Academy of Social Sciences before retiring in 1982.
In 2006, she started providing financial support to students in Danfeng county, Shaanxi province, and Shangyou county, Jiangxi province. She has donated more than 2 million yuan ($307,800) to help 182 students attend college.
According to Cao Qizhang, who worked with Xia for more than 30 years, the money she donates comes from her and her husband's pensions.
The nonagenarian joined the Communist Party of China in Yan'an, Shaanxi, in 1938.
Xia was only 15 years old at the time and despite her young years she became a teacher in Yan'an. While teaching she kept acquiring new knowledge in the belief that the development of society relied on well-educated young people.
"When she was working at CASS, she often told us to keep on reading and learning," Cao told the China Media Group.
Donation
In 2006, Xia visited Xijie Primary School in Danfeng. The dilapidated condition of the school and lack of facilities and teaching materials saddened her.
During her visit, she borrowed 20,000 yuan from friends and acquaintances and immediately bought desks and books for the students.
She soon took out another 20,000 yuan from her savings to reward and encourage outstanding students at the school.
In 2008, she donated 200,000 yuan and helped Zhaogou Primary School in Danfeng construct a teaching building.
"It is a two-story building with eight bright and clean classrooms, which is a complete change from its former situation," said Li Baoying, principal of the school.
The previous teaching building was made of earth and wood, dimly lit and unsafe, he said.