Family shakes off past as village drinks to arrival of better days
Share - WeChat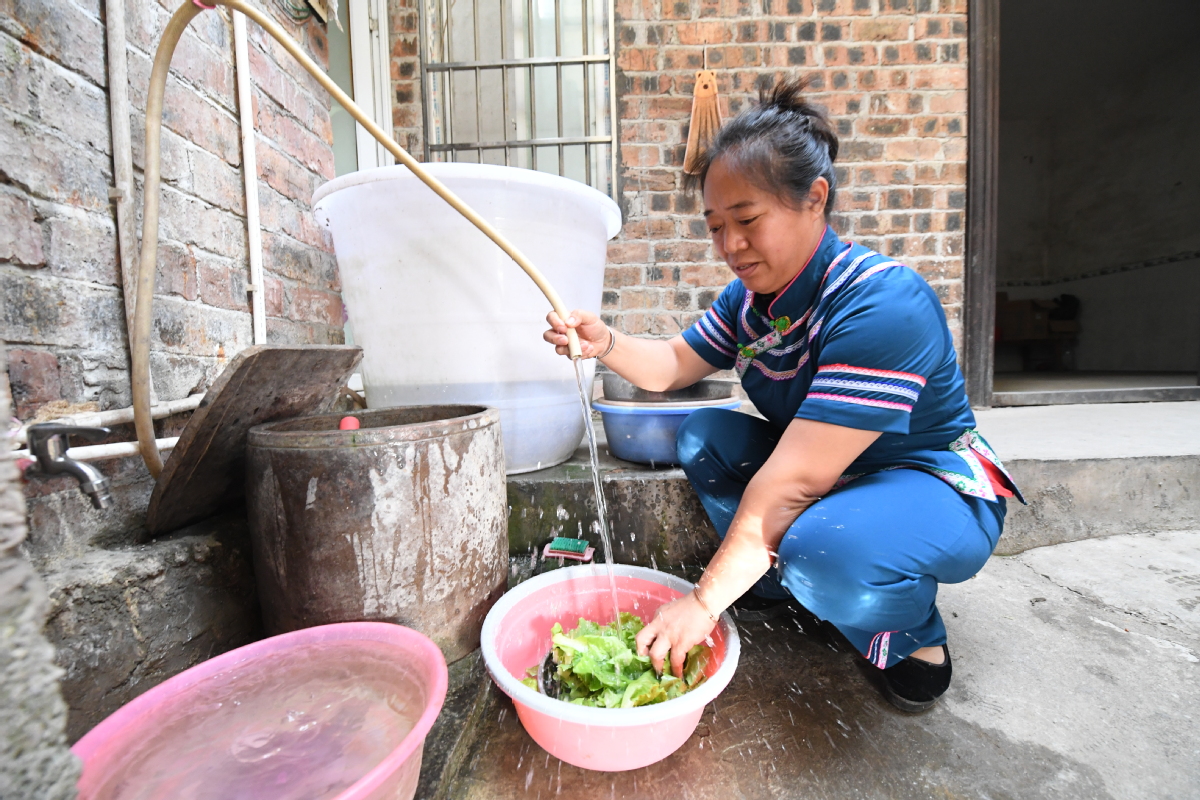 Wei Zhenling used to make annual trips to her ancestral home in Guangxi Zhuang autonomous region. However, for Wei, her elder brother, sister and their parents, these were difficult journeys.
Their destination, an isolated ethnic Maonan community, lies tucked away in the karst mountains of Huanjiang Maonan autonomous county.
To ensure they arrived before nightfall, their parents woke the children in the early hours at their apartment in the county seat for the family to catch the first train of the day to the area.
The most torturous part of the trip then followed.
The last leg of the journey involved five hours of walking uphill, burdened by gifts for friends and relatives they had not seen for a long time.
The meandering, rocky roads almost robbed Wei of the curiosity she had about her cultural identity.
"I was sustained during those trips by a sense of tradition and a subconscious feeling of homesickness," said Wei, a chief prosecutor from Guangxi.
She is the only ethnic Maonan member of the Chinese People's Political Consultative Conference National Committee-the nation's leading political advisory body that met in Beijing earlier this month at the same time as the National People's Congress, the top legislature.
Last year, the country's 107,000 Maonan people, the majority of whom live in Huanjiang and an autonomous township in neighboring Guizhou province, escaped absolute poverty, as the Communist Party of China aimed to eradicate domestic poverty before celebrating its centenary this year.
Wei said isolation fueled the widespread impoverishment that her people experienced for generations.
During journeys to the ancestral home, Wei's father, a member of the Maonan ethnic group who became a physics and math teacher after graduating from a local teachers' training college, told stories of traveling the same route once a semester in his younger days to reach the only school in the county seat.
"When he finally saw the county seat from a hilltop, my father said he cried out loud," Wei said.
She added that her heart sank when she learned that many Maonan people, after leaving the rolling mountains for better lives, seldom, if ever, returned.
Isolation was largely to blame, and it also served to reinforce an ultra-conservative mindset, forcing locals to cling to a primitive way of life.
"Money does not work here-you need to barter for daily necessities," Wei said.
Her aunt, an ethnic Maonan, culled pigs and cattle for bartering and also made sure she kept an adequate supply of rice and grain to make liquor.
Wei's mother, an ethnic Han who can understand but does not speak the Maonan language, depended on her father to barter for groceries in the village. Her mother said she tried several times, but "no one would sell things to an outsider".
Used to urban living, Wei had to sleep under the same roof as grunting pigs and lowing cattle. However, what bothered her the most was the overwhelming stench.