Digital credentials expected to facilitate international travel
Share - WeChat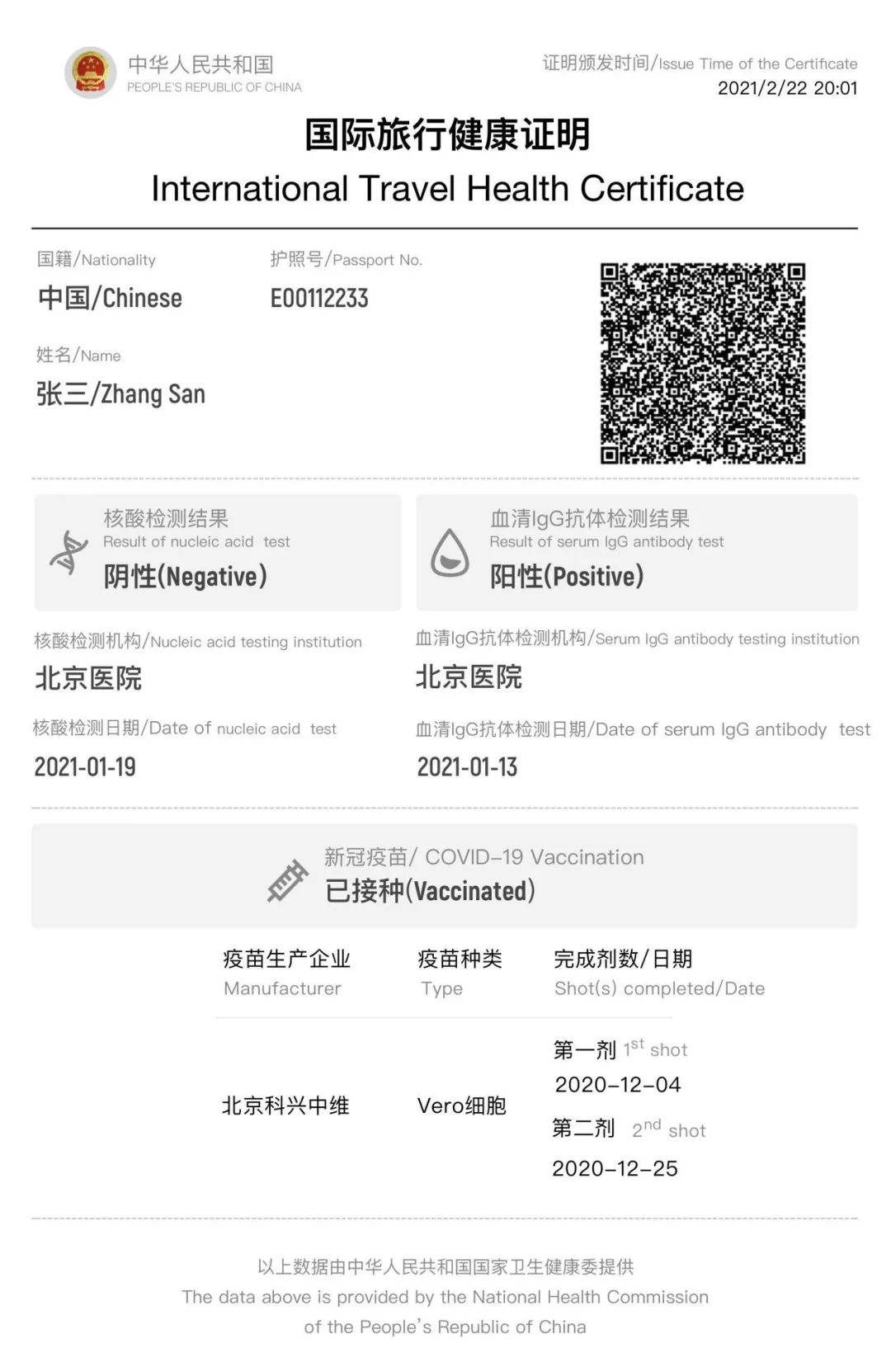 Vaccine passports, travel passes, global health certificates-the names vary. But the fundamental idea remains consistent that it is time to give a hand to international travel, crippled by the COVID-19 pandemic, by deploying some form of digital documents linked to a traveler's testing results or vaccination status.
In China, a digital health certificate system has been rolled out for international travelers as of last week to facilitate their safe and orderly flow.
Chinese experts also are pondering vaccine certificates that can potentially replace or shorten stringent quarantine policies, and discussing the feasibility of a travel pass, such as a global mobile application promoted by the International Air Transport Association, to speed up recovery of the airline industry.
"We are seeing a positive trend here, with the growing intention of boosting international exchanges and cooperation amid the outbreak," said Zeng Guang, chief epidemiologist at the Chinese Center for Disease Control and Prevention.
Digital credentials "are expected to reduce a number of travel barriers and save tons of time and resources", he said. "These attempts are particularly important at the moment as a number of international events, such as the Tokyo 2020 Olympics and the Beijing 2022 Winter Olympics, are approaching."
However, before any form of health certificate can be scaled up and play a constructive role in restarting international travel, Zeng said it is vital for the international community to build a consensus.
"If only a minority of countries and regions agree to recognize digital health certificates, it won't work. The majority must be on board," he said.
China announced it would launch its own version of an electronic health certificate on March 7. The next day, Foreign Ministry spokesman Zhao Lijian said during a news conference that the country is ready to talk with other countries about "establishing mutual recognition mechanisms for health code information on the basis of accommodating each other's concerns and friendly consultations".
Zhao added that the health certificate is currently only available for domestic travelers. It shows the results of nucleic acid, antibody and serum tests as well as vaccination information, in either a digital or paper format.
Digital technology is an essential tool used in fighting COVID-19 in China. At most restaurants, office buildings, shopping malls and transport hubs, visitors are used to scanning a QR code. For that person to gain entry, the smartphone-based health code system would need to return a green code.
Zeng said early implementation of such digital tools would give the country an edge in adopting internationally based health certificates.
"China has already established a database that functions well. Information such as who has been vaccinated is logged," he said. "So generally speaking, rolling out a global health pass is not a tall order in the country."
But he noted that a number of practical questions will inevitably arise and could be problematic if such a system is implemented in a hurried fashion.
"What do you do with people who are vaccinated but are still at risk of contracting or spreading the virus? How do you prevent and halt illegal acts such as data fraud and counterfeits?" he said. "These questions should be thought out and well-planned beforehand."
Concerns raised by Zeng are being studied around the world as a number of countries have launched or are considering vaccine passports, which would ease or lift movement restrictions for people who are fully vaccinated against the disease.
Iceland said in January that incoming travelers presenting a standard vaccination certificate will be exempt from official border restrictions and screening.
Officials in Thailand also said this month that it will shorten its quarantine for foreigners from 14 to seven days for those who have received vaccines, but negative test results are still required.
Domestic experts have so far taken a more cautious approach on skipping isolation for vaccinated passengers arriving from overseas.
Zhu Zhengfu, a national political adviser and vice-president of the All China Lawyers Association, said opening the border is not a question of if but when. The first country to take action will reap the most benefits in stimulating its economy but also will have the highest risk of new outbreaks.
"My suggestion is to plan ahead seriously. Mass immunization in the country should be accelerated and mutual trust and international recognition should be built gradually," he said. "But the prerequisite is that vaccines must be proved to be quite reliable and effective."
Gao Fu, head of the China CDC, said during an earlier interview that experts are studying the "complicated" prospects of vaccine passports, and some contentious points have emerged, such as the risk of inoculated people who are protected against infections but might still carry the virus.
"In addition, if the proportion of vaccinated people remains low, we need to take into consideration discrimination against those who are not entitled to obtain such a passport," he said.
Gao estimated that China will vaccinate 70 to 80 percent of its population-the threshold for herd immunity-by the end of this year or the middle of 2022.
Critical consideration
In an interim report released in early February, the World Health Organization said it did not recommend requiring proof of vaccination for international travel, and one critical consideration is that the method can exacerbate inequitable distribution of limited vaccine supplies.
"Individuals who do not have access to an authorized COVID-19 vaccine would be unfairly impeded in their freedom of movement if proof of vaccination status became a condition for entry to or exit from a country," the WHO said. "National authorities should choose public health interventions that least infringe on individual freedom of movement."
As an international standard for proof of health status has yet emerged, the International Air Transport Association, a global airline industry body, has come up with a travel pass initiative aimed at safely sharing testing and vaccination results and providing information on destinations' disease control policies.
The system will be formally launched at the end of this month. At least 14 airlines have reportedly agreed to test the program, according to the association.
Ouyang Jie, a professor of transportation planning and management at the Civil Aviation University of China, said the solution is likely to be adopted widely in Europe, where technical protocols are shared and the pandemic status across different regions is similar.
"China has been imposing a stringent virus control policy targeting incoming travelers for a long time. It is too early for the country to get on board at this stage, as vaccination coverage has not reached a sufficient scale," he said of the travel pass.
Zhang Qihuai, a senior lawyer specializing in civil aviation cases, said testing a travel pass will facilitate the flow of travel information and thus provide insights into adjusting targeted disease control measures.
"But fragmented testing protocols and cultural differences are likely to be a barrier," he added.