Expansion of rural roads set to continue
Share - WeChat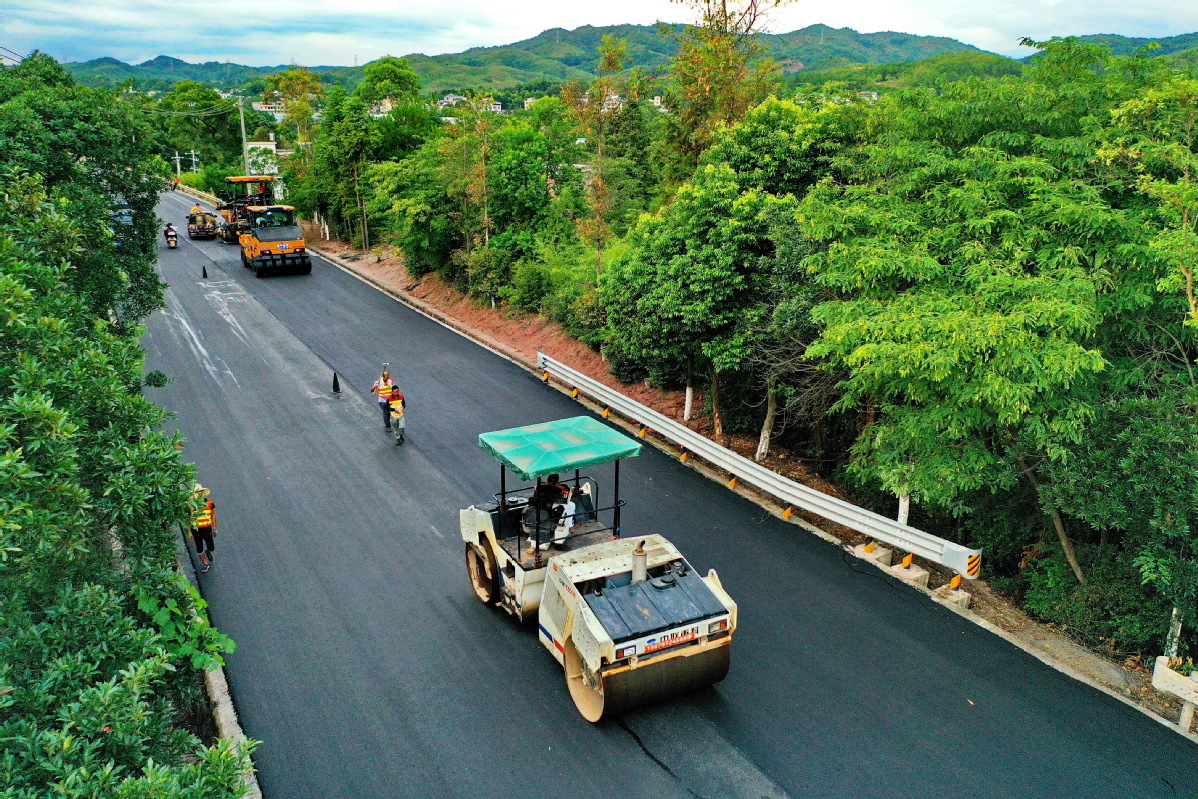 Wang Li's family, which hails from a rural village in Zhaoping, Guangxi Zhuang autonomous region, used to live in a house on a ranch. Every other week, the family walked a few hours on a 2-meter-wide dirt road to buy food and daily necessities in the town center.
"Our parents usually assigned some work to my siblings and me, each of us carrying a few kilograms of commodities," she said. "The round trip took an entire day."
Thanks to a relocation project, Wang's family moved to a new apartment down the hill in 2014 and can now get to the town center on an asphalt road.
"It is so convenient now. Facilities in the community where my new home is are very good," she said.
Wang's family is just one of millions of Chinese families benefiting from the expansion of the country's rural road network.
According to the Ministry of Transport, China's rural road network now extends 4.35 million kilometers, accounting for about 84 percent of the total road network.
From 2016 to 2020, China built or rebuilt more than 1.4 million km of rural roads.
By 2035, the length of the rural road network will exceed 5 million km, according to a development blueprint released by the ministry on March 3.
President Xi Jinping has said the expansion of the rural road network played a key role in eliminating absolute poverty.
In December 2019 he said it had attracted people and wealth to poverty-stricken rural areas. In March 2014 he said that in some poverty-stricken areas, just renovating a section of zip line cable or building a road could open a gate to wealth for local people.
Addressing a grand gathering in Beijing late last month, Xi declared a "complete victory" in the fight against poverty.
By the end of 2019, most villages and towns had access to asphalt roads, and they were covered by bus services by August last year.
"For thousands of years, China's rural residents were covered with dirt when traveling on sunny days and with mud on rainy days. But the past is past. Rural residents now have access to asphalt roads and buses," Yang Chuantang, the ministry's Party chief, told China Media Group.
Ministry spokesman Sun Wenjian said it's a great achievement. Seventy-two years ago, when the People's Republic of China was founded, the country had only 80,800 km of rural roads, and only 30,000 km were paved, Sun said.
China Media Group interviewed Lei Ming and Chen Fengjiao, a couple from Shenzhen, Guangdong province, who were on a recreational vehicle tour of China when they stopped at a freeway service area in Tongren, Guizhou province.
As fans of road trips, the couple said they enjoyed the better road network and facilities, especially in rural areas.
"In recent years, freeways, highways and countryside roads are leading everywhere," Lei said. "In many villages, facilities including parking lots and bathrooms are pretty good, which is very attractive for us road trip travelers."
Luo Xia, a transport and logistics professor at Southwest Jiaotong University in Chengdu, Sichuan province, told China Communication News that tourism resources and industries should be developed along with the expansion of the rural road network.