Pudong airport wins international recognition
Share - WeChat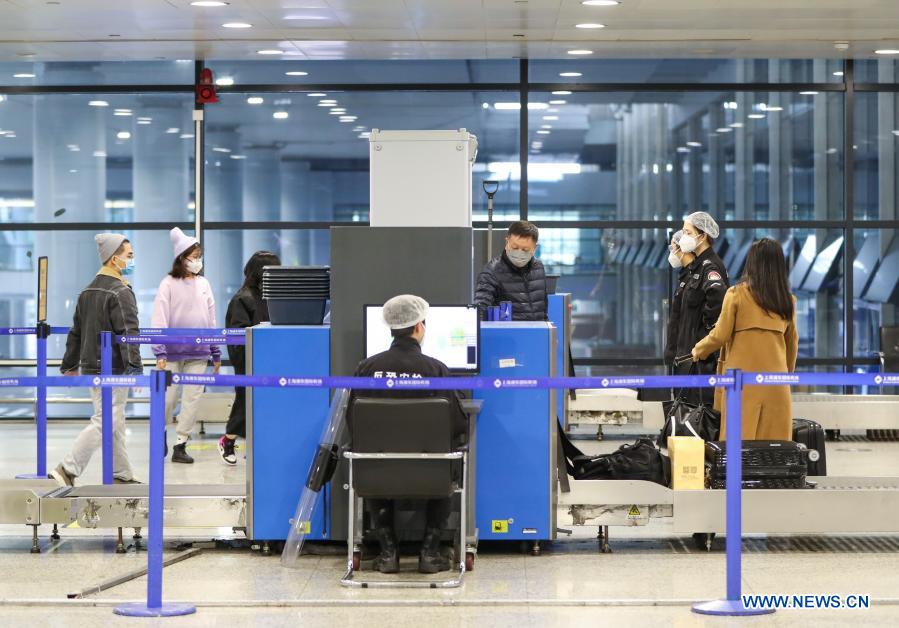 When Liu Shang, 29, arrived at Shanghai Pudong International Airport on July 12 at midnight after finishing his MBA studies in the United States, he felt safe and secure.
The embarking process took place under the command of airport staff, with 20 people entering the terminal at a time to fill out forms and take nucleic acid tests, Liu said.
"There were clear signs all the way. People were divided into two lanes to their quarantine hotels, registered residents of Shanghai and the non-registered, and most of them arrived in hotels two hours later," said Liu, who stayed in a hotel under quarantine for 14 days.
"I was nervous onboard and barely ate, but the whole embarking process was smooth and efficient with the support of Pudong airport," he added. "That made me feel safe."
As the airport ranked first among a group of 348 in terms of passenger satisfaction in 2020, according to the Airport Service Quality report released by the Airports Council International on March 1, Liu is clearly not alone in this sentiment.
Located in Shanghai Pudong New Area, the airport is about 30 kilometers from the city center and is the largest hub airport and gateway airport in East China.
Annual passenger throughput of the airport is about 76 million, and annual cargo throughput is nearly 3.6 million tons, with over 510,000 flights taking off or landing in 2019.
According to the ASQ, the airport has been ranked among the top 10 airports in the world in terms of passenger satisfaction for 11 consecutive years since 2010, judging on 34 key indicators, including airport traffic, check-in handling, safety inspection and service facilities.
Since the outbreak of COVID-19, the airport has normalized strict epidemic prevention measures, including infrared temperature measurement and mask mandates for all passengers entering the terminal and closed-loop management for inbound passengers.
From the perspective of convenience, the airport has realized full self-service check-in, including luggage for partial flights. About 39 self-service kiosks for the temporary boarding certificate system are set up in the terminal for passengers who forgot to bring their ID, according to airport management.
In addition to a rich variety of dining options, the airport has launched an online reservation service, which enables passengers to place an order online and take delivery offline. Sanitizers and mobile power chargers can be seen everywhere.
"Pudong has always maintained order even though it has a large passenger flow. I feel very satisfied with the spacious and clean interior, the complete and advanced facilities and the highly efficient and fluent service and boarding process," said Zhou Xiangyu, a frequent traveler who flies out of Pudong at least 50 times per year. "It is also worth mentioning that as a leading airport in the world, it keeps optimizing its services, including the newly opened satellite terminal in recent years, with more food options and better service facilities."
Besides the service quality prize, the airport was also awarded the title of Best Airport by Size & Region in Asia-Pacific in 2020 by ACI.
It was named in the category of airports with an annual passenger throughput of over 40 million. Other airports named in the category include Beijing Capital International Airport in China, Chhatrapati Shivaji Maharaj International Airport in Mumbai, India and Singapore Changi Airport.
So far, the airport is speeding up construction of Terminal III as part of the city's 14th Five Year Plan.