NPC deputy: Traditional Chinese medicine plays an important role in the pandemic
Share - WeChat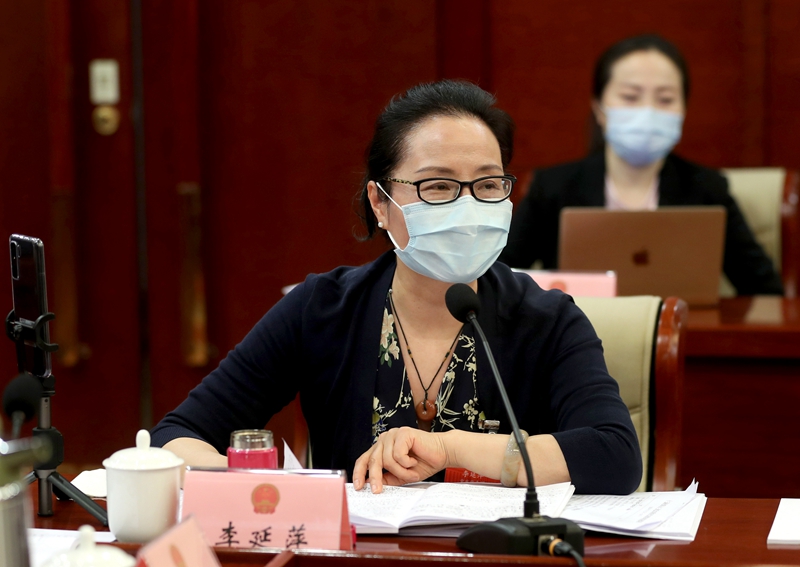 Chongqing — As China's Two Sessions approaches, Li Yanpin, deputy to the National People's Congress (NPC) and vice-president of the Chongqing Traditional Chinese Medicine Hospital took part in the live broadcast held by Chongqing Daily to communicate with netizens on Feb 23.
Li Yanping, who has been a doctor for more than 30 years, communicated online with netizens for over an hour about Chinese medicine development in the post-epidemic period and responded to hot topics such as the role of traditional Chinese medicine (TCM) in epidemic prevention and control.
Training for Chongqing volunteer teams
As a representative of the NPC and doctor, Li Yanping has been actively involved in the treatment and prevention of the COVID-19. During the Two Sessions last year, she put forward a number of suggestions, including a more prominent role for Chinese medicine.
The relevant state department assigned more than 5 billion yuan to support the construction of infectious disease prevention, control, and treatment facilities in Chinese hospitals at all levels. In Chongqing, the Traditional Chinese Medicine Hospital has become a supporting unit and base for national TCM disease control.
During long-term investigation and research last year, she advocated establishing the first provincial-level "one-stop" inquiry and rescue center for minors. In December last year, the first tutelage workshop was set up to provide special training in psychological assistance, loving care, and education.
When suggestions adopted, Li Yanping felt pride and excitement.
TCM's important role in the epidemic
In the face of the sudden epidemic, the Chongqing Traditional Chinese Medicine Hospital where Li Yanping works led the emergency response project entitled "research and application of traditional Chinese medicine in the clinical treatment of COVID-19".
Li Yanping explained, "Traditional Chinese medicine has been involved in epidemic prevention and control, clinical treatment, and scientific research in all aspects, and has become a distinctive feature of the 'Chinses approach' for epidemic prevention and control."
Chinese medicine experts from the city were assigned to conduct research and took the lead in formulating a traditional Chinese medicine plan for the prevention and treatment of COVID-19.
During the most urgent period of the epidemic, experts from the Chongqing Traditional Chinese Medicine Hospital carried out many clinical diagnoses and traditional Chinese medicine treatments. As of July last year, the participation rate of Chinese medicine in Chongqing was 92.61%. Traditional Chinese medicine significantly affects the improvement of patients' fatigue, fever, cough, sore throat, and other symptoms. In addition, the hospital also undertook 8 traditional Chinese medicine emergency scientific and technological research projects, successfully developed 3 traditional Chinese medicine preparations for the treatment of COVID-19 pneumonia, and put forward traditional Chinese medicine treatment suggestions for patients during the recovery period.
"The utilization rate and total effective rate of traditional Chinese medicine are more than 90%, which has made important contributions to China's epidemic prevention and control to achieve major strategic results." Faced with the local repeated epidemic situation, Li Yanping said that China has two health systems: traditional Chinese medicine and western medicine. The health system works together to protect the people's health, which is a significant advantage for us.
TCM inheritance and innovation
"There have been some health frauds in the society, which have also triggered people's doubts about Chinese medicine. How do people keep a clear mind and distinguish the Chinese medicine and health frauds?" Some netizens asked Li Yanping.
"As people pay more and more attention to health, the general health industry is booming. Traditional Chinese medicine has multiple roles in disease diagnosis and treatment and health care. Some lawbreakers use people's expectations to create many health frauds." Li Yanping recommended that if people choose to accept medical treatment and health care, they must go to a formal medical health care institution and must under the guidance of a Chinese medicine doctor. On the other hand, the intensity of the crackdown on health scams should be increased.
At the same time, traditional Chinese medicine should also pay attention to inheritance, innovation, and development, such as cultivating inheritors of related skills, strengthening integration and transformation with modern technologies, and strengthening the protection and utilization of wild endangered medicinal resources. Besides, it is necessary to gradually form a complete set of Chinese medicine evaluation systems, especially in clinical value evaluation.