Domestic industry taking big green strides
Share - WeChat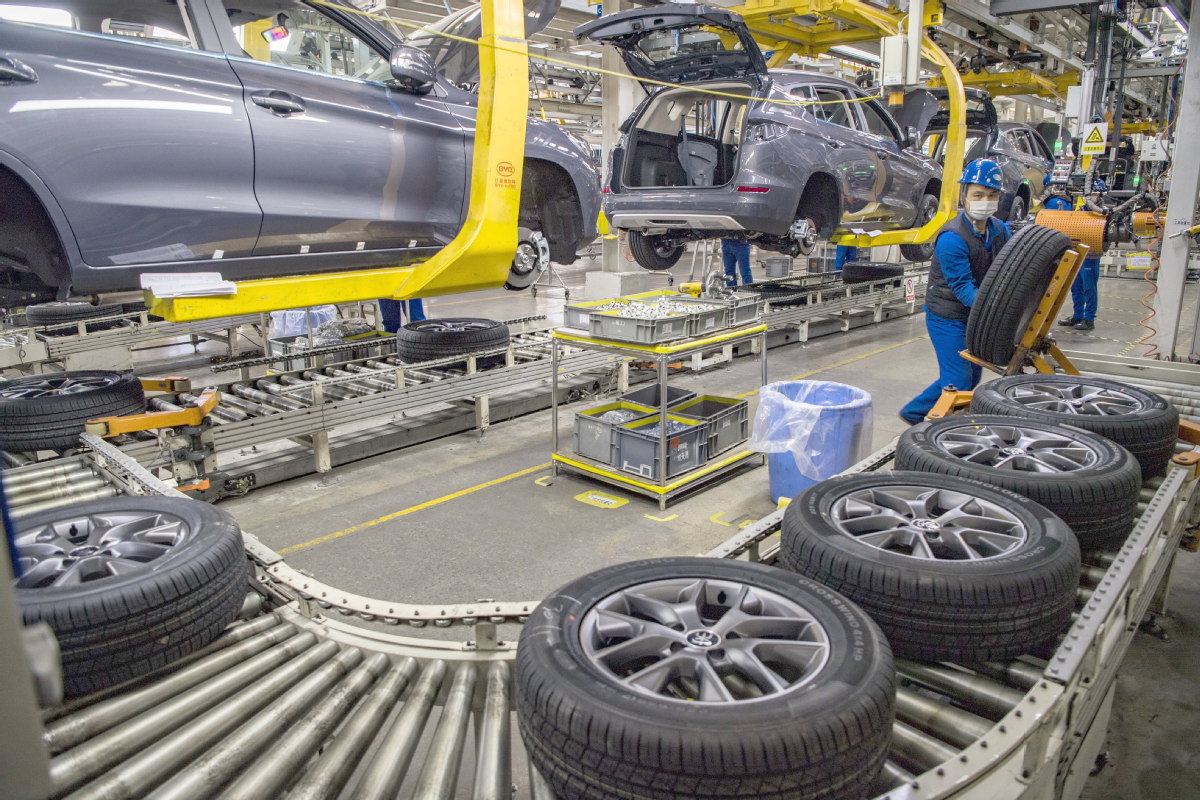 China aims to peak CO2 emissions by 2030, achieve carbon neutrality by 2060, with environmentally friendly production
Factories in China will become increasingly green as companies scramble to pursue high-quality development and the nation works hard to achieve carbon neutrality by 2060, officials and company executives said.
Xiao Yaqing, minister of industry and information technology, the country's top industry regulator, said that as 2021 is the first year of the 14th Five-Year Plan period (2021-25), the nation will make more efforts to cut carbon emissions in the industrial sector and roll out plans for key sectors to achieve the goal of peaking carbon emissions.
Efforts will be made to strictly control new production capacity in heavy and chemical industries, and cut crude steel output to ensure it falls year after year, Xiao said.
China has put in place a green manufacturing system, with 2,121 green factories and 171 green industrial parks built over the past five years. These green plants are assessed in five aspects, including green production, supplier management, green logistics, green recycling and green information disclosure, Xiao added.
The country will encourage industrial firms and parks to build green microgrids and prioritize the use of renewable energy, the minister said, adding that efforts will be made to formulate a road map for the auto sector to meet these goals, promote the development of electric vehicles and boost the recycling of batteries for new energy vehicles.
The remarks came after China announced that it will strive to peak carbon dioxide emissions by 2030 and achieve carbon neutrality by 2060. Green manufacturing is a key push to meet the goals given China's position as a global manufacturing powerhouse and its sprawling industrial economy, experts said.
Li Yizhong, honorary chairman of the Green Manufacturing Association of China, said earlier that green manufacturing is an essential part of China's manufacturing upgrade push. It is not only a company's social responsibility but also can become its core competency and help improve efficiency.
Green manufacturing is not merely about energy conservation and emissions reduction, and it doesn't only concern heavy industries and heavily polluting enterprises. It's a common concern of all industries such as steel, nonferrous metals, chemical engineering, building materials, papermaking, printing and dyeing. Each company shoulders responsibility to develop green manufacturing, Li said.
Only green manufacturing can ensure a better quality of life while protecting the environment at the same time and make China a really strong manufacturing country, Li said.
Zhang Mingsheng, a technical employee at Gree Electric Appliances, said green manufacturing should run through products' full life cycle and contain diverse content such as green design, green production, green operation, green recycling, green energy application, green packaging, green marketing and green trade.
"Gree Electric Appliances, as the leader of China's appliances industry, has made great efforts in green design, especially highly energy-efficient products. The research and development of a special compressor, our core technology, has helped to improve the company's manufacturing energy efficiency and product energy efficiency," Zhang said.
Green manufacturing refers to various fields and each industry is at a different level. The association aims to promote communication and cooperation for green manufacturing development between both traditional and new industries.
Li Lingshen, vice-president of the China National Textile and Apparel Council, said: "Green manufacturing is a strategic choice for the textile industry because whether we talk about products or manufacturing processes, we must make sure they are green and environmentally friendly. To make sure the products are good for people's health and the production process doesn't harm the ecosystem is our inevitable responsibility and we need cross-industry cooperation to integrate resources."