Attracting more high-quality foreign investment crucial task
Share - WeChat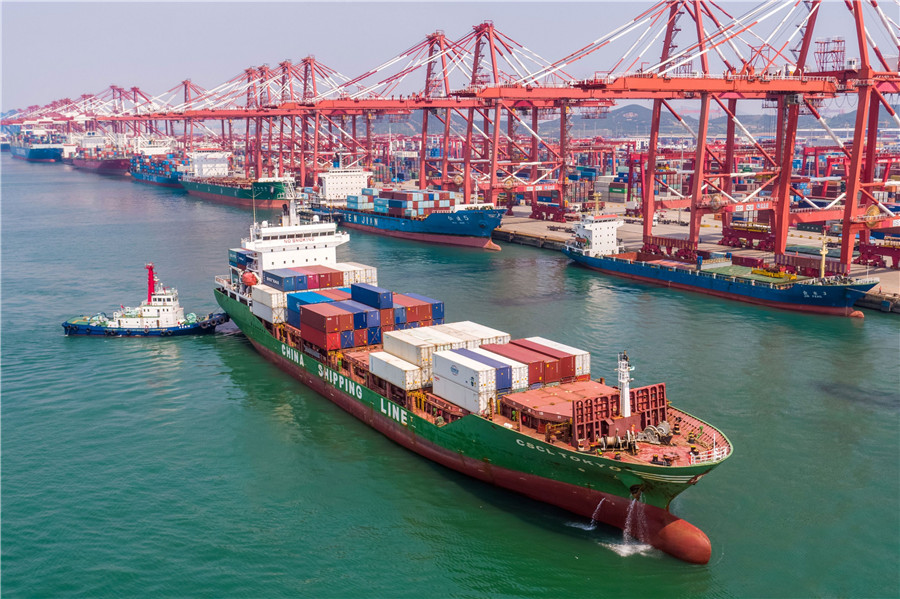 Editor's Note: Starting on Thursday, China Daily is publishing a series of stories focusing on major issues expected to be discussed at the annual sessions of the National People's Congress and the National Committee of the Chinese People's Political Consultative Conference, known as the two sessions, the biggest annual political event in China, which generally starts in early March. Some stories will also look at how the participants in the two sessions, deputies and political advisers, perform their duties.
The rapid rebound of China's V-shaped economic recovery since the second half of 2020 and improvement in the business environment will continue to make the domestic market attractive for foreign investment, a policy adviser said.
Jiang Ying, a member of the 13th National Committee of the Chinese People's Political Consultative Conference, spoke about economic and other issues she expects to see during the two sessions in March, the annual meetings of China's top legislature and top political advisory body. She said she expects a GDP growth rate for 2021 of about 7.5 percent and a double-digit rate in the first quarter.
The global recovery is starting to speed up enough to boost China's exports in 2021. But investment, which recovered strongly last year, may not see a sustainable boom this year as the government may be reluctant to promote growth by raising the debt level, according to Jiang, who is also vice-chairwoman of Deloitte China, an international consulting company.
Instead, Jiang added, policymakers are likely to focus on improving the quality of growth by addressing unevenness in the recovery between investment and consumption. That could be done through more efforts to support small and medium-sized enterprises and consumers in 2021 in order to continue to boost consumer confidence.
In the medium term, China is not expected to ignore the risk of an increase in the debt-to-GDP ratio. Also, uncertainties in China-US trade will make the external environment and the process of rebuilding multilateralism more challenging.
Jiang shared her views with China Daily several weeks before the opening of the fourth session of the 13th National Committee of the CPPCC, the country's top political advisory body, which is scheduled to start on March 4.
For the upcoming two sessions-including the 13th National People's Congress, the country's top legislature, which begins its fourth annual session on March 5-Jiang said she expects to hear policies focusing on expanding domestic demand as well as accelerating scientific and technological innovation with increased investment in basic scientific areas and digitalization of the economy based on new types of infrastructure, including 5G, industrial internet and big data centers.
She said she also expects promotion of higher-quality opening-up, which can bolster ties between China and other economies. That comes after the recent signing of agreements for the Regional Comprehensive Economic Partnership among 15 Asia-Pacific nations and the China-European Union Comprehensive Agreement on Investment. China also is continuing to further liberalize market access, promote trade and investment facilitation and improve its business environment based on the rule of law.
"We can expect a continued shortening of the negative list for foreign investment and gradual extension of the industry catalog for more businesses to be eligible for measures aimed at encouraging foreign investment. FTZs and free trade ports will become important early or pilot areas for further market access and new policies," she said.
In 2020, China was implementing the Foreign Investment Law and its regulations, which showed the strong commitment and actions of the Chinese government to protect the legitimate rights and interests of foreign investors and their companies in the country.
"Most foreign-invested companies feel that the business environment in China is getting better," Jiang said. "However, there is still room for improvement to fully take advantage of the policy dividend."
She suggested some main areas to be improved, including providing more guidance to ensure transparency and consistency of treatment, paying attention to high-risk areas while enhancing inspections, and allowing businesses to freely and conveniently move within the country.
Annual gathering
During the two sessions, thousands of national legislators and political advisers will gather in Beijing. They are expected to discuss the 14th Five-Year Plan (2021-25) for National Economic and Social Development and the Long-Range Objectives through the Year 2035.
Sustainable development and green growth are among the key themes of the 14th Five-Year Plan, Jiang said. Investment labeled ESG-for environment, social and governance-will be a category that businesses will be eager to develop. China's ESG investment has grown rapidly in recent years, helping to achieve the country's net-zero emissions, or "carbon neutrality", pledge by 2060.
"For government, the development of ESG investment is a way to innovate and optimize the business environment," she said."Environmental factors should be an area that makes a difference in the nation's business environment. We are looking forward to more guidance from the government for green growth."
For the corporate sector, sustainability is significant, as consumers may be more willing to pay higher prices for products made from green materials, and employees will be more loyal to companies that incorporate sustainability in their model. "Companies should look at this topic not as a risk, but as an opportunity for growth, for transformation and for collaborating with others, making sustainability a true differentiator among products and services in the future," Jiang added.
Gender equality
Jiang also said she pays attention to the protection of women's rights and interests in China.
Last year, on the 25th anniversary of the Fourth World Conference on Women in Beijing, President Xi Jinping indicated that protection of women's rights and interests must become a national priority.
"President Xi's speech was truly aspirational. He calls for global leaders to make a reality of gender equality, and to make society truly inclusive and diversified," Jiang said.
In response to some challenges in this area, more actions should be taken to advance gender equality and unleash the gender dividend in China, Jiang said.
Jiang suggested enhancing the importance of inclusion and diversity as companies become world-class global organizations. Also, the government should be encouraged to consider adding information disclosure requirements regarding gender equity issues for publicly listed companies.
Gender discrimination should be eliminated in job postings, continuing education should be encouraged and special policy support added for women's employment and entrepreneurship, including helping enterprises with digital innovation and adopting remote work to turn the perceived disadvantages of female employees into advantages, stimulating the potential of female talent, Jiang said.