Hard work, new skills improve villagers' lives
Share - WeChat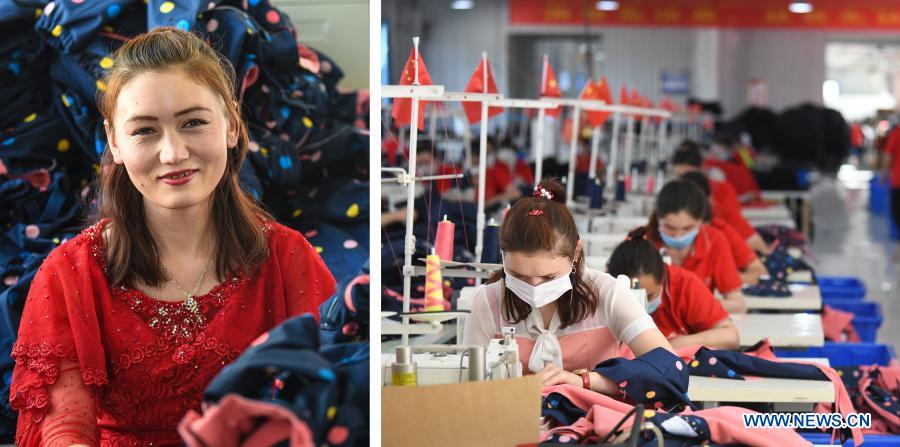 Through the sprawling alpine grassland in Aqik, Xinjiang Uygur autonomous region, flows a river fed by snow melting from the northern slope of the Kunlun Mountains.
For generations, people in the town have been grazing cattle, sheep, camels, horses and other animals to make a living.
However, the backward animal husbandry techniques they used and their disorganized way of herding livestock made it hard for them to earn enough to support their families, let alone expand production. It was an impoverished town with a per capita income of less than 3,000 yuan ($464) in 2014.
Things started to get better after the launch of the fanghuiju campaign in February 2018, which dispatched civil servants to grassroots communities to help people from various ethnic groups.
Tong Xinhui, a member from the fanghuiju team and a resident cadre in Aqik's Belik village, said that farming and ranching experts were invited to teach villagers how to scientifically practice animal husbandry.
"And we've also financially supported farmers and ranchers by helping them to apply for interest-free government loans," he said.
With the team's support, a grid management system has been applied to improve animal production and protect the environment. Wire fencing has been used to box off the pasture into smaller areas ranging from 20 hectares to 33 hectares. The areas open in turns to ranchers for livestock grazing during summer and autumn and close in spring and winter, giving them healthier pastures.
In 2019, the team also set up an animal husbandry cooperative in Belik, with impoverished villagers as its shareholders.
"It can serve as a sheep breeding base and a place for ranchers to entrust their animals," said Tong, adding that about 40 impoverished villagers can share an annual bonus of 3,600 yuan from the cooperative.
The cooperative is now leading 22 poverty-stricken households to raise 2,100 sheep, 150 camels and 30 cattle, becoming the largest cooperative in the sector in Lop county. Its total output value last year exceeded 3 million yuan.
Matniyaz Mamatemin, an experienced rancher in Belik, was selected as a manager of the cooperative. He was offered the chance to systematically learn how to breed animals, control animal diseases and improve feeding.
"I can make decisions to expand the ranch's scale," he said.
He also said that since the cooperative can take care of the animals for individual ranchers, they now have time and energy to do other work such as planting crops.
"With the increasing profits brought by the cooperative, our fellow villagers are more willing to join the cooperative now," he said.
Matniyaz, a member of the Uygur ethnic group, has been a beneficiary of the town's animal husbandry boom in recent years.
In 2014, he only owned three sheep and earned 4,000 yuan for a whole year.
"Supported by the fanghuiju team and the government's favorable policies, I earned 100,000 yuan in 2019," he said.
Meanwhile, the local government has been improving the basic infrastructure in Aqik, including repairing roads, delivering broadband coverage to villagers and supplying tap water.
The 27 kilometers of main roads across the town have been paved, as have around 19 km of roads leading to villagers' households.
Last year, poverty alleviation funds of 19.6 million yuan were spent on a road reconstruction project covering more than 44 km of streets and roads in Aqik, and 4.2 million yuan spent on building three steel-truss bridges.
Matniyaz said the improvement of basic infrastructure has changed the daily lives of villagers remarkably.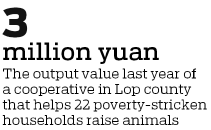 Belik, once a poverty-stricken village, was lifted from poverty last year, with upgraded housing conditions, proper sanitation, adequate water supply and connection to the internet.
"We used to live in mud cottages and drink water that was directly drawn from rivers and lakes, but now we are living in comfortable houses with clean kitchens and toilets where we can use tap water for cooking and washing, which is really convenient," Matniyaz said.
Transportation has also become easier for the villagers.
When Matniyaz was a boy, his parents often took him to the market in the downtown area of Lop county.
"It took us three days on a donkey cart from my home to the market and back," he said. "Today, it only takes us 40 minutes to get to the market by bus with the paved roads built to my doorway."
In addition, the town has attracted an increasing number of tourists to enjoy the picturesque vistas of grasslands, mountains and living creatures, taste the beef, mutton, chicken and other delicacies produced by its animal husbandry and listen to the melodious sound of the dutar-a traditional long-necked lute with two strings.
"We know that to protect the fragile ecology, we can't keep expanding animal husbandry here," said Fu Zhenglong, the town's Party secretary. "The town's natural conditions also provide us another way to develop the economy-rural tourism."
The town has one tour operator and 22 homestays, which help to boost local employment.
Farmers, ranchers and other residents are offered training sessions where they can learn skills such as handicrafts and cooking that help tourism development.
"Today, people in Aqik are actively tapping their own potential and exploring more possibilities for rural vitalization," Fu said. "They are willing to work hard to embrace a better life."
Contact the writers at xingwen@chinadaily.com.cn