Tourism sector growth to turn 'red' hot this year
Share - WeChat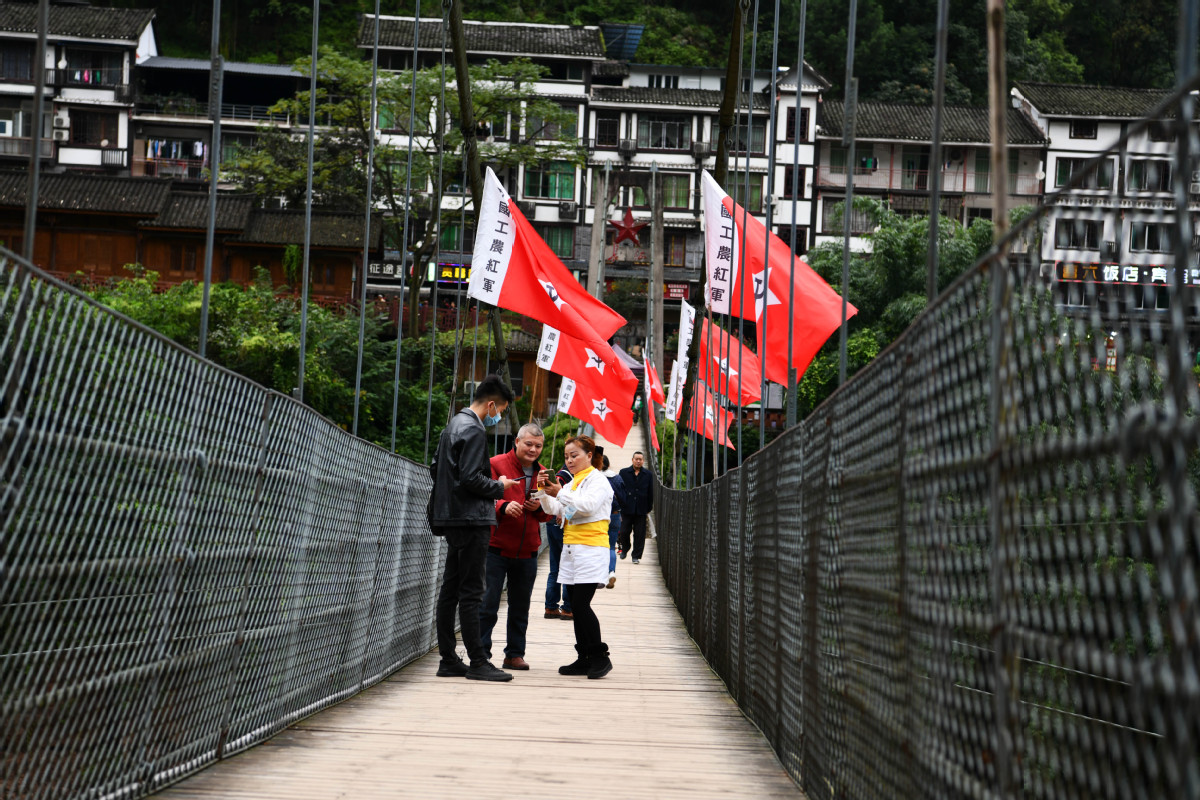 "Red tourism" will see integration of high-quality travel resources and social media-based marketing this year.
This is expected to spark a trend of more young people traveling to pay respects to the founding fathers of New China, as part of the celebrations to mark the centenary of the founding of the Communist Party of China.
In January, Trip.com Group, China's largest online travel agency, launched 100 tailored travel options related to red tourism. It expects 50 million people to take such trips this year, the company said.
Red tourism focuses on tours exploring the history of the CPC before the founding of the People's Republic of China in 1949.
Such trips cover 108 cities and about 200 red tourism-related sightseeing spots in China. More than 60 percent of the trips offer options of small group tours and private tours for families and friends, as well as outings organized by companies.
"Red tourism is expected to help promote the good spirit of the Party. We would like to launch more premium red tourism products and fuel the popularity of the segment," said Jane Sun, chief executive officer of Trip.com Group.
The routes integrate red tourism-related sight-seeing spots and other beautiful landscapes along the trip routes. They cover destinations such as the founding places of the Communist Party in Shanghai and Jiaxing, Zhejiang province, and several spots of major turns in the history of Red Army commanders during the Long March.
The routes also introduced night trips to some red tourism destinations, such as the Taierzhuang ancient town in Zaozhuang, Shandong province.
In the past, red tourism focused on sight-seeing and narratives by tour guides. Recently, some museums have introduced virtual reality and augmented reality technologies, and visitors can better understand modern China's history through some simulated experiences.
Besides, travelers can take some immersive activities like wearing military uniforms, presenting flowers at memorial parks for martyrs, and eating some simple meals that are similar to what soldiers had decades ago.
"Red tourism-related sight seeing spots can also launch some stage plays, with actors playing certain historical roles. The dramas can invite visitors to interact with 'historical figures', and thus draw more attention," said Luo Xiang, an analyst of the LeadLeo Research Institute, a provider of market research reports.
Meanwhile, Trip.com said it aims to attract more young travelers to visit red tourism destinations by publishing innovative content and through extensive marketing. It will launch a series of livestreaming sessions that feature certain red tourism spots, and invite some internet celebrities to take such trips and post short videos that are both interesting and educational.
So far, the online travel agency has uploaded more than 10,000 related original posts on its platform, and they include short videos, pictures and short articles.
The company predicted that this year, travelers, who were born in the 1980s and 1990s, and will visit red tourism spots are expected to account for 50 percent of the total, and the proportion of visitors born in the 1960s and 1970s will drop to 25 percent.
Qunar, a Beijing-based online travel agency, said this year, it plans to invest more money and resources in promoting red tourism-related travel products, and the market is expected to become more popular in the second half of the year.
"With the ongoing COVID-19 pandemic crimping international travels, China will continue to explore its domestic travel resources this year. The red tourism sector is set to see booming growth and drive the development of cultural tourism," said Luo of LeadLeo.
Last year, more than 100 million people took trips to red tourism destinations in the country.
During the past five years, the segment of red tourism accounted for more than 11 percent of the domestic tourism market, according to the Ministry of Culture and Tourism.