Avian enthusiast basks in bird life
Share - WeChat Liu Li felt excited as he picked birds' dung from ice holes at the Yellow River wetland in Baotou, Inner Mongolia autonomous region, on a day early in spring 2018.
The zoologist walked carefully on the soft ice as he approached the holes. To prevent bird flu infection, he wore a face mask and gloves as he bagged the samples, which would be dried and analyzed later. He didn't realize he had become deeply stuck in the mud until he turned around to go back.
"I had to throw the camera and dung aside to climb out," Liu said, recalling what he said was one of the most interesting experiences he'd had during his eight years of research on wetland birds.
"From the dung, we can learn what vegetables the birds prefer. For example, swans like corn kernels, which can quickly provide energy to help them fly north," he said.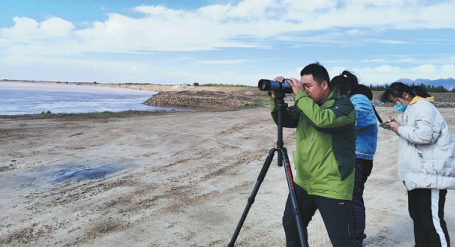 The Baotou Yellow River Wetland is a major transfer station for birds migrating along the East Asian-Australasian Flyway. With an area of 12,222 hectares, it hosts about 200 kinds of birds.
Liu said that by studying the birds and the food they eat, researchers can learn about their living habits and reproduction, which is helpful information for those engaged in environmental protection efforts in the Yellow River Basin.
Liu, a 43-year-old zoo-ecology teacher at Baotou Teachers' College, has brought his students to the wetland every week since 2012 to record detailed information, and they have taken more than 200,000 photos of birds. The team stands on the highest point of the wetland and observes birds with a telescope, counting the number of birds of each species they see.
In the winter of 2018, Liu found a number of dead ducks, and he and his students collected their carcasses. Their deaths were possibly caused by pollution in the water, he said. "The study of the birds reveals changes in the environment and how those changes affect creatures."
Liu developed a passion for birds from his doctoral supervisor in Japan, an expert on crows. In 2012, he returned to China and took the teaching job in Baotou to live with his family. But he was upset, because the city doesn't have many crows.
Later that year, he read news about some locals who were helping swans at the wetland, which inspired him.
"I didn't expect that such an industrial city would have swans. I thought there was something I could do," Liu said.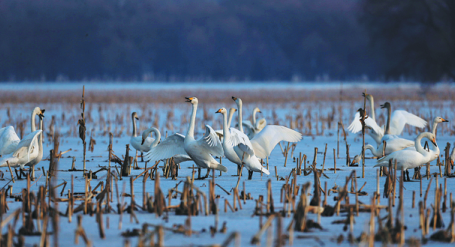 Liu's team, with about 40 members, received about 500,000 yuan ($77,300) in funding in 2015 from the National Natural Science Foundation of China to study birds and environment of Yellow River wetland. The team focuses on the feeding habits of swans and cranes, including what vegetables can give them energy, how effective the vegetables are at absorbing or transferring pollutants and whether certain vegetables or microorganisms can reduce pollution and restore the wetland environment, Liu said.
Years of observation have made Liu passionate about the species.
"It will not take long before you realize birds have the same emotions as humans. They can be happy, angry, sad and jealous," he said.
"There's a certain species of birds that conduct a dance of sorts when they meet in spring to see if they are compatible, and if so, they will become mates. A bird will also pick aquatic plants as gifts for its partner in preparation for building a nest. If a third bird appears, one of the two birds will drive it away."
He said many locals don't know swans, and his greatest desire is to bring more young people to the wetland and experience the beauty of nature.
Zhang Jiyun, one of Liu's students, said she didn't like birds when she first joined the class's field survey as a freshman, but now she looks forward to each field study.
"Every time I hear a chirp, I'm curious what kind of bird is making it," Zhang, 24, said.
Once, she and three classmates were walking in the wetland in a big snowfall, which made the road slippery.
"We wondered whether we should continue, but in the end, we saw a large group of gray cranes playing in the snow, which hit my heart," she said.
Zhang Le, 42, a colleague of Liu, said Liu is extremely devoted to his work.
"One time, he didn't come back after a whole day out, so I drove to look for him," Zhang Le said. "It was winter, and despite the extreme chillness, I found him squatting in reeds, observing the behavior of swans. He told me he recorded when swans got up, ate, rested and cleaned their feathers. I don't think he can sleep well if he goes without visiting the wetlands regularly."