Dig at ancient site uncovers capital of first unified state
Share - WeChat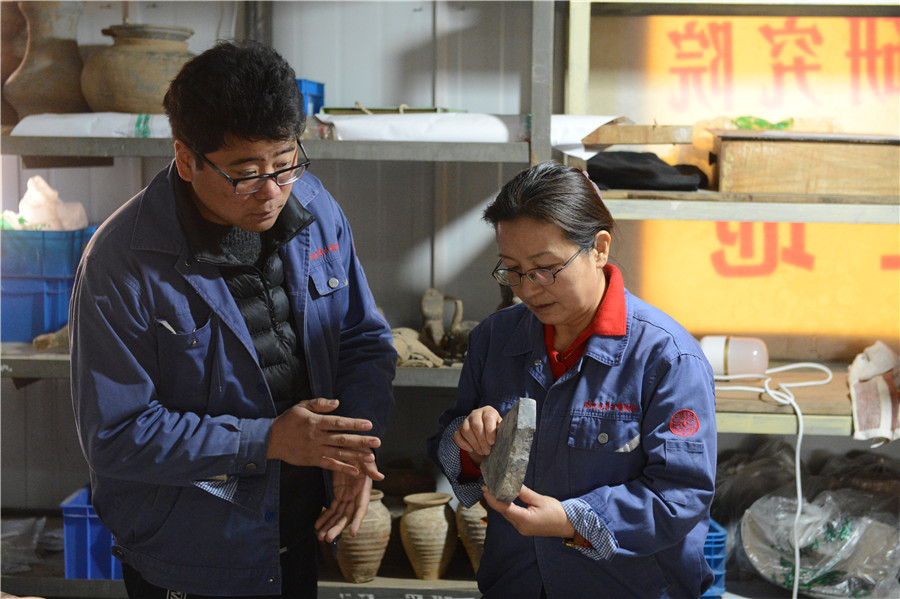 Time seems to pass more slowly at the station than elsewhere as the team members excavate and study relics.
Archaeologists often use a Luoyang shovel, an ancient instrument that helps them identify soil structure and determine whether ruins lie beneath the surface.
The shovel can extract soil samples more than 10 meters under the ground. By examining the color and content of the soil raised by the shovel, archaeologists decide how to carry out excavations at a site.
A hole dug by the shovel is known as a cavern, and Zhang said a skilled team member can drill hundreds of caverns a day. To reach a layer of soil that bears no traces of human activity, the shovel needs to go deep under the ground.
Determining whether the soil has such traces is a basic skill the team members must master.
The team's work site changes over time, but no matter the weather, excavation work never stops.
Zhang said they often chat with local villagers to gather information about possible archaeological sites.
In 2018, more than 600 kilograms of ox bones were discovered at a village near the work station. Rectangular holes had been cut in the bones, which could have been used as decorative items.
"There were many finished and unfinished works. We didn't know how these products were completed before, but the bones tell us how each process was carried out. They matter more to us than some objects that have been unearthed intact," Zhang said.
"They are all perfect artworks in our eyes. I see the wisdom of ancient people here. Finding these objects from ancient people's lives is very interesting and much more fun than unearthing tombs."
Zhang, who long yearned to work on archaeological excavations, became a member of Xu's team after graduating from Northwest University in Xi'an.
His friends were proud of him. One of them followed suit, quitting his job at a bank to join the team a year ago.
Peers dealing with cultural relic protection often ask Zhang if there have been new discoveries at the excavation site.