Festival puts mojo back in e-shopping
Share - WeChat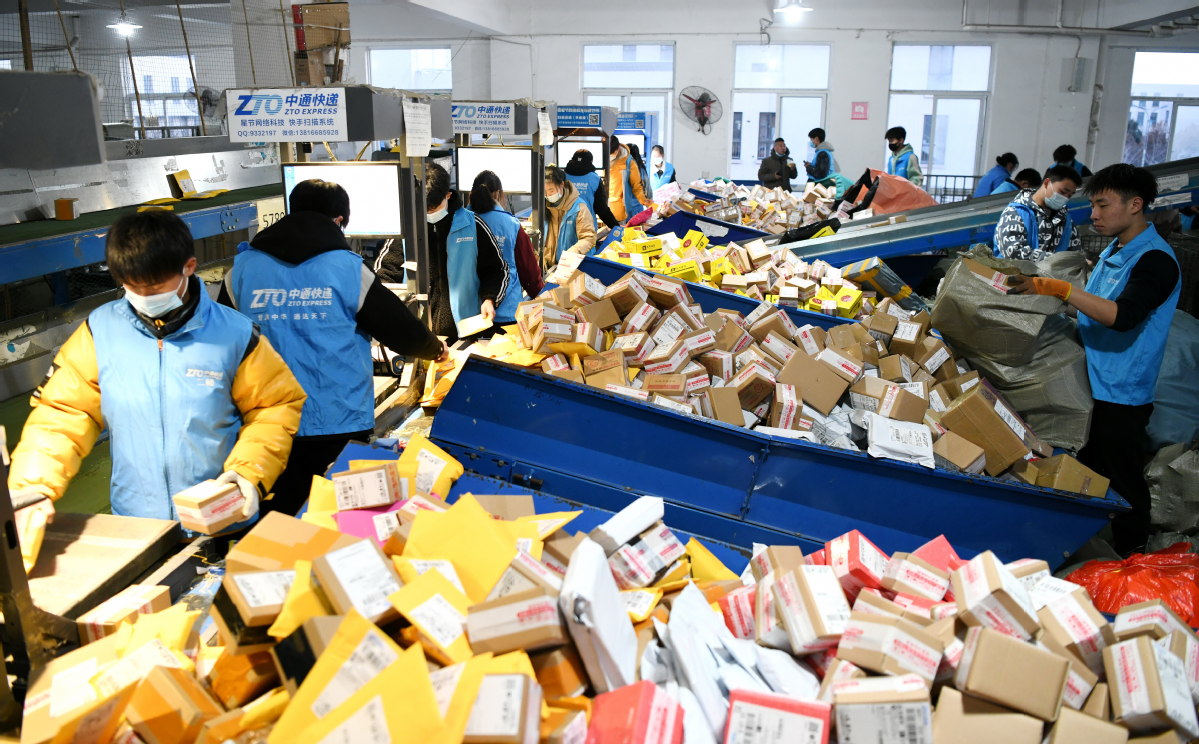 Demand robust for local specialties, home entertainment, imported goods
Surging cross-city order placements, craving for local specialties and imported goods, desire for healthy lifestyle items, as well as home-based entertainment characterize this year's Spring Festival online shopping trends, as more Chinese stayed put during the holiday to curb the potential spread of COVID-19.
Courier aggregator Cainiao Smart Logistics Network, a consortium of over 10 leading Chinese delivery firms, said on Thursday that parcel shipments quadrupled between Feb 4 and Monday, compared with the same festive period in 2019.
The Chinese Lunar New Year officially fell on Feb 12 this year. The data are not comparable with that of last year, as stringent social distancing was put into place due to the contagion.
As many did not join the annual family reunion back home, sales generated from cross-city orders were double that of the comparable period last year, according to statistics from JJDJ, a leading on-demand delivery and retail platform.
The trend, tracked between Feb 4 and Tuesday, was led by first-tier cities such as Shenzhen and Guangzhou in South China's Guangdong province, where GDP reading is among the highest nationwide and job opportunities abound.
To mitigate the homesickness of those who did not travel, family members were sending over packages of local specialties, such as preserved ham and pickled Chinese cabbage. According to Cainiao, the average number of parcels sent from smaller counties to bigger cities rose by 20 percent from the 2019 level.
Provinces with large population outflows such as Gansu and Guizhou, as well as the municipality of Chongqing, saw the highest year-on-year growth in the number of parcels being sent out.
The momentum was consistent with the broader consumption spree seen during the festive season. The Ministry of Commerce said on Wednesday that the total revenue of key companies in the retail and catering sectors rose by 28.7 percent on a yearly basis during the weeklong holiday from Feb 11 to Wednesday, to 821 billion yuan ($127.1 billion). The figure exceeded Spring Festival holiday spending in 2019 by 4.9 percent.
Meanwhile, healthy-eating and Western-style food gained popularity this year. For instance, sales of ejiao cakes, which are traditionally perceived as nutritious snacks, increased 4.2 times on JJDJ year-on-year, while sales of walnut powder and honey jumped 4.1 times and 3.1 times, respectively.
Similar trends were witnessed on Tmall, where turnover from pharmaceutical brands such as Lei Yun Shang and Tong Ren Tang nearly doubled from a year ago.
Imported products are fast becoming the new magnets as people are temporarily restricted from outbound travel. Tmall saw gross merchandise volume of imported wine jump tenfold year-on-year from Feb 4 to Monday, whereas sales of rum and pasta increased 8.8 times and 2.4 times, respectively, on JJDJ during the festival.
Staying-in also fueled spending on indoor games and entertainment. JJDJ said spending on poker games doubled on the platform, while spending on table games saw a 35-fold growth.
At Alibaba's secondhand trading platform Xianyu, sports equipment such as rowing machines and jumping ropes saw conspicuous growth, though no detailed figures were provided.
Staycation, a portmanteau of "stay" and "vacation", is shaping up to be the new favorite for those thirsting for a holiday getaway. Online travel agency Fliggy saw themed hotels, such as those featuring esports or those catering to pets, jump 30 percent to 100 percent in price tags across big cities during the holiday.
Others went further to make traveling a virtual practice. Fliggy said the number of people watching livestreamed scenic tours almost jumped 10 times via the platform compared with the same period a year ago.
Wu Miaomiao in Shanghai contributed to this story.