More festive greetings delivered via courier
Share - WeChat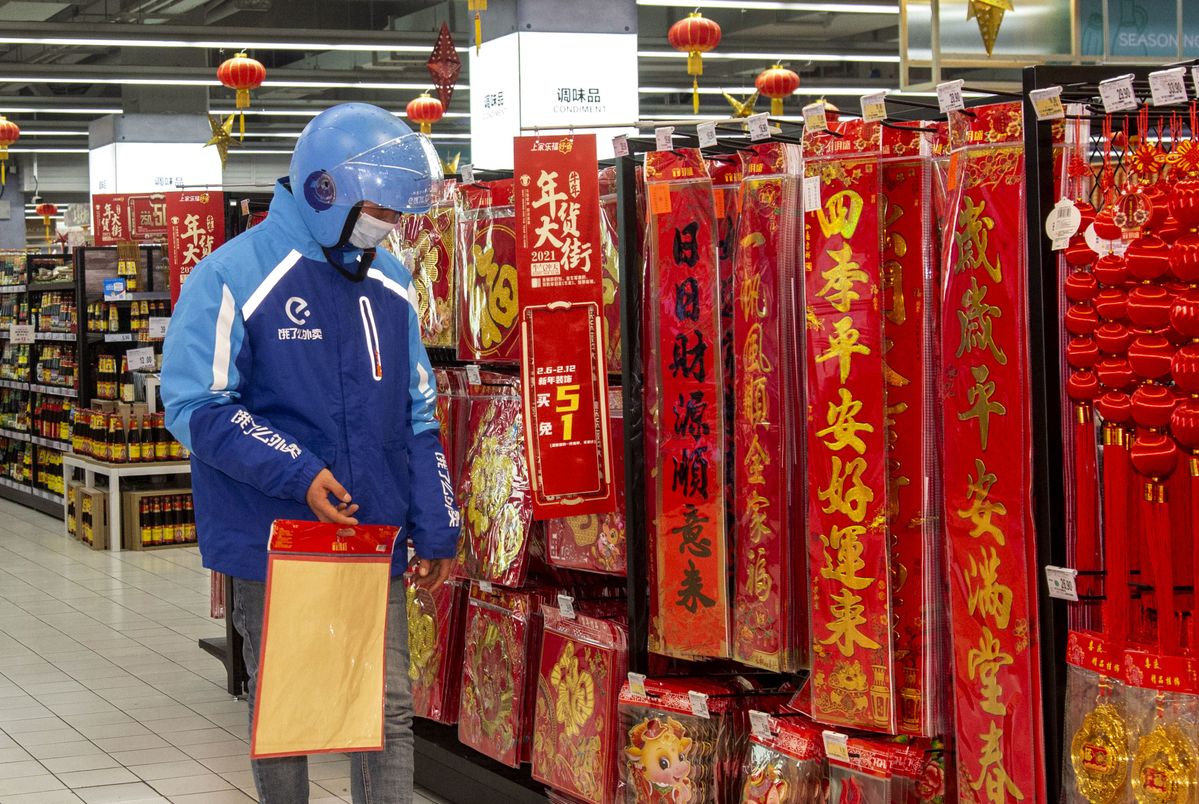 "A cup for grandma, a cup for grandfather, a cup for elder sister and a cup for younger brother. A Happy New Year for everyone!"
So reads a note sent along with four cups of milk tea ordered by Liu, who works in Chengdu, Sichuan province, and delivered to his family in Tianjin, Liu's hometown, on Friday, Lunar New Year.
Liu chose to stay put in Chengdu during Spring Festival in response to the call of the government to reduce the risk of spreading COVID-19, which might be elevated by the travel rush. The order was placed through Eleme, one of the country's leading online platforms for takeout deliveries, as a token of his New Year greetings.
He is not alone. According to Eleme, the number of people who chose to send greetings through takeout services increased significantly during this year's festival.
Shanghai, Hangzhou, Beijing, Shenzhen, and Guangzhou are the cities where people placed the most remote orders to other cities and towns. The most popular takeout items were roses, tangerines, bananas, cherries and gift boxes, Eleme said in a news release.
Orders for ginseng and antler tonic have increased by 112 percent over last year, the company said.
"A lot of users left messages in their takeout notes and some said that they couldn't go home for Spring Festival and asked the store to pick better-quality products and send them to their families directly," said Fang Jie, director of the New Year's Eve dinner project team of Eleme.
Fang also pointed out that the number of takeout orders during this year's Spring Festival also increased from the previous years along with a greater selection of products for delivery.
"We can see from the data that takeout has become a habitual form of consumption. People are willing to express their feelings through takeout orders during the special season," Fang said.
With the large number of young people who stayed put in big cities instead of going back to their hometown during Spring Festival, the number of takeout orders for singles doubled, especially in the first and second-tier cities, according to Eleme.
The Meituan company said it also saw similar trends, with orders for single meals increasing by 68 percent over last year.
Eleme said orders for hot pot rose by two times, for milk tea by three times and for river-snail noodles by four times during the festival compared to the same period last year. Salad orders also increased by four times year on year, the company said.
Also, those who stayed put this year influenced the consumption reported in different regions. According to Eleme, takeout orders for dumplings in southern cities increased by 6 percent over last year's festival, while the proportion declined in northern cities.
"Eating dumplings on New Year's Eve has always been the Spring Festival custom of most northerners. This year, many northerners who chose to stay in the south for the festival stimulated the takeout consumption of dumplings," Fang explained.
The top three regions recording highest growth in dumpling orders were Shanghai, Zhejiang and Guangdong, Fang said.