Instant coffee gets huge sales boost in China
Share - WeChat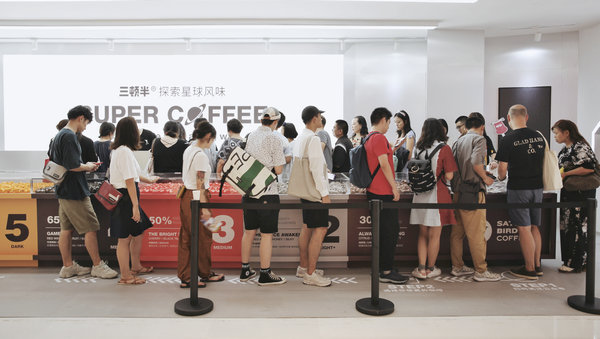 China's retail coffee market is witnessing robust growth in terms of financing and sales, thanks to the growing demand for instant coffee products due to the large number of people working from home and reduced in-store coffee consumption, experts said.
In the past, instant coffee was often considered low-priced and less tasty, said Zhu Danpeng, a Guangzhou-based independent analyst, who tracks the food and beverage sector. That has changed after the pandemic as new instant coffee brands are developing more advanced manufacturing technologies such as cold drying with a better quality of coffee beans, so as to provide a better beverage.
China's total coffee market is estimated at more than 100 billion yuan ($15.5 billion), with instant coffee accounting for 65 percent to 70 percent of the market, said a report from Mintel, a market research company.
"The coffee market in China has entered a prosperous era with multiple brands, more diversified consumption occasions and increasingly sophisticated consumer groups. With less and less technology barriers, future competition in the coffee market will hinge on brand building and growing size," said Zhu.
But there has been one significant trend that should be of interest to the fast-growing coffee startups in China. "Since the COVID-19 pandemic, consumers are more keen on supporting domestic brands so as to support the local economy," said the Mintel report.
Li Chen, associate director for the food and drinks sector at Mintel China, said that with purchases of on-premise coffee becoming difficult, consumers are turning to novel instant coffee instead to satiate their cravings.
A survey of 2,600 consumers aged between 20 and 49 revealed that 48 percent see coffee as a necessary part of daily life. Nearly 54 percent of the respondents prefer to prioritize the quality of coffee than the convenience of buying it and 45 percent consider coffee brewed at stores as too pricey.
Instant coffee sales, however, have largely been driven by young consumers, with young female consumers accounting for more than 60 percent of the consumption. Mintel said that novel instant coffee sales grew by 80 percent on e-commerce platforms, such as Tmall, JD and Pinduoduo during the COVID-19 lockdown period.
New coffee brands also saw growth due to the higher "at-home" consumption. These companies have not only upgraded the quality and taste of the product but also turned to innovative packaging.
Saturnbird Coffee, the Changsha-based direct-to-customer online instant-coffee company brand, has come out with innovatively packaged limited edition espressos for the upcoming Lunar New Year or the Year of the Ox. The company's distinct red pack consists of a double espresso, a red nougat candy that in Chinese rhymes with the pronunciation of the word ox and a golden lucky ring.
"It is that time of the year when people want some good luck and are in a festival mood," said Duan Chu, director of branding of Saturnbird.
"The purpose of the super red package is to encourage people to share the prized coffee with friends and families during the holiday season, particularly when many have been forced to stay at home due to the COVID-19 pandemic."
Saturnbird, founded in 2015, has received several rounds of financing since 2019, from big-ticket investors including Sequoia Capital. The company, which is seen as Nestle's rival in China, struck an instant chord with young customers through its mini-cup packaging.
During the recent Double 11 shopping festival, the brand was ranked No 1 in the coffee category after having sold 20 million cups of coffee amounting to 100 million yuan ($15.48 million).
Duan said the company plans to collect empty containers from consumers to exchange with themed products or free new coffee serves as a strategy to encourage repeat purchases. The Project Return has got off to a good start with more than 40,000 customers returning over 2 million empty packages in 43 cities.
Saturnbird is just one of the high-end domestic instant coffee players that have raised the bar for the sector, despite falling sales due to the intense competition from on-premise coffee chains, said experts.
Domestic instant coffee brands have also tasted success thanks to their mature development in instant freezing, dissolving and extraction technologies, said the Mintel report.
Boutique brand Pu Coffee is another brand that has received backing from international investors. The company raised an undisclosed amount running into tens of millions of yuan from a group of investors, including prior shareholders like Xinxian Capital, Qinqinpinzhan Investment and Kuanzhai Venture Capital. The company said the funds raised will be used for product development, team building and brand promotion.
Pu Coffee will also enhance its bean roasting and cold brew products, in addition to its collaboration with overseas high-end coffee plantations. The brand will triple its production capacity by the end of this year.
Pu Coffee's signature product is portable liquid coffee concentrates, which offer convenient options for consumers. The brand also sells instant coffee and coffee packaged with hangers. During the Double 11 shopping event last year, the Pu Coffee store on Tmall sold products worth 20.9 million yuan, up 1,000 percent year-on-year, or a total of 4.35 million cups of coffee. Cold-brewed coffee liquid packages were the top-seller with over 370,000 packets being sold.
Secre Coffee, a startup brand whose special drip bag coffee offers consumers a convenient and quality experience, has been adept at using social e-commerce to obtain and retain consumers through online channels. K Coffee, the brand under fast-food catering chain KFC, introduced a cold-brewed instant coffee in November.
Start-ups are also finding opportunities to brand instant coffee as fashionable beverages, said Mintel. About 64 percent of the respondents said they have tried to mix coffee with other beverages at home to create new flavors.
For example, Nestle has actively been innovating with interesting flavors to engage with young coffee drinkers, such as the coconut and pineapple flavored instant coffee, or black coffee with tequila.
Nestle, which has three main coffee brands of Nescafe, Nespresso and Starbucks, is another company that is bullish on the China instant coffee market. The company, which is the world's largest coffee producer with a 23 percent share of the $77 billion global coffee market, has developed a new high-end instant coffee named Sense Coffee with coffee beans sourced from Yunnan province.
Adrian Ho, senior vice-president of the coffee business unit at Nestle China, said there is a huge potential for coffee products in China. He said the company will diversify its signature Nescafe products to suit at-home brewing. Last year, the company launched drip coffee, or small cones or cubes containing ground coffee, allowing the fresh brew to drip when immersed in hot water in a mug.
According to Nestle's third quarter sales report released on Oct 21, coffee posted mid single-digit growth, fueled by strong consumer demand for Starbucks products, Nespresso and Nescafe.
wangzhuoqiong@chinadaily.com.cn
Most Popular