Picture-perfect Li wants acclaim more than fame
Share - WeChat With his easy smile and boyish good looks, it's not hard to see why Li Sirong has won a legion of new fans online and earned the moniker "the Chinese David Beckham".
However, after signing a professional contract with Dutch topflight club ADO Den Haag last week, the 17-year-old defender is determined to switch the focus away from his face and onto his feet.
"I never cared about my looks. I'm focusing more on professional soccer. My appearance is a gift from my parents. I don't care what others say," Li told sports reporter Zhao Yu.
"I wish people would also focus on my performance on the pitch. After all, soccer has been my pursuit and dream for all these years."
Li became an overnight internet sensation after signing a three-and-a-half-year deal with Den Haag. He will play for the under-21 squad this season, becoming the first Chinese to graduate from The Hague-based club's youth academy.
Just a week since a photo of Li holding the Den Haag jersey was posted online, the teenager's followers on Weibo have swelled from 5,000 to over 200,000. Many of his new-found fans appear not to be soccer aficionados, prompting his sister, Li Yanhui, to intervene in a bid to calm the hysteria.
"Our whole family was surprised by my brother's sudden popularity. I felt overwhelmed the whole day," Li Yanhui wrote on social media.
"As many people are seeking my brother's pictures, I have posted some here. But please do remember to give him some space, as it has put him under huge pressure which I can clearly perceive."
Li arrived in the Netherlands when he was 11 to pursue his soccer dreams, joining Den Haag's academy in 2015. He admits the pressures of coping with his new surrounds and a new culture and language were initially difficult.
"I felt there was a gap in quality on the pitch between myself and my teammates, and I even thought about quitting," said Li. "However, I chose to keep trying to bridge that gap. So now this contract is the best reward for all my efforts through the years. That's also a motivation to keep me moving forward."
Li also believes those years of toil have improved his skills.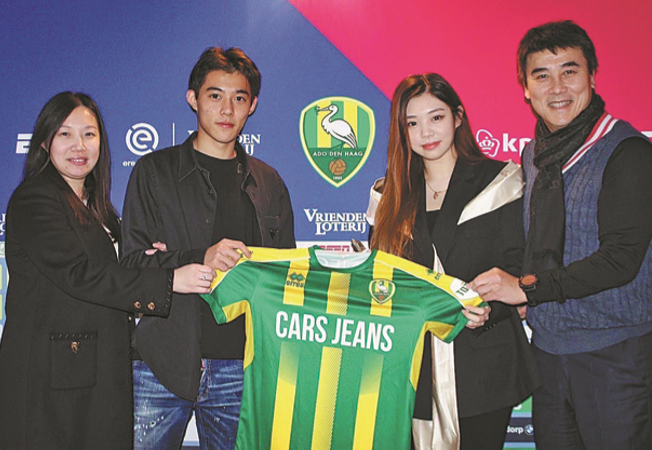 "I can read the game better and perform more consistently than five years ago," he said. "I fit into the team better too as I can speak the local language."
Soccer success runs in Li's family-his father, Li Ming, is a former Team China international and now works as general manager for Beijing Guo'an.
Li Ming told media that during his son's early years at Den Haag he "didn't even get the chance to clean the team's dressing room", let alone train with the youth squad. So, seeing how much his son has progressed since then has made Li Ming especially proud.
"He actually never told me what kind of league he wants to play in. He also never mentioned that he wants to become a soccer star or how much money he can make," said Li Ming.
"Some people would say playing in foreign countries is nothing but adding the experience to your resume. I believe he doesn't think this way. He had to fit in to life there and make soccer a part of his DNA. I never expected he could become famous all of a sudden.
"I hope he can pass on this spirit to more young players and have more communication with players of his age around the globe."
After being suddenly thrust into the limelight, Li is under no illusions how fickle fame can be.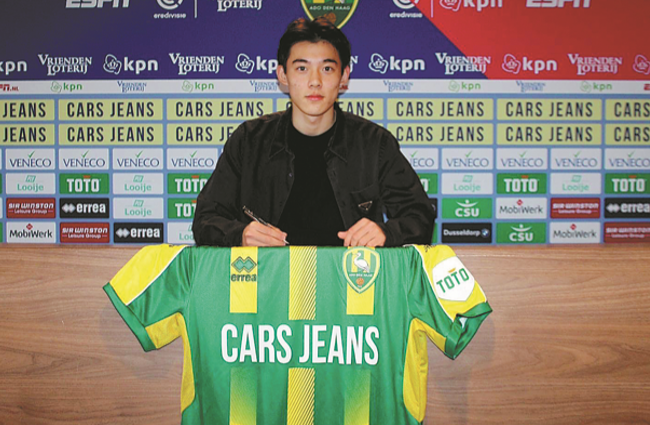 "My father told me it's not a bad thing that more people like me, but not everyone will like me," said Li, who harbors ambitions of one day playing for Team China. "In the future, I will hear more voices of criticism, so I need to prepare for these mentally."
Den Haag CEO Mohammed Hamdi reckons Li's ability to settle into a new environment and culture shows he has the right qualities to succeed on the pitch.
"We gave him a long-term contract, and I think that for ADO Den Haag it's important because his story is also quite unique. When he came here a couple of years ago with his family to the Netherlands, he had only one dream-that is he wanted to be a professional football player," said Hamdi.
"It's amazing to see how he's developed and how he has integrated. He speaks Dutch fluently. Amazing. He is really talented."