Search for last missing miner will continue
Share - WeChat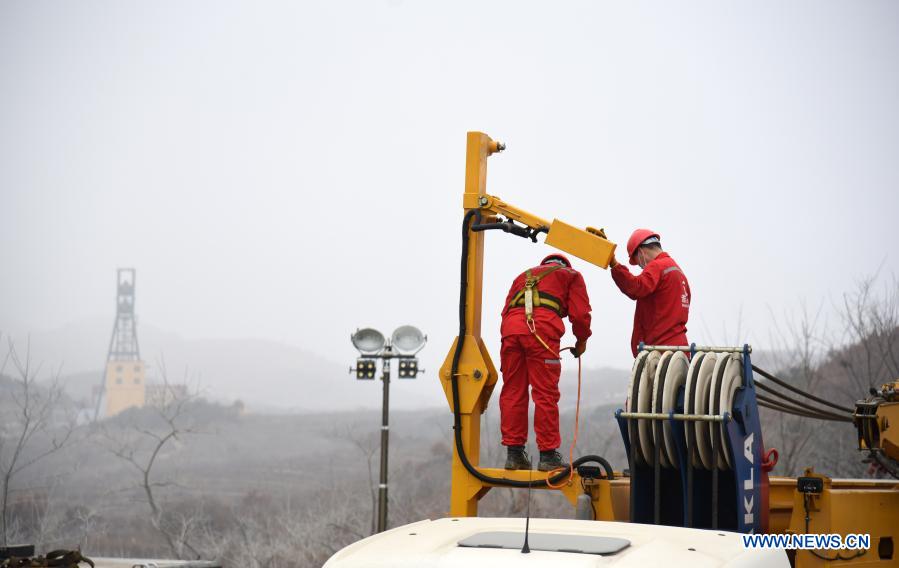 It will take some time to search for a remaining worker who has been trapped underground for 17 days after explosions at a gold mine under construction in Qixia, Shandong province, due to difficulties draining water and clearing obstacles, the rescue headquarters said.
Rescuers and divers searched several times in the space above the No 6 section, which is more than 600 meters from the shaft entrance, but failed to find the worker, the rescue headquarters said on Tuesday night.
Around 1.6 meters of water has accumulated above the floor of No 6 section, it said, adding that rescuers won't stop searching until they find the worker.
The accident trapped 22 workers underground. Eleven workers were lifted to safety on Sunday, 10 workers died and one remains missing.
"We never stopped believing that we would be saved," a worker surnamed Zhang, 63, said at the hospital on Tuesday.
He organized trapped workers to stay in safe places and adopt measures to save themselves.
After a hole was drilled to the section where Zhang and 10 other workers stayed, rescuers sent down food, flashlight, paper and pencils. Zhang wrote a note telling rescuers about their conditions.
Zhang ended the note with "We hope the rescue work continues, and we remain hopeful."
"We then got a response from the rescuers," Zhang said. "They told us they wouldn't stop the rescue and the best rescuers and best equipment were working on saving us around the clock."
The State Council's Office of the Work Safety Commission summoned Shandong province officials to talk about the accident on Wednesday.
The accident occurred around 2 pm on Jan 10. But it was not until 8 pm the next day-30 hours later-that it was reported to the local emergency management authority.
The mine delayed reporting and hid the truth about the accident after it took place, which seriously affected rescue prospects, the meeting heard.
The province was urged to learn from the accident and carry out thorough production safety inspections to prevent such accidents from happening again.
The Ministry of Emergency Management has sent a team to Shandong to oversee the investigation into the accident. Any people responsible for the delay in reporting must be held accountable, it said.