Making it rain in OT thriller
Share - WeChat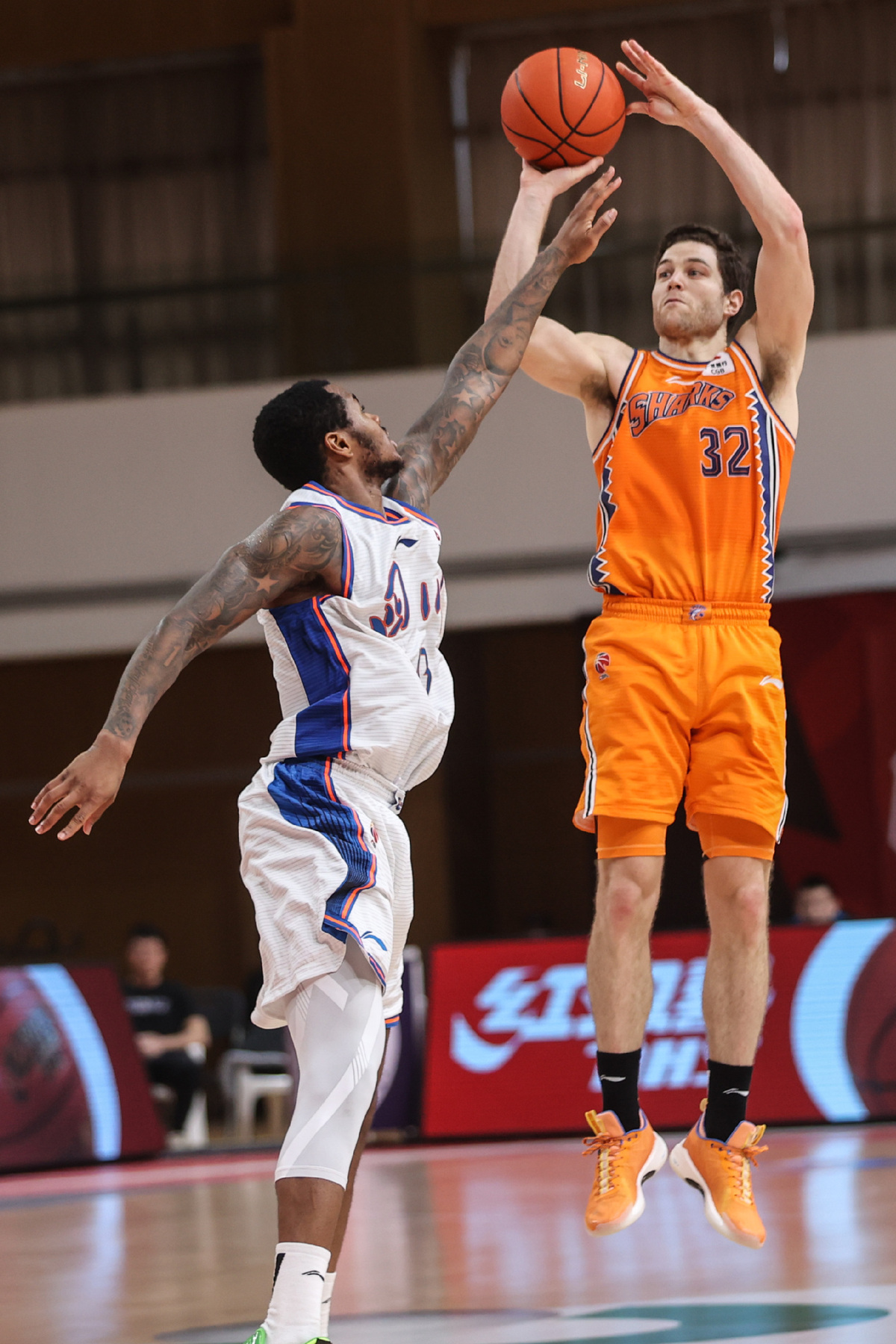 Fredette nets 70 points, Georges-Hunt 68 as Sichuan edges scoring frenzy
ZHUJI, Zhejiang province-Jimmer Fredette and Marcus Georges-Hunt produced a scoring masterclass as the Sichuan Blue Whales defeated the Shanghai Sharks in a CBA thriller on Monday.
Fredette amassed a whopping 70-point haul for Shanghai, with Georges-Hunt close behind for Sichuan with a career-high 68 in an enthralling duel between the former NBA players.
Double overtime was needed to separate the teams, with the Blue Whales eventually prevailing 136-129.
Fredette was in the mood from the opening buzzer with four 3-pointers and never let up from there. Shanghai led 49-44 by halftime, but with Georges-Hunt and center Hamed Haddadi dominating after the interval, Sichuan had edged into a 78-75 lead by the end of the third quarter. Another Fredette 3-pointer tied the score at 102 to drag the game into overtime.
The first OT ended all-square at 114 before Georges-Hunt erupted for 19 points in the second period to steer Sichuan to victory.
Haddadi finished with 10 points and 14 rebounds. Georges-Hunt's 68-point haul was the highest by a Blue Whales player in the franchise's history.
Sun sinks Xinjiang
Meanwhile, Sun Tonglin came off the bench to haunt his former team Xinjiang in a shock win for the Beijing Royal Fighters.
The 27-year-old center, who left the Flying Tigers for Beijing in 2019, notched 26 points and a team-high 16 rebounds as the Royal Fighters won 100-93 in the teams' final meeting of the current regular season.
"This guy is my MVP today," Beijing head coach Stephon Marbury said of Sun.
"They are a more experienced team, but we won with better execution," said Sun.
Three other former Xinjiang players-Yu Changdong, Li Gen and Wang Zirui-also shone for playoff-chasing Beijing against the league's fourth-ranked team.
Both defenses dominated the early exchanges, before the Royal Fighters began to gain the upper hand. Beijing opened an 11-point advantage following a Li Gen 3-pointer three minutes into the second quarter.
The Royal Fighters extended their lead to 19 points by the end of the third quarter, only to see Xinjiang stage a late rally to cut the deficit to three points with three minutes remaining.
However, a crucial 3-pointer from Royal Fighters guard Zhang Fan and missed free throws from Donatas Motiejunas killed off Xinjiang's hopes in the closing stages.
Joseph Young contributed 34 points for Beijing, while Zhang added 18.
"We played with urgency all the way until the end," said Marbury. "We followed the game plan, and executed when we needed to execute."
Motiejunas grabbed 21 rebounds for Xinjiang, along with 14 points. Point guard Ye Dehao got a team-high 23 points.
"It's all about details," said Xinjiang head coach Adiljan. "Sun was great today, and he showed our young guys how to play a good game."
The Royal Fighters will next face the Nanjing Monkey Kings, with Xinjiang up against the Fujian Sturgeons.
Ledo TD in vain
Also on Monday, the struggling Beijing Ducks defeated the Shanxi Loongs 125-114.
Team China's Fang Shuo had 28 points and nine assists for the Ducks, with Jonathan Gibson also scoring 28. Center Justin Hamilton finished with 18 points and 12 rebounds.
Ricky Ledo finished with a triple double of 35 points, 14 rebounds and 10 assists for Shanxi. Yuan Shuai added 29 points, including five 3-pointers.
With Yuan leading the way with 13 points, Shanxi edged the first quarter 24-21. However, Beijing had tied the game by halftime with the help of two 3-pointers from Fang.
Ledo notched 20 points and four assists to help Shanxi edge a closely fought third period.
And although Ledo continued to pile on the points in the last quarter, a late surge from Gibson enabled Beijing to grab the win with a 9-0 run.
"Our players had better defense in the closing stages," said Beijing coach Xie Libin.
"We didn't play well tonight and we should go through more difficult times to be strong in the future," said Shanxi coach Ding Wei.
Next up for the Ducks is a game against fellow struggler Guangzhou, while Shanxi will face fifth-ranked Shandong.
Xinhua