Benitez bids Dalian adios
Share - WeChat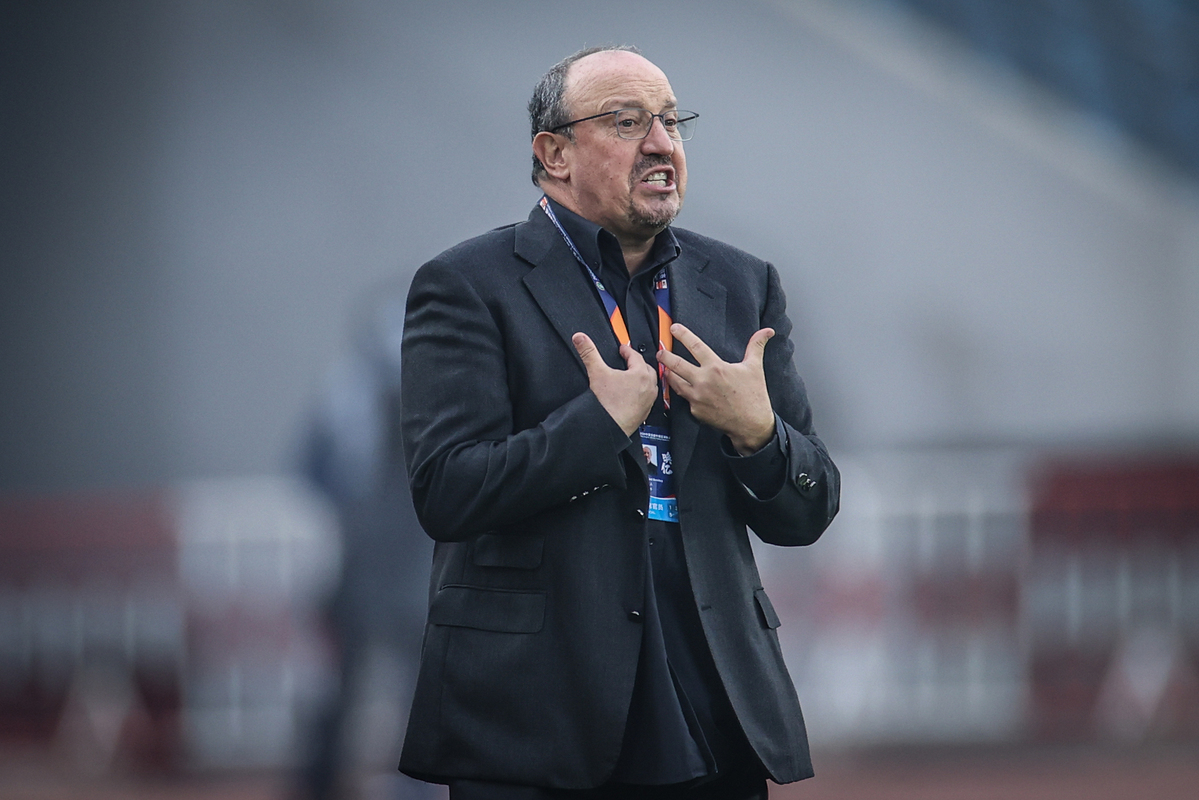 Spaniard cites family reasons for quitting CSL club
When Rafa Benitez admitted he had struggled to cope with lockdown life inside the Chinese Super League's bio-secure bubble last season, perhaps fans should have realized the Spaniard wouldn't be staying with Dalian Pro for too much longer.
On Saturday, the 60-year-old former Liverpool, Real Madrid and Chelsea boss announced he had quit as Dalian's head coach, citing family reasons.
"Unfortunately, like so many things in the last year, COVID-19 has changed our lives and our projects. From today, both my coaching staff and I will sadly no longer be coaching the Dalian Professional FC," Benitez said in a statement on his personal website.
"It has been an incredible experience and for this I would like to thank all my staff, coaches, medical and club staff as well as our players; their commitment to us in the first place, their support during the time we were there, and their effort has been magnificent.
"The pandemic is still here, for all of us, and supporting our families has been a priority when making this decision."
Benitez arrived at Dalian Pro in early 2019 from English club Newcastle United. He inherited a team that had struggled on its return to the top flight following promotion in 2018, finishing 11th in the 16-team rankings.
Finishes of ninth and 12th in 2019 and 2020 respectively suggest little, if any, progress for the team from Liaoning province since then. Benitez, however, insisted he has built a foundation for future success.
"Behind us, in China, and especially in Dalian, we are leaving many friends and good memories in a great city with very knowledgeable fans. We have tried to learn and understand a new culture and also to transmit a more professional, more European vision of football with a new methodology," Benitez added.
"I'm convinced we have left a structure and a methodology that will allow the project to go ahead successfully. Since we arrived, the first team has been rejuvenated and the foundations have been laid for the future, from the grassroots schools to the top.
"In addition, it has been done taking into account the training of players in China under a unique project, that combines football and training at school level up until the doors of the professional teams.
"I say goodbye sadly under these circumstances, but at the same time I am convinced that the future will be bright for Dalian Pro FC."
Last season posed unprecedented challenges for all coaches and players, with the CSL changing to a tournament-style format played inside bio-secure bubbles in Suzhou and Dalian, where strict lockdown and epidemic-prevention regulations were implemented.
The Chinese Football Association is expected to adopt a similar approach for the coming 2021 season-a prospect that appears to have been too daunting for Benitez, whose family lives in northern England.
While many fans on social media thanked Benitez for his contributions to Dalian, some concurred with media reports that the CFA's new financial regulations were also a factor in his exit.
From next season, CSL clubs are subject to an annual expenditure cap of 600 million yuan ($93 million), while domestic and foreign players' salaries have been capped at 5 million yuan ($760,000) before tax and 3 million euros ($3.3 million) before tax respectively.
Benitez was reportedly earning around $15 million per year in China-a big financial burden for Dalian Pro, which at least for the foreseeable future will be unable to assist its coach by splashing out on expensive foreign talent. Benitez and Dalian, though, are reported to have parted on good terms.
"Not every foreign coach or foreign player in Chinese soccer is here just for money. At least I think Benitez was not," soccer commentator Yuan Ye wrote on Weibo. "It's a pity. Now Chinese players have lost a chance to work with a big-name foreign coach like him."
Benitez is being heavily linked with Scottish side Celtic, as well as a return to Newcastle, whose struggles under Steve Bruce continued on Saturday with a 2-0 defeat at Aston Villa that leaves the Magpies 16th in the English Premier League.
Benitez remains a fan favorite at Newcastle-much to Bruce's frustration, who said of his predecessor last week: "Where did he finish (10th and 13th)? Is that success? We matched the mighty Rafa last year. We are in the bottom half of the Premier League and have been there for the best part of 15 years."